PALM VALLEY COURSE REVIEW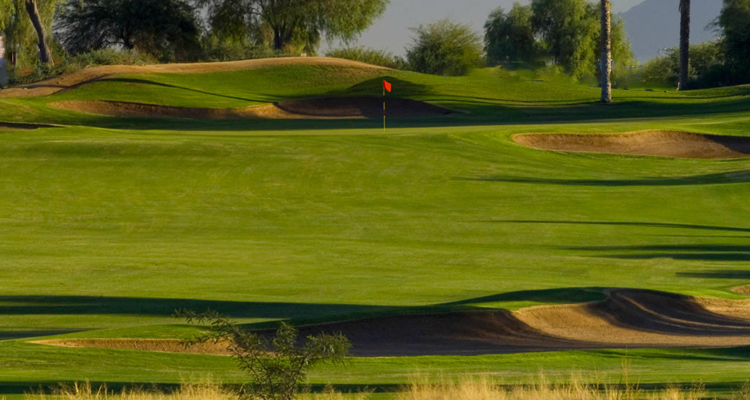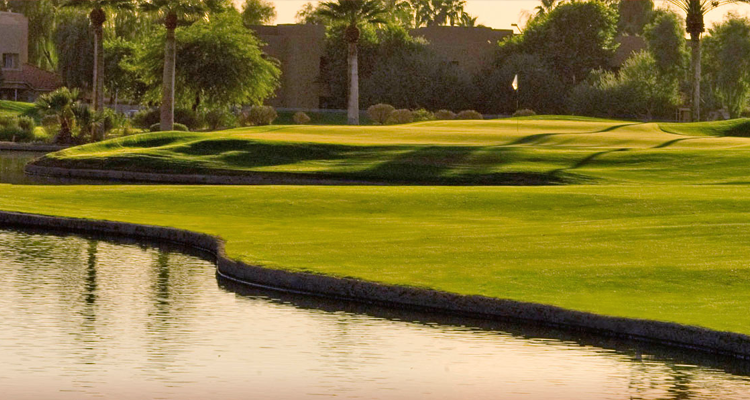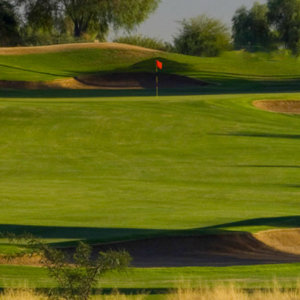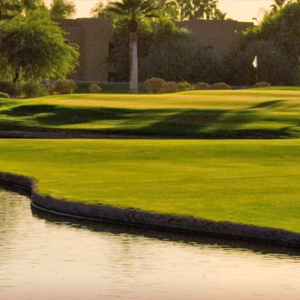 Course Review – Palm Valley Golf Club
The Arthur Hills-designed golf course is one of the most popular championship courses in the Valley of the Sun. Built in 1993, over the original cotton fields of the Goodyear Rubber Company, Palm Valley spreads out in an open, traditional fashion, with a desert landscape. The immaculate fairways vary between being hilly and flat, and both the fairways and impeccable greens are well bunkered. The best part about this links style layout is its playability. Palm tree lined fairways are generous, and tee shots require only minimal caries over natural terrain. Low handicappers will still be challenged by tournament tees that stretch over 7000 yards and wind usually comes into play.
There are numerous signature-type holes, including No. 9, a demanding par-5 that combines all of the course's attributes, rolling fairways and mounds, burly bunkers, picturesque palms and, yes, even water. This 545-yard hole has an aesthetically pleasing lake running along the left side of the last 200 yards of the fairway. The lake also surrounds the left front and back of the green. Bunkers guard the rest of the green. This hole plays predominantly into the wind, and calls for three well-placed shots to reach the green. It is definitely one of the best par 5's in Arizona. If you walk away with a par you should feel proud!
Score Card – Palm Valley Golf Club
Other Information – Palm Valley Golf Club
Practice Facilities: Get to the course early so you can enjoy the beautiful practice facilities at Palm Valley. A large driving range and a well manicured putting and chipping green with large sand bunkers provide a great way to tone your skills. Range balls are extra.
19th Hole: Palm Valley's new 5,000-square foot pavilion, overlooking the ninth green on the Palms Course, is a spectacular setting for outdoor events. Accommodating up to 300 guests and open year-round, the Waterfall Pavilion offers both golf course and mountain views and provides an attractive and comfortable setting. Additionally, evening events can be hosted inside the Fairway Grille at Palm Valley, which seats up to 85 guests. Both the Waterfall Pavilion and the Fairway Grille offer an outstanding selection of appetizers, entrees, desserts and beverages in a variety of price ranges. There is also a snack bar and drink cart.
Clubhouse: Full service clubhouse and pro shop with friendly staff. No locker room facilities.
Awards:
rated among Arizona's best public courses by The Phoenix Business Journal
The Players:
Designer: Arthur Hill
Director of Golf: Shannon Letcher
Golf Pro: Cody Goodan
Superintendent: Gary Sherting
Grass type: Greens: Tiff Dwarf. Fairways: Common Bermuda
Golf School: Yes.
Recommended handicap: The layout provides a stiff challenge for accomplished players yet is flexible enough for novices to enjoy and is well known for its playability. The tips at over 7000 yards will challenge any golfer and the championship tees play comfortably at 6590 yards, with a welcome variety of yardages on the par 3 and par 5 holes. Special "Palm Tees" are located on every hole, which shorten the course to 4,200 yards and make it suitable for play by juniors or beginners.
1 -10 Course Rating by Meridian's Golf Specialists: 7
Comments by Meridian Guests:
"The course condition from the tee boxes, to the fairways, to the many bunkers to the quick and well manicured greens was absolutely great." "I was amazed at the deception from the tee boxes. There were a few holes that looked like there was equal distance to carry the fairway on both the left and right side. Then, after hitting the shot we learned that it was a 100 yard carry on the left and over a 200 yard carry on the right. It is just a great designed course."
"That par 5, 9th is a monster." "Lots of fun and very playable." "It was a long round playing from the tournament tees. I don't recommend anyone over a single digit handicap playing from back there."
"Bring your best driver and sand wedge because you are going to need them both." "Enjoyable and gentle."
The Drive: West of Phoenix, Palm Valley is about a 40 minute drive from Meridian CondoResorts and about 25 minutes from Sky Harbor Airport in Phoenix. It is well worth the drive.

World Famous UNLIMITED GOLF Stay & Play Golf Packages