Just because we are in quarantine doesn't mean we can't start planning our golf getaways now! If you've been considering coming to Arizona, Scottsdale is one of the best golf destinations there is. That's because we are home to the famous TPC Stadium and the Waste Management Phoenix Open with the well renowned 16th Hole. Yes, that one. And by the time September rolls around, the weather will be a bit cooler and local golf courses will have a fresh new layer of grass. There's no better way to close out the golf season than in furnished luxury condos while playing on world-class golf courses. 
Where to Stay and What to Bring?
Now that we have your full attention, let's discuss our luxury condos first. In case you haven't already guessed, our 1, 2, and 3 bedroom condos come fully equipped with a washer and dryer, big screen smart TVs, gourmet kitchens, generous balconies, and free phone calls to the US and Canada. We also have whirlpool spas, state-of-the-art fitness centers, clubhouses, BBQs, and sparkling swimming pools. Our seasoned and professional staff can easily arrange rental cars and stock your room with groceries before or during your trip. We can also arrange special rates for premium services and point you in the right direction to the nearest boutique or shopping mall. Additionally, our concierge service is available 24/7 to assist with tee times, grocery delivery service, and even dinner reservations. When you stay with us, you'll receive a truly elevated experience like no other. 
Besides being a sun-drenched paradise, the local area is home to plenty of notable golf companies. Whatever equipment you may be missing, we'll have you covered when you arrive. Some places you'll find exceptional golf equipment include: 
Ping

– An organization with a rich and long history in the valley, Ping offers fittings with factory trained master fitters at various facilities throughout the area. Make reservations two weeks in advance. 

Boccieri Golf

– This company's research and performance center is located in Scottsdale. If you need a fitting, this is the place to get it. Instruction is also available using the Robo Golf Swing Trainer. 

PXG

– With a retail space located in Scottsdale, this organization sells and makes high-end clubs and conducts fittings. 

Cool Clubs – As one of the leading "agnostic" club fitters, this company creates over 20,000 head shaft combinations using elements for leading manufacturers and proprietary software with the latest technological innovations.
We Offer the Best Golfing Opportunities
Have you heard of our famous Stay and Play packages? Our Unlimited Golf Stay and Play packages in Scottsdale help to create an easy, affordable, and unforgettable golf experience you'll remember for years to come. A customized golf package will include luxury lodging, unlimited play, car rentals at preferred rates, exclusive amenities, local expertise, and a full service 24/7 concierge with unparalleled service starting at just $59 a night. 
Our unlimited golf packages give you the chance to play in September weather in Phoenix on a wide variety of beautiful and world-class golf courses with reentry for no additional cost. Our seasoned pros look forward to showing you around and making you familiar with all that Scottsdale has to offer. If you're worried about the Scottsdale weather, September is one of the best times to explore these golf courses included in our packages: 
TPC Stadium

– The most famous of courses included in our exclusive packages, the TPC Stadium is part of the PGA Tour and has the largest crowds of any golf event in the world. Renovated in 2014 and renowned for its rowdy 16th Hole, it is available to the public for 51 weeks out of the year. You will have an exclusive opportunity to not only play on a famous, professional, and pristine golf course, but you will be accompanied by seasoned pros that will help you refine your golf game. 

Rancho Manana

– Nestled in the center of the Sonoran Desert, this 18 hole championship course and resort is lined with stunning desert views and is a true representation of golf in the Arizona desert. Equipped with a luxurious spa and award winning Tonto Bar & Grill, you'll get more than you're expecting from this golf club.  

Las Sendas

– Considered to be the one of the top 10 golf courses in Arizona, this award winning golf course sits above the Phoenix skyline and entire valley. Las Sendas offers a golf academy with multiple programs tailored for golfers of all ages. Be sure to make reservations for dinner at one of two great restaurants while taking in breathtaking views of the mountains at sunset. 

Dove Valley Ranch

– Opened in 1998, the Dove Valley Ranch golf course continues to receive glowing reviews and accolades. The 850-acre 4-star course also features a casually elegant clubhouse with a bar and lounge open for breakfast and lunch. 

Boulders

– A multi-award-winning and consistently magazine-featured golf course, The Boulders is nestled in the Sonoran Desert Foothills and includes tennis courts, 5 restaurants and cafes, fitness center, 50,000 square feet of meeting space, and spa with 24 treatment rooms. If that wasn't enough, there are 4 swimming pools and 2 championship courses available with accommodations. 

Eagle Mountain

– Located in the McDowell Mountains, Eagle Mountain is an award-winning, challenging course that has been opened since 1996. With expert event coordinators and PGA professionals on hand, this course is perfect for groups and tournaments. Other amenities available include a grill and wedding event accommodations. 

We Ko Pa

– With breathtaking mountain views of the Red Mountain, Four Peaks, and McDowell Mountains, the We Ko Pa Golf Club is brought to you by the Fort McDowell Yavapai Nation. The scenic course is unique in that it is not lined with homes, condos, or townhomes. Golf lovers are met with an open landscape that will bring the natural landscape to your fingertips. 

Hillcrest –

Rolling terrain and robust trees are a staple of Hillcrest Golf Club. A true upscale experience, this golf club values privacy. 

Wigwam

– With a number of course options available, Wigwam is one of the best-known golf courses in Phoenix. Opened in 1929, expect to be surrounded by breathtaking views and stunning mountain ranges. Enjoy the numerous amenities they offer like world-class dining, tennis courts, spa services, swimming pools, and a resort. The AAA four Diamond retreat is something you need to see to believe. 

Troon North

– Set in the foothills of Pinnacle Peak and considered Scottsdale's crown jewel, Troon North is simply stunning. Cacti and giant granite boulders shape the immaculately landscaped course. Featuring additional amenities like wedding event accommodations and a grille complete with wine dinner specialties, this should be on your list of courses to play. 
With challenging desert layouts and elevation changes, you'll enjoy the view of the surrounding mountains and vibrant greenery. Our premium package course offerings provide an overall experience that you won't find anywhere else. We will confirm your first tee time for unlimited golf packages and completing 18 holes, you can book another at no extra charge.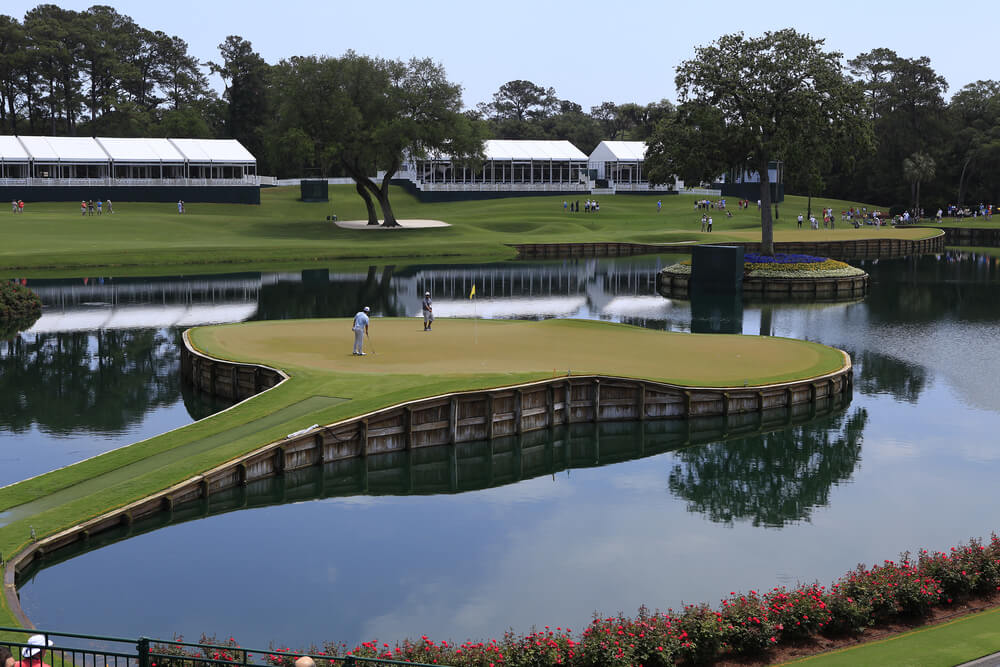 Book Your Stay with Meridian CondoResorts Today
We welcome large groups and offer special rates to accommodate. Take advantage of the Phoenix weather in September and our tailored unlimited play and packages for an unforgettable golf getaway. Take a look at our website for comprehensive reviews and insights on the courses listed and much more. Give us a call today and let us show you what Scottsdale has to offer!