Even if you've never played golf, you might have heard someone mention "tee time." Now, we're not spilling any tea here; tee time on the golf course is entirely different. That said, we'll talk more about what tee times are, the best time to golf, tee off in golf meaning, and more. If you see yourself as an avid golf player, don't hesitate to check out our famous unlimited golf packages in Scottsdale. 
What Is Golf Tee Time?
So, what are tee times? To put it simply, a tee time is when you begin your round of golf at the first hole, or tee-off in golf. Although the general pace of play criteria apply to the remaining holes, each player is only given one tee-off in golf for the 18-hole round.
Most golf courses begin scheduling tee-off times as early as 7:30 in the morning and continue doing so until late in the evening. Typically, the last tee time of the day is at 4 pm. If golfers tee off after 4 in the afternoon, they may not finish 18 holes before dark. At this time of day, tee-off times are typically less strict, so some golfers may decide to go out for a quick nine.
Continuing with what golf tee time is and what it means for you, remember that a tee time is the scheduled time when your group is expected to be on the tee box ready to begin playing. At this moment, you may lose your starting position if you're not at the tee. Basically, if you're set to tee off in golf at 10 am, you shouldn't show up at the course exactly at 10 am. Instead, get to the golf course at least half an hour before your scheduled tee time.
You'll want to have your game of golf paid for, double-check your footwear, take a few practice swings and putts, and then head out to the first tee. This is a lengthy process, and being late to your tee time will not be tolerated or appreciated.
You should not be in a rush when approaching the first tee for your golf swing. Ideally, give yourself a whole hour before tee time so you're not in any hurry. You might also want to have some food and give your muscles a good stretch. 
Missing your tee time could mean missing out on a day of golf. During the weekdays, most golf courses get quite busy. It's possible to make a mad dash to the location where you should be, but more often than not, you'll have to wait until your tee time comes around again. Holding your tee time and waiting for you would disrupt the schedule for the rest of the day.
How Are Tee Times Made?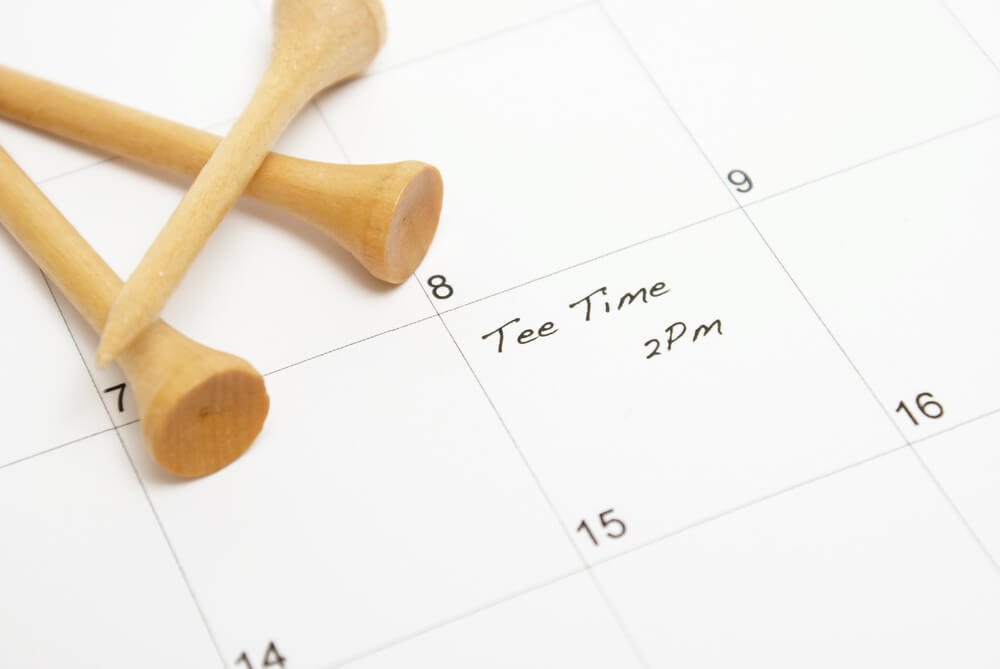 Tee time reservations are handled differently by each golf facility. Tee times were previously only available by phone, but now they can be booked online as well. You may generally make a reservation at a private country club by dropping off a card one week before your preferred timeslots.
After the starter and the golf course employees have done everything possible to meet everyone's needs and demands, the tee sheet will be made public.
On average, a tee time lasts between five and eight minutes. Because of this, the day's tee times will not be affected, and play will proceed without delay. Pausing for this amount of time allows the round's tempo to be adjusted and kept consistent throughout. With consecutive tee times, a single slow group might derail the entire round of golf. On most golf courses, a ranger will ride about to ensure that play is proceeding well and on time.
What Is Golf Tee Time Term Origin?
The term "tee time" refers to the designated location on the golf course where players must be to begin their rounds. The teeing ground is the starting point for a golf swing. So, regarding what tee times are, the term has to do with starting your round from this particular spot on the teeing area at a designated time.
In between the tee markers is an area known as the tee box. Two club lengths behind these markers is where the box begins. Golfers must stand in this designated area when they tee off to play a hole.
Each golf course features a variety of tee markers. They're all spaced out at varying yards, so your strategy should reflect your level of expertise.
The Frequency of Tee Times
Tee timings should be spaced so that golfers don't have to play around each other. If a course allowed groups to tee off one after the other, players would constantly be in each other's way. This would be a problem all day long.
Tee times can be scheduled anywhere from nine to 12 minutes in advance at some golf courses. The more tee times a golf course can accommodate per day, the more lucrative it is for them. If a golf course schedules fewer tee times daily, the game will move more quickly for the players.
Best Time to Golf in a Day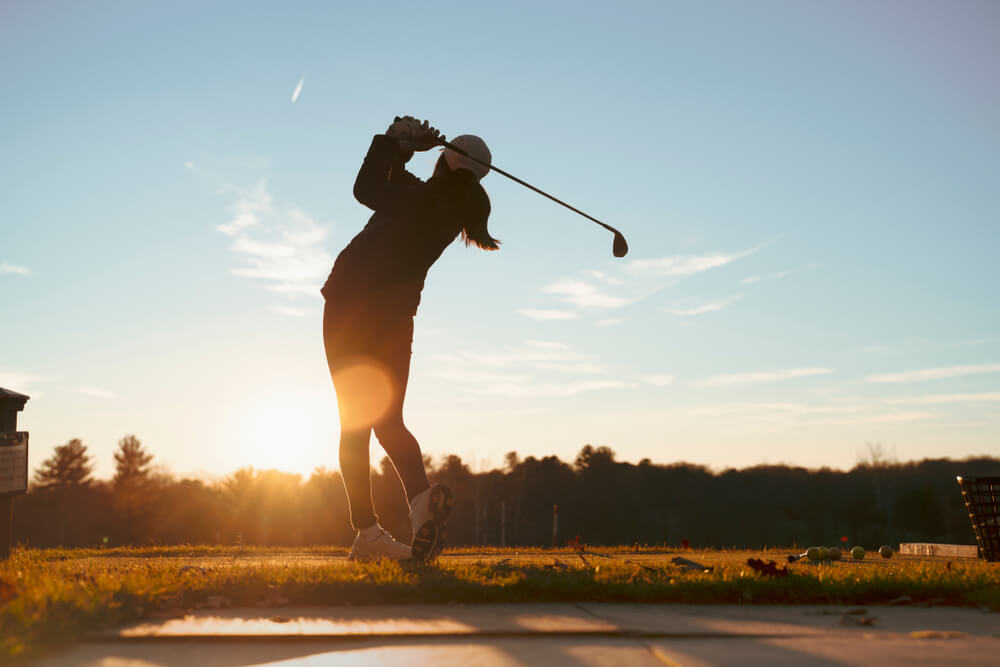 Golf can be played at many different times throughout the day and week.
You should try to play the first tee time of the day if you are a particularly fast golfer. The first several groups on the course rarely take longer than four hours to complete their round.
The speed of play tends to slow down somewhat around midday. People typically pause around the halfway point for lunch before continuing to the following hole. Since this may take some time, progress will be sluggish overall. The golf course generally clears up by late afternoon, allowing for slightly faster play. After work, most golf courses are pretty empty, making it easy to squeeze in a quick nine holes.
To Conclude
Tee times are not a complicated idea to grasp. Setting a tee time is the arrangement you make with a golf course to play golf at a specific time. You should always arrive early for the scheduled tee time and do all in your power to get off the tee in a timely manner. There is no shame in calling a golf course beforehand to double-check your tee time if you are unsure of it. 
The Valley is truly unique because of its abundance of breathtaking desert golf courses. Enjoying a round of golf is a terrific opportunity to get in touch with nature while also satisfying your need for a new hobby. In addition, we guarantee that no other resort in the area offers a better value for your money than Meridian CondoResorts and they will take care of arranging all of your tee times.
In fact, with our special Unlimited Golf Stay & Play feature, there are no penalties for leaving early. You may relax and enjoy the finest amenities Arizona can provide as we handle everything in your stead.