You can't visit Scottsdale and not explore the gorgeous landscape while you're here. That's like going to Vegas and not visiting a casino. It's pretty much standard practice. Taking advantage of the cooler weather and checking out Scottsdale hiking trails should be high on your list while sightseeing. With Scottsdale luxury condos, Unlimited Stay and Play golf packages, whirlpool spas, heated resort-style swimming pools, and full-service concierge services, your Scottsdale hiking experience will be elevated at Meridian CondoResorts. If you're not familiar with the best hiking trails, you're in luck because we are! While you're thinking about the dates you want to book a luxury condo with us, we'll spill the tea on some Scottsdale trails you should explore. 
Pinnacle Peak Summit Trail

– Set amidst the beautiful Sonoran Desert, this trail is over a mile and a half long, with its highest trail point reaching over 2800 feet. The trail sits on Pinnacle Peak Park, which boasts 150 acres and is equipped with picnic areas, rock climbing, restrooms, and plenty of interpretive displays. We recommend you find the time for a moonlight walk, astronomy talk, or any of the other events that are available. 

Gateway Loop Trail

– Located in the Scottsdale McDowell Sonoran Preserve, this four-and-a half-mile trail is set on a preserve that The Points of Light, the world's largest organization committed to volunteer service, has included in its Service Enterprise program. This prestigious certification means that this trail is among the top 11% of nonprofits nationwide when it comes to volunteer management, organizational performance, and indicates capability and management expertise in working with volunteers. There are three great trails to choose from.
The Kovach Family Nature Trail features in-depth insight into the families of plants and animals, including information on the local human history. The Bajada Nature Trail is family-friendly and suitable for everyone from young children to the elderly. Visually and hearing impaired can enjoy this hike as well. As the largest of the trails, those who use assistive walking devices will be able to enjoy this desert adventure also. Jane Rau Trail, named after a community activist, educator, and leader known for her work in establishing the preserve, is full of diverse plants, rocks, and scenic views. Constructed according to the 2013 US Forest Service trail accessibility standards, this trail has higher grades than the others maxing out at 11%.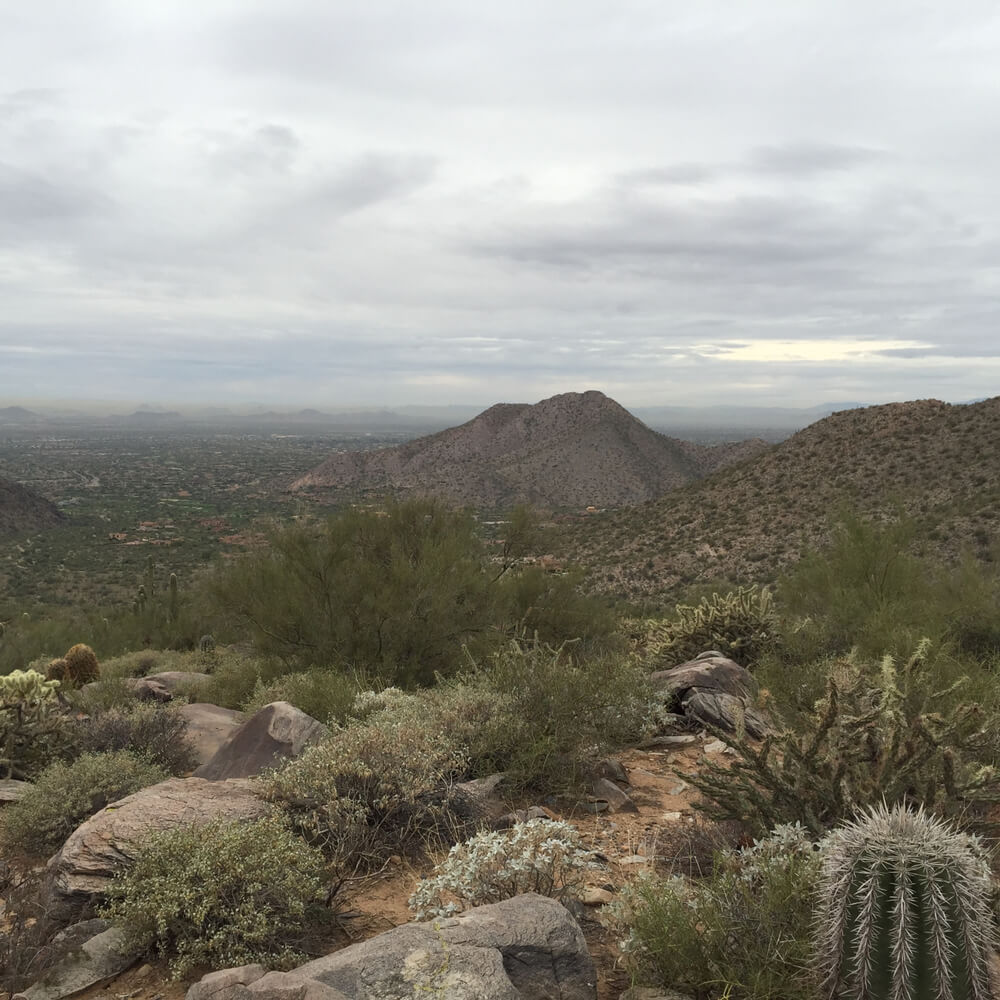 Go John Trail

– This six-mile-long trail located at Cave Creek Regional Park is lined with wildflowers. Named after a 25-mile creek that runs through it towards Paradise Valley, settlers have lived in its caverns for centuries including Native Americans and miners. Ranchers and farmers followed suit due to the plentiful water and natural resources. Rich in history, this trail has numerous treasures to explore that may require more than one trip. 

Scenic Trail

– This easy trail at McDowell Mountain Regional Park is full of eye candy that includes lush greenery with very little elevation. You'll pass by the Verde River and the Superstition Mountains. If you decide to walk the entire trail and back, be prepared to trek 7 miles. 

Camelback Mountain Trail

– Camelback Mountain is one of the most famous destinations in the area for hiking. It's located in the Phoenix Valley and has an elevation of 2,704 feet. The spectacular views from this mountain are what make it an ideal tourist attraction. You can choose between two trails – Cholla and Echo Canyon. Be sure to prepare well because the trails are not easy, and parking is limited from sunrise to sunset. If you are interested in plants, the mountain is home to Flora such as Palo Verde, Saguaro Cactus, Cholla, Ocotillo, Cresote Bush, and Barrel Cactus.
Book with us today
These are just a few of the Scottsdale trails but there is so much more! You'll have to stay with us to see it all and we can take care of the logistics for you if you're not sure what to get into. With experienced staff familiar with the local hot spots, you may want to do more than hiking near Scottsdale. In the meantime, check out our website for more information on our unlimited stay and play golf packages as well as the best places to see in Old Town Scottsdale. Give us a call to book today!