When we're talking about places to visit in Arizona, Phoenix and Scottsdale are both heavy-hitting locations year-round. People who love the sun always adore these cities during the summer, and they are an ideal escape for those as well who want to escape the cold and the snow during the winter. 
Fortunately, there are also many things to do in Phoenix, no matter when you choose to visit the city. There are several Phoenix attractions for families. During the summer, families can enjoy the water parks, swim, bowling, visit the zoo, try go-cart racing, or go shopping in Phoenix/s world-renowned shopping malls, like Fashion Square Mall.
In this blog post, we at Meridian CondoResorts aimed to create a list of things to do in Phoenix and remarkable Phoenix attractions so the next time you stay with us, you can fill out your spare time with quality sightseeing.
Most Notable Phoenix Attractions
So, let's start with some of the best Phoenix attractions for families.
Desert Botanical Garden
One of the main attractions in Phoenix, the Desert Botanical Garden, is located in Papago Park. It's a mesmerizing complex that strikes a perfect balance between nature and art, with several artistic installations dotting the gardens, creating a genuinely breathtaking atmosphere.
The gardens feature a large, 140-acre complex, giving a home to several thousands of plants from deserts across the globe. When it comes to Phoenix attractions for bird watchers, the botanical gardens are a must, as visitors can spot several types of hummingbirds and even butterflies. 
Experts say that spring is a perfect time to visit this site, as the blooming plants create an atmosphere that's even more captivating.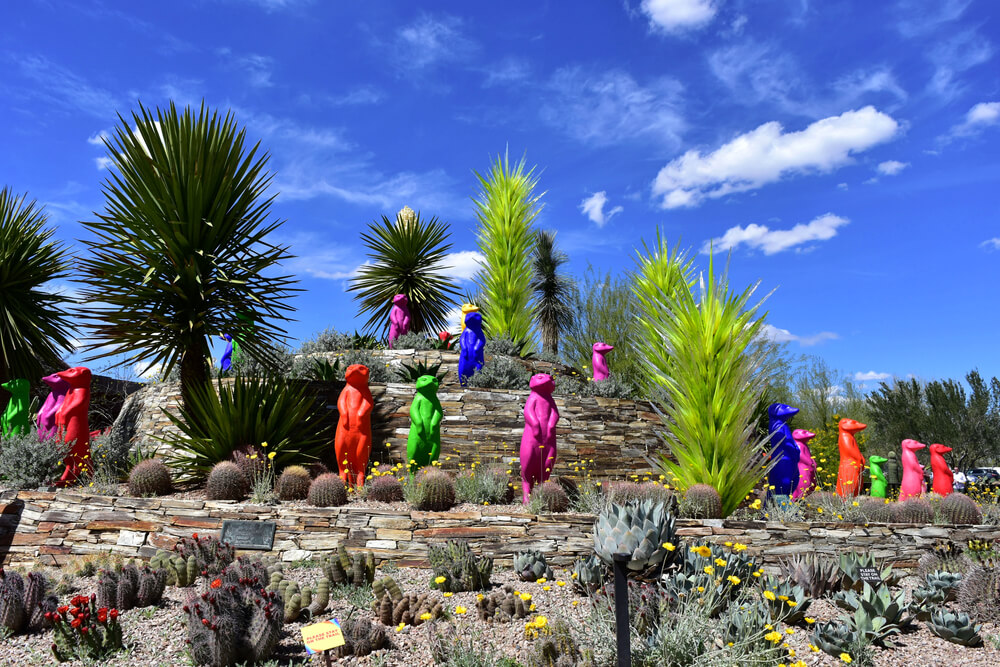 Musical Instruments Museum
When thinking about things to do in Phoenix, those who love music should definitely visit the Musical Instruments Museum. With a collection of over 6,800 instruments, this Phoenix attraction is among the largest instrument museums in the world.
The museum's building itself is a sight to behold, and with the five permanent galleries (Artists Gallery, Geographic Gallery, Mechanical Music Gallery, STEM Gallery, Experience Gallery), the Musical Instruments Museum is among the most beloved and visited Phoenix attractions.
Do you want to see how experts restore instruments? Visit the Conversation Lab. Want to play an instrument? Visit the Experience Gallery. Want to catch a show? Take a look at the schedule of the 300-seat theater within the museum. 
Heard Museum
The best thing about the most-renowned Phoenix attractions is that they are varied and colorful. The botanical gardens bring us closer to nature. The Musical Instruments Museum encapsulates the combination of music and exquisite craftsmanship. And the Heard Museum is devoted to showcasing and preserving the culture and art of the Southwest Native American tribes.
The museum is renowned for its exceptional displays of pottery, basketwork, textiles, jewelry, and kachina dolls.
Focusing on both the past and the present, the outdoor courtyards and the exhibit galleries feature both contemporary and traditional artworks of Native Americans. For those who want to learn about native traditions, art, and history, the Heard Museum is one of those "must" Phoenix attractions for families.
Hall of Flame Fire Museum
Again, if you are looking for great Phoenix attractions for families, the Hall of Flame Fire Museum is also an outstanding option. Who doesn't want to learn more about the profession of firefighters through a primarily historical perspective? Apart from that, visitors can pay tribute to the heroes who gave their lives to help others while doing their job.
The old fire engines alone can be great Phoenix attractions, and the captivating history of American firefighting is engagingly represented. Apart from that, visitors can often see Japanese and European exhibits as well.
Phoenix Casinos
Phoenix-area casinos are definitely places to visit in Arizona. As a matter of fact, the Valley is home to several great casinos, like the Talking Stick Resort in the Scottsdale area or the Wild Horse Pass Casino in the southeast part of the Valley. If you are looking for options in the West Valley area, you can choose between the Desert Diamond Casino or the Vee Quiva. 
Simply put, if gaming is high on your priority list, you have plenty of options in Phoenix and Scottsdale.
Scottsdale Attractions
Now, let's see what Scottsdale offers to visitors who are looking for attractions.
Taliesin West
This Scottsdale attraction was actually Frank Lloyd Wright's architecture school and winter home. Now, the facility, located in the McDowell Mountain's foothills, serves as the international Frank Lloyd Wright Foundation's headquarters and gives home to an architecture school bearing the same name.
For those who love architecture, Taliesin West is a definite must, but it's a worthwhile place to check out for anyone. Every facility building here was built by Wright and his apprentices from native materials like redwood and rubblestone. They started the work in 1937 and finished in 1959,
Old Town Scottsdale
Another one of those captivating Scottsdale attractions, Old Town Scottsdale, is renowned for its quirkiness and fun. The unique shops with their trinkets might not be everybody's cup of coffee, but Scottsdale's Old Town also offers exquisite galleries that feature outstanding artwork. 
Old Town is also an ideal place if you want to enjoy the Phoenix area's culinary prowess. Some of the city's best restaurants are here, and the abundance of patio settings enables you to enjoy the atmosphere of the "West's Most Western Town" to the fullest.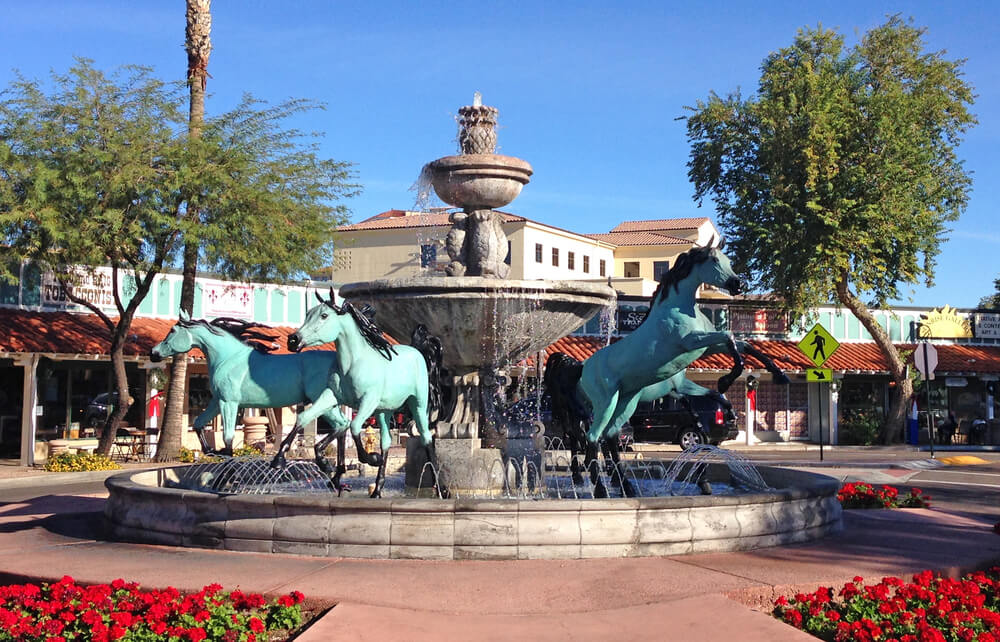 OdySea Aquarium 
A humungous aquarium in the middle of the desert? Why not! The Odysea Aquarium is one of the most popular Scottsdale attractions, and with 200,000 square feet, it's the state's largest aquarium. 
The pathway concept envisions the visitors as raindrops that fell from the sky into freshwater and are trying to find their way to the ocean. With three touch pools and more than 70 exhibits, the path from start to finish will be filled with fun and memorable for everyone who chooses to give the aquarium a visit.
The facility also gives home to more than 6,00 aquatic animals, including octopuses, otters, penguins, stingrays, and even sharks. 
Last but not least, the educational shows at the aquarium are also worth the visitor's time. And for a bit extra, you can even experience helmed diving.
Ice Den
If you want to improve your chops on the ice, the Ice Den in Scottsdale is the ideal place for just that. From public skating to hockey, figure skating, speed skating, ice shoes, private lessons, and coaching, the Ice Den has it all. 
If you are a professional hockey player or in need of professional skating equipment, the Ice Den can give you a helping hand with those needs as well.
Apart from all the great opportunities to show off your skills on the ice, you also have training facilities, a gym, a cafe, and a bar & grill to satisfy your cravings.
Get the Best out of Phoenix and Scottsdale
If all of this isn't enough, you still have a great number of bowling alleys and tons of other things to do… And who can forget the internationally renowned golf courses? 
Pair those with our unlimited play and stay packages, featuring one-, two-, or three-bedroom condos, with fully equipped kitchens and flat-screen TVs in the bedrooms and living rooms, premium amenities like 24/7 concierge services, whirlpool spas, heated swimming pools, and so much more will make your stay in Phoenix/Scottsdale a memorable and cherished luxury experience.
That being said, if you are up for a great game of golf and some quality Phoenix sightseeing, 
give us a call and book your next Arizona vacation with Meridian CondoResorts today!