By now, you may be overdue for a great vacation. Staying in luxury condos are the perfect way to rejuvenate and revive the post quarantine blues. Our luxury condos offer incredible amenities and unlimited stay and play golf packages meant to create an affordable and memorable vacation experience like no other. Generally, the advantages of vacationing in luxury condos are numerous and with the right one, you'll save more money in the long run! 
What Is a Luxury Condominium?
Staying in luxury condos versus hotels or motels is like night and day! Hotels and motels are plentiful everywhere and typically host overnight and short term travelers that are passing through. While there is a great deal of cost savings associated with staying at these places, in most cases, you'll have to leave the property to enjoy activities, entertainment, and amenities. You'll be spending the money you save on accommodations to travel to places where you can enjoy restaurants and nightlife. Both may offer similar amenities but luxury condos offer higher quality and more variety on site. 
Luxury condos are very similar to apartments with premium amenities and decor. They are more spacious than apartments and host travelers for more extended periods than hotels. If you're looking to bring the family or a group of friends on a vacation, staying in luxury condos is a great idea. Not only will you be able to split the costs amongst all adults, but you will have the space to customize sleeping arrangements to accommodate everyone's preference. You'll also notice an increased sense of community and personal touch of exquisite designs and furnishings.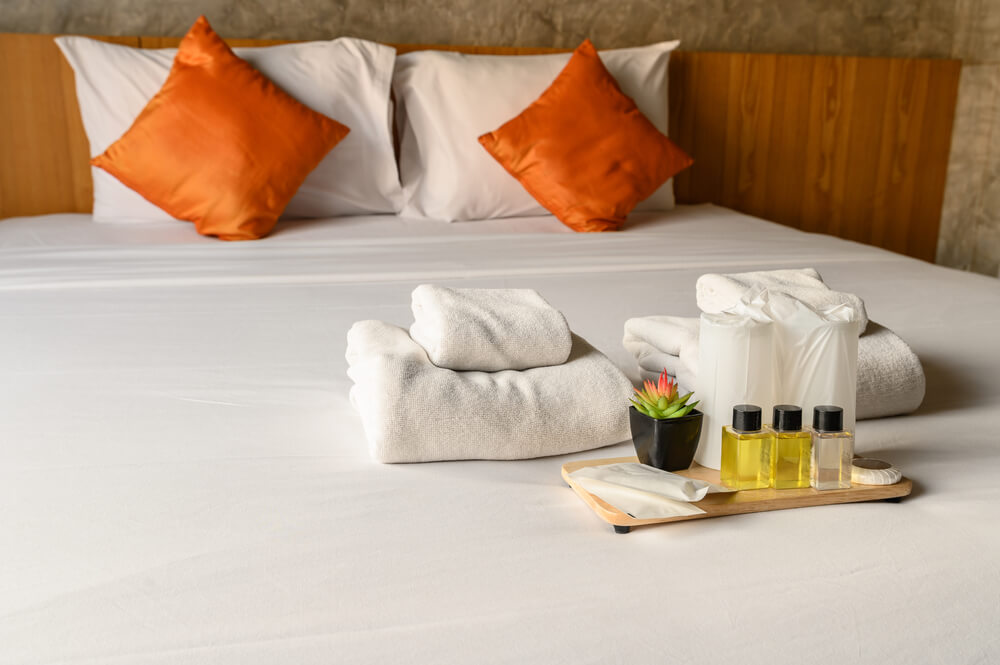 Luxury Condo Benefits
There are many benefits to staying in luxury condos for your next getaway! You'll want to take advantage of all that these opulent suites offer. Take your vacation up a notch with these premium amenities: 
Space

– Most hotels average around 500 square feet of space. Luxury condos that you'll find at a premium resort will average between 900-1400 square feet. When you're traveling for vacation, business, school, or relocation, you want to relax and spread out to get comfortable for a while. With extra bedrooms, bathrooms, living areas, and kitchen space, you'll be refreshed and renewed before returning to your usual routine. You'll enjoy a private entrance, balcony, and common areas that only you will have access to. The increased space is perfect for groups of people looking to feel less crowded in the same unit. Luxury condos are a home away from home with extra privacy and opportunities for more social interaction than a typical hotel. 

Maintenance

–

Housekeeping

is an additional benefit of staying in luxury condos. Usually, the amount of free housekeeping you receive depends on the amount of time you choose to stay at a particular location. Being on a vacation is an opportune time to let go of the stress of maintaining a household. Having available housekeeping 24/7 ensures that you can focus on enjoying all the planned and unplanned activities you are looking forward to. 

Appliances

– Since luxury condos have more space, they have premium appliances. A kitchen in a luxury condo typically is fully equipped with a stainless steel full-size refrigerator, oven, stove, blender, dishwasher, and microwave. Additional kitchen features include cookware, utensils, dish towels, and dishwashing detergent. You can also expect a washer and dryer in the unit with accompanying detergent. 

Service

– Customer service that is available 24/7 guarantees that all of your vacation needs will be met promptly. Booking reservations at a popular restaurant or buying tickets to a sports game are conveniences that you won't find at a hotel. Arranging meals delivered to your room or scheduling grocery delivery can ease the stress of planning a long vacation. Luxury condos can take care of the logistics of your vacation before you arrive so that all you have to do is pack a bag. This is especially helpful if you are bringing a group of family and friends and want to focus on bonding. 

Extras

– Depending on where you stay, luxury condos are generally close to a city's nightlife, fine dining restaurants, and entertainment. This will make it extremely convenient to add more last-minute activities to your itinerary. Making the most of your vacation in a luxury condo should include increased access to onsite swimming pools, spas, clubhouse spaces, BBQ grills, and activities packages that save you money and create unforgettable memories. Each property is different and offers its unique amenities. 
With over 25 years of experience, our luxury condos provide the best value. We understand that you want to make the most of your vacation while saving on costs. One of the ways we provide additional value is through our famous Unlimited Stay and Play packages. You'll experience a VIP experience at an affordable price with additional discounts on car rentals and golf club rentals. Bring the whole group and receive more discounts and perks on premium golf courses, transportation, dinner reservations, and any special requests you may have to make your stay more enjoyable. 
With golf packages starting at just $59, you'll be able to enjoy these stunning golf courses: 
TPC Stadium

Coyote Lakes

Dove Valley Ranch

Eagle Mountain

Lookout Mountain

Quintero

Troon North

Verrado

We – Ko – Pa

Boulders

Desert Canyon

Foothills

And many more
Our luxury condos are available for extended stays, corporate rentals, and groups! No matter what your vacation needs are, we can accommodate. Our spacious luxury condos in the Scottsdale location are the best in the area. With square footage starting at 900 square feet, you have an option of staying in a 1, 2, or 3 bedrooms fully furnished luxury condo that includes: 
Living Rooms

– Relax in your equipped living room with a 65-inch flat-screen TV, sofa, and recliner. You'll enjoy the fresh air and incredible views from your private balcony and comfortable outdoor furniture. End a busy day sitting by your fireplace while enjoying a good movie. 

Bedrooms

– With multiple sleeping accommodations to fit your needs, you can watch TV on a 40-inch flat-screen with a DVD player. Walk-in closets are standard in most units. 

Bathrooms

– All bathrooms are equipped with hand and body soaps, bath towels, hand towels, body wash, hairdryers, and washcloths. 

Laundry facilities

– Pack light and shop while you're here! You'll be able to wash and dry your clothes in your luxury condo just like home. Free laundry detergent and ironing board are provided. 
Book A Luxury Condominium With Us Today
When you book at Meridian CondoResorts, you'll have exclusive access to our amenities that are second to none! You'll only have to leave for golf, fine dining, and vibrant nightlife. Our amenities include: 
Resort-style swimming pool

Whirlpool spas

Clubhouse

BBQ grills

Full concierge service

State of the art fitness facilities
Our 24/7 concierge service offers exceptional customer service to meet all of our guest's needs. If you need to make dinner reservations, rent a car, grocery delivery, or arrange for flowers and champagne in your condo, we take care of all of the logistics. Our luxury condo benefits include this and so much more. 
Give us a call and book your luxury condominium today to see for yourself!