The best golf club sets for kids nowadays are designed to simplify the game as much as possible, so the clubs are lightweight and easy for kids to swing. That said, the best junior golf clubs are more flexible and shorter to increase playability and enjoyment.
Manufacturers know that as children get taller, they will require longer clubs to make solid swings. Thus many golf club sets come in many sizes. The number of golf clubs included in a set is one factor that tends to vary by manufacturer. When kids are very young, sets typically don't have more than five clubs. As they age, kids have more opportunities to choose from.
Our golf experts at Meridian CondoResorts have come up with a list of the best junior golf clubs to consider purchasing for your little golfer.
Best Junior Golf Clubs Available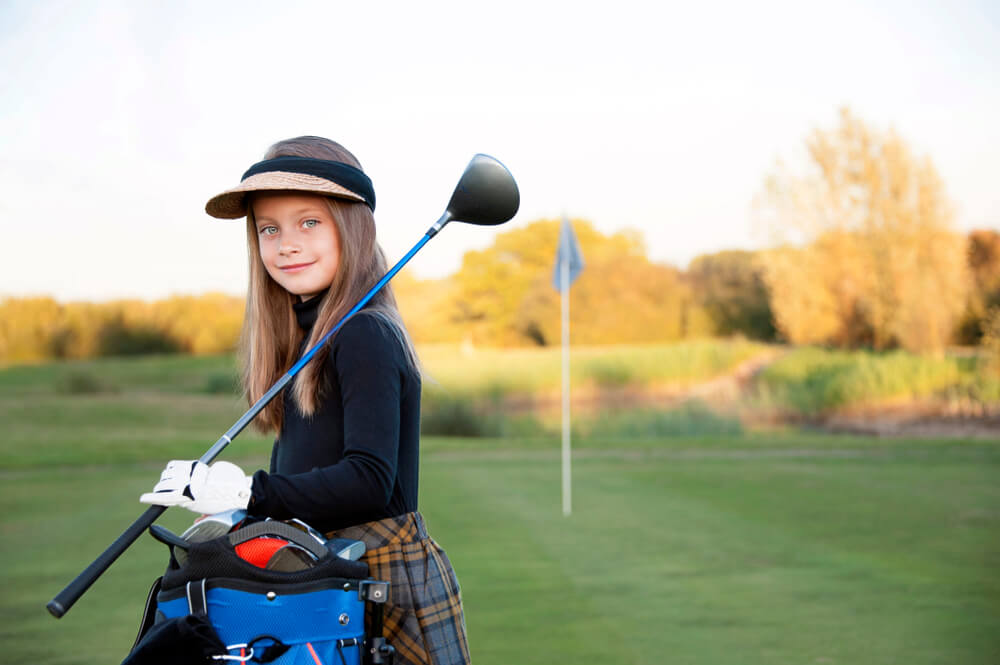 Cleveland Golf Junior Set
There's a point in every young golfer's progress when it is wise to invest in high-quality clubs. The Cleveland Golf set offers just that, with three distinct sizes to accommodate every flourishing junior golfer: small, medium, and big (three, six, and seven clubs, respectively).
These kids' golf clubs have lots of loft to help launch the ball into the air, and the bag's design is bright and fashionable. Because of the lightweight shafts, players may generate club head speed to increase distance.
Ping Prodi G Junior Sets
These clubs are designed for players between the ages of 7 and 13 with a height range of 4′ 5″-5′ 2″.
Young golfers can benefit from the reduced aerodynamic drag provided by Ping's crown turbulators and the optimized head weights provided by dragonfly crown. The perimeter-weighted steel heads are designed to be forgiving, while the irons' graphite shafts and CTP inserts make them more comfortable to swing.
While the investment may initially seem high for kids' golf equipment, customers who purchase 5+ clubs at once are eligible for a one-time, no-cost service in which their clubs are extended or re-shafted, and even re-gripped re-weighted. 
Callaway Junior XJ Golf Package Set
The popular golf club sets for kids are tailored to players between 50 (XJ2) and 57 (XJ3) inches tall. The Junior XJ2 set from Callaway includes a driver, 7- and 9-irons, fairway wood, a putter, and a sand wedge. On the other hand, XJ3 has seven clubs: 7- and 8-irons, hybrid, driver, fairway wood, putter, and sand wedge.
The higher loft of the titanium driver will allow golfers to increase carry distance and eliminate side spin for more precise tee shots. At the same time, the extremely rapid ball speeds over the entire face will boost forgiveness and distance.
TaylorMade Rory Junior Package Set
Sets are available in two variations, for girls and boys, each tailored to the age and size of their potential users. Every set has been designed to provide the best possible combination of shaft flexes, club lengths, and lofts to help junior golfers develop efficient swing mechanics.
Decathlon Inesis Junior Package Set
Decathlon kids' golf clubs start at age two and go up to thirteen; both sets and single clubs are available. Their designers have crafted them as user-friendly by giving them a larger clubhead that provides a high level of forgiveness. Plus, the selection includes plenty of interesting, colorful options and even several products suitable for left-handed users.
Slazenger Ikon Package Set
Despite your best efforts, there's always a possibility that your kids won't share your enthusiasm for golf. In that case, a cheaper alternative for golf clubs may be the best.
It comprises 7- and 9-irons, a 19° fairway wood, a putter, a stand bag, and a rain cover, providing junior golfers with everything they need to get started. 
Top Flite 2022 Kids' 9-Piece Complete Set
The driver in this great Top Flite set for girls and boys is designed to assist young golfers in launching the ball farther and keeping it flying higher while the hybrid takes the fairway wood role.
Your child will quickly get the ball off the ground or a tee, all thanks to the wide iron soles. At long last, the putter is both mallet-shaped and well-aligned, allowing the kids to sink more putts. Two headcovers and a neat stand bag are also included.
U.S. Kids Golf TS3 Package Set
Regarding producing high-quality junior golf sets, U.S. Kids Golf is among the industry leaders for kids' golf equipment. The line includes nine different club sizes and three different club models since the manufacturer knows how important it is for children to use appropriately sized clubs while they play.
The lightweight clubs have shaft flexes for precise club lengths, while the grips are customized to match the hands of young players.
What to Consider When Buying Kids' Golf Clubs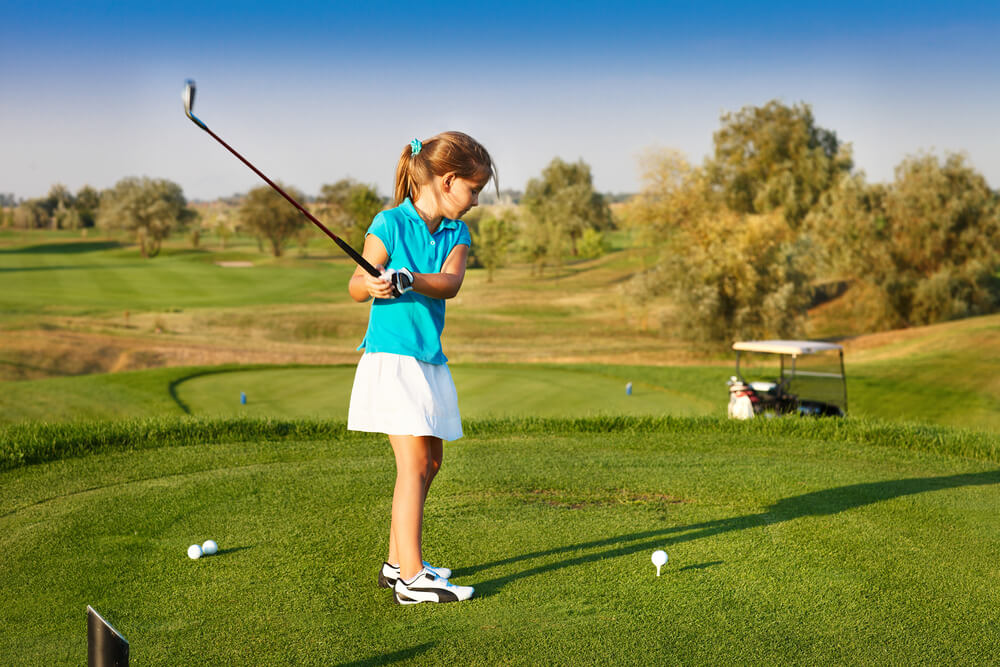 If you're in the market for a full set of clubs, you should know a few things. You'll find some helpful hints below:
Aside from purchasing individual clubs for the golf bag, you may also buy complete sets of kids' golf equipment. With the latter, it's crucial to ensure you're getting everything you need, so it's worth verifying which clubs are included in the set. Remember to secure a bag, especially when shopping for a child.

The overall quality of the full set is often subpar. It's not uncommon for models to be poorly manufactured and have problems with the shaft, the head, or the grip. Consequently, it is wise to opt for well-known brands, as these items are more likely to have been manufactured well and designed to function as intended. Callaway, Top Flite, and TaylorMade are three brands that seem to do exceptionally well.

Forgiveness will likely be a top priority if you're looking to buy a complete set of clubs for your kid. Mishit shots, which limit distance and impair accuracy, are the most common issue for junior amateur players.

Manufacturers

create clubs with sweet spots and larger heads to ensure that even inexperienced golfers can make firm contact with the ball.

Numerous children's sets today are available in a rainbow of colors, making it easier to find a style you can be sure they'll adore.

Sets can be found at a wide range of prices, so it's essential to consider how much you're willing to spend before you shop.

A golf glove might be beneficial for your kid. Gloves that fit tightly are essential for any golfer, but they are especially important for younger players to prevent blisters and club control loss.
Both you and your kids can enjoy the top-class golf courses in Scottsdale and Phoenix the next time you decide to plan a golf Arizona vacation. Leave everything to us at Meridian, including professional golf club rentals in Scottsdale. We can include the clubs in your Golf Package and have them delivered to your condo before your arrival. Simply let your Golf Vacation Specialist know you want to rent clubs when you make your reservation, and they can help you choose the finest possible set for you and your kids.