The sun-soaked land of Arizona is breathtakingly filled with stunning landscapes and vibrant culture. However, when the summer heat strikes, finding respite from the scorching temperatures becomes a top priority for residents and visitors alike. But fear not! There are hidden summer gems scattered throughout Arizona that offer a cool oasis in the desert. In this article, we'll explore the top 10 coldest places in Arizona during summer, where you can escape the relentless sun and enjoy a refreshing retreat, with bonus info on the best place to stay in Scottsdale to stay cool. From luxurious resorts to serene mountain getaways, Arizona has it all to keep you cool under the sizzling sun.
How to Stay Cool During Arizona Summer
Before we dive into the hidden gems of Arizona cities with the coolest summer temperatures, it's essential to equip ourselves with some tips on staying cool during the blistering summer months. 
Hydration is key; always carry a water bottle and drink water frequently to stay hydrated. Additionally, wearing light, breathable clothing and applying sunscreen liberally will protect you from intense rays. However, the most effective way to beat the heat is by seeking refuge in places where Mother Nature offers her gift of cooler temperatures.
Are There Places With Cool Summer Temperatures in Arizona?
Absolutely! While Arizona is known for its arid climate and scorching summers, pockets of the state experience milder temperatures due to higher elevations or proximity to water sources. These hidden gems provide an idyllic escape for those seeking a break from the heat without leaving the state. Now, let's embark on a journey to discover these ten coldest places in Arizona.
Top 10 Arizona Cities With the Coolest Summer Temperatures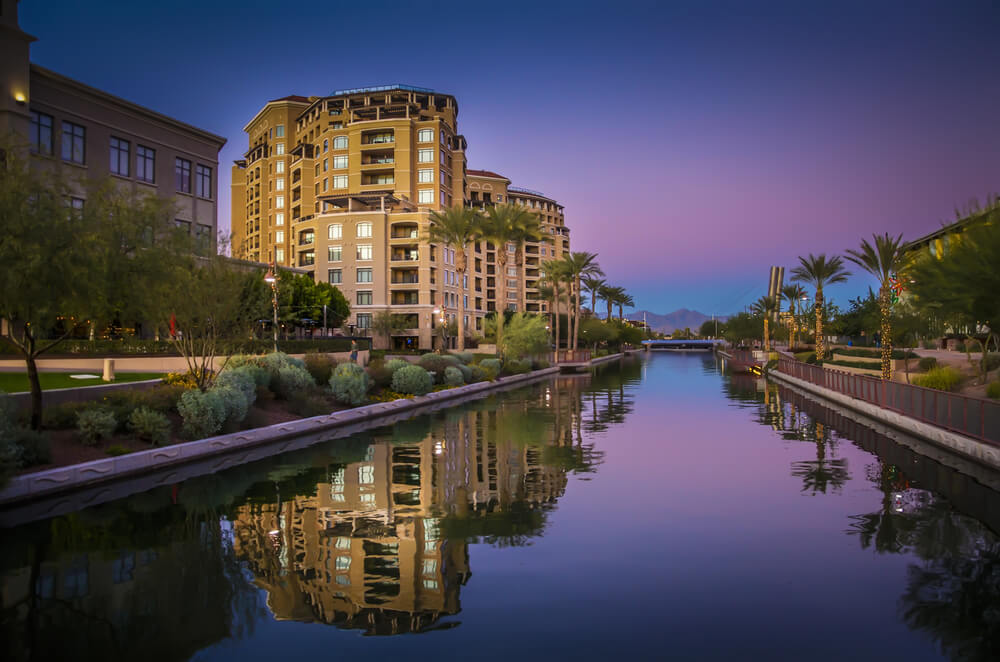 Scottsdale, known for its upscale amenities and vibrant nightlife, might not be the first place that comes to mind when you think of staying cool in Arizona. However, Meridian CondoResorts, nestled in the heart of Scottsdale, offers a unique and luxurious experience. With lush gardens and shimmering pools, you can relax under the shade of palm trees while enjoying the warm desert breeze. The well-appointed condos provide a cool and comfortable environment to unwind after a day exploring the city's art galleries and upscale boutiques.
Located in northern Arizona, Flagstaff is a charming mountain town known for its breathtaking scenery and moderate summer temperatures. Surrounded by lush forests and snow-capped peaks, Flagstaff offers an escape from the sweltering heat. The average summer temperature hovers around a pleasant 80°F (27°C). Visitors can explore the historic downtown, hike through the San Francisco Peaks, or take a stroll along the picturesque Flagstaff Urban Trail System.
For those seeking a serene mountain retreat, Greer is a hidden gem tucked away in the White Mountains of eastern Arizona. The tranquil Little Colorado River flows through the village, providing a refreshing ambiance and opportunities for fishing and kayaking. Surrounded by pine forests, Greer offers a cool and peaceful respite with temperatures averaging around 75°F (24°C) during the summer months, making it one of the coldest places in Arizona. Stay in cozy cabins, wake up to the sound of nature, and let your worries melt away.
If you're a fan of history and quirky attractions, Holbrook is the place for you. This small town in northeastern Arizona is famous for its Route 66 nostalgia and the mesmerizing Petrified Forest National Park. Though summer temperatures can rise, it's still more moderate compared to southern Arizona. Make sure to visit the Painted Desert for stunning vistas and explore the otherworldly landscapes of the Petrified Forest, all while enjoying cooler temperatures.
Nestled in the majestic Mogollon Rim, Payson offers a cool mountain escape just a short drive from Phoenix. With an elevation of around 5,000 feet (1,500 meters), Payson experiences milder summers with temperatures hovering around 85°F (29°C). Its scenic beauty and proximity to Tonto National Forest make it an ideal destination for nature enthusiasts and those seeking relief from the desert heat.
Known for its charming downtown and historic architecture, Prescott's higher elevation of approximately 5,300 feet (1,600 meters) allows it to enjoy cooler temperatures during the summer. With an average temperature of 80°F (27°C), Prescott beckons visitors with its Victorian-style homes, art galleries, and lively events. The nearby Thumb Butte Trail provides an excellent opportunity for a refreshing hike.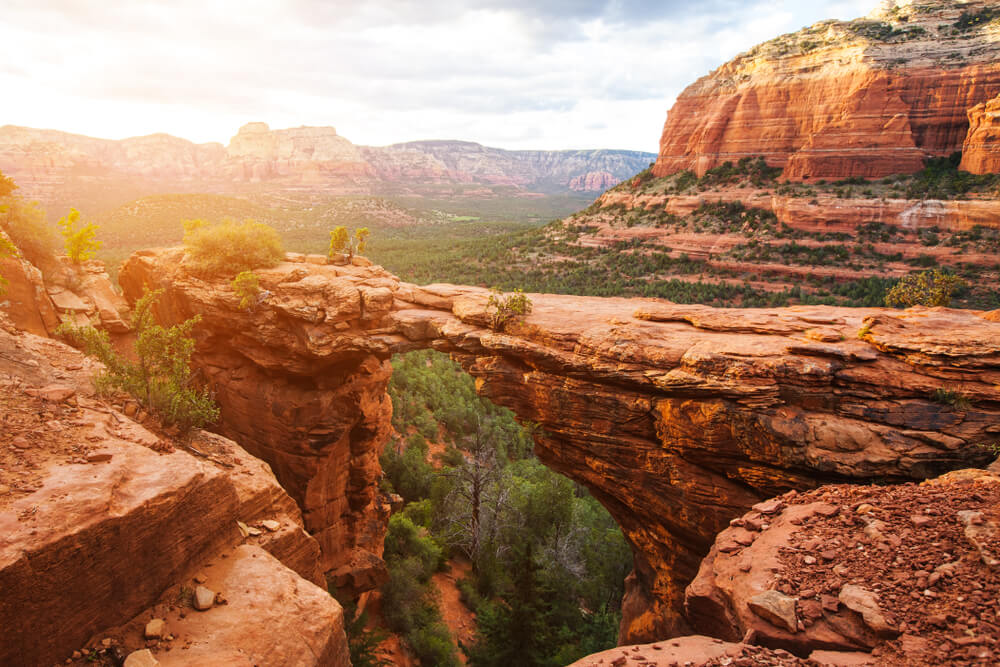 Famous for its red rock formations and spiritual vibe, Sedona also boasts a cooler climate than many other parts of Arizona. The town's average summer temperature of around 90°F (32°C) might not make Sedona the coldest place in Arizona during summer. Still, the majestic beauty of the surrounding landscapes makes it worth a visit. Relax in luxurious resorts, take a dip in Oak Creek, and explore the mystical vortexes that dot the area.
Show Low's unique name comes from a legendary card game played by two early settlers to determine the town's name. This charming town, situated in the White Mountains, offers a cool escape with summer temperatures averaging around 80°F (27°C). Embrace the laid-back mountain lifestyle, enjoy fishing and boating on Show Low Lake, and savor the fresh mountain air.
Located near the southern rim of the Grand Canyon, Williams is a picturesque town known for its Wild West atmosphere and historic Route 66 charm. At an elevation of around 6,700 feet (2,000 meters), Williams is one of the places with cool summer temperatures, making it an excellent base camp for exploring the Grand Canyon and nearby national forests.
Last but not least, Winslow is a small town in northern Arizona that offers a surprising oasis of coolness. With summer temperatures hovering around 85°F (29°C), Winslow provides a relatively comfortable escape from the desert heat. Visit the famous Standin' on the Corner Park, inspired by the Eagles' hit song "Take It Easy," and explore the nearby Homolovi State Park for a glimpse into ancient Native American history.
To Conclude
Arizona's summer heat might be intense, but hidden among its diverse landscapes are these cool and refreshing destinations. From mountain getaways to lush resorts, each place offers a unique experience that will leave you with cherished memories. So, pack your bags, grab your sunscreen, and embark on a journey to discover Arizona's hidden summer gems. Stay cool, embrace the adventure, and let the beauty of the Grand Canyon State enchant you as you explore these top 10 places to stay cool. Of course, you can always count on a budget-friendly yet luxurious resort experience at Meridian CondoResorts during your visit to Scottsdale as you seek a cozy refuge from the summer heat.