When you think of Scottsdale, Arizona, what comes to mind? Pristine desert landscapes, luxurious resorts, and vibrant nightlife, perhaps? While all of these make Scottsdale a sought-after destination, there's a hidden gem that often goes unnoticed—the captivating lakes and rivers that grace this desert paradise. In this article, we'll dive deep into the world of water, exploring the lakes near Scottsdale, AZ, and the rivers that wind their way through this arid terrain. Whether you're an adventure seeker or simply looking for a serene escape, kayaking in Scottsdale, AZ, and discovering Arizona lakes and rivers will leave you enchanted. If you're interested, don't hesitate to check Meridian CondoResorts for the best place to stay in Scottsdale during your trip. 
Scottsdale Lakes: Oasis in the Desert
Scottsdale may be situated in the heart of the Sonoran Desert, but it's far from being parched land, as one might imagine. In fact, the city boasts an array of stunning lakes that provide a tranquil contrast to the arid surroundings.
Saguaro Lake: Where Desert Meets Water
One of the most beloved lakes near Scottsdale, AZ, is Saguaro Lake. Named after the iconic Saguaro cacti that pepper the landscape, this lake is a true oasis. Surrounded by the rugged Tonto National Forest, Saguaro Lake offers a perfect blend of adventure and serenity. Visitors can rent kayaks or paddleboards to explore its crystal-clear waters or simply soak in the breathtaking views from the shore. Don't forget to keep an eye out for the diverse wildlife that calls this area home, including bald eagles and bighorn sheep.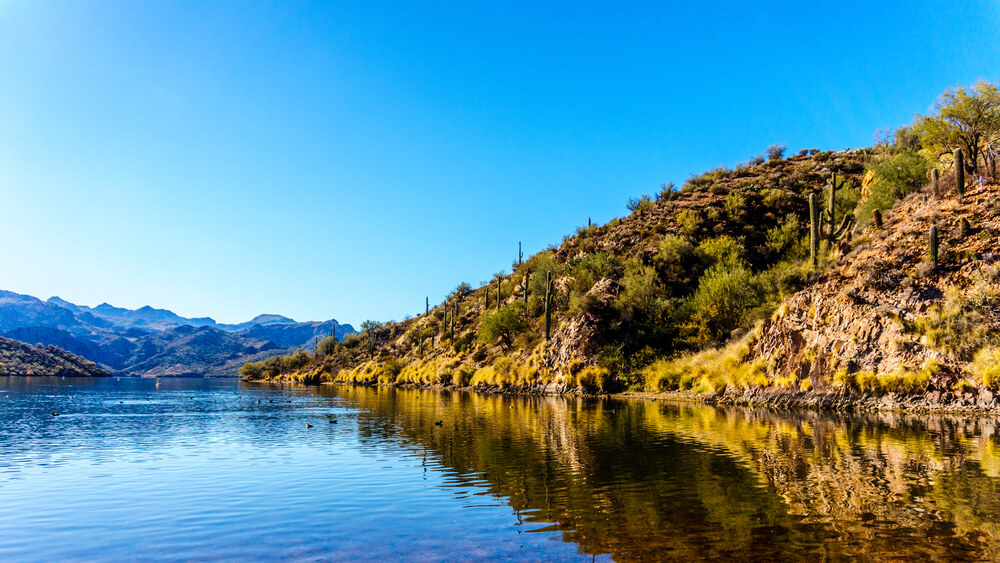 Bartlett Lake: Nature's Playground
For those seeking a bit more seclusion, Bartlett Lake beckons with its untouched beauty. Tucked away in the Tonto National Forest, this reservoir is a paradise for nature enthusiasts. You can embark on a kayaking adventure on its calm waters, explore hidden coves, and even try your hand at fishing. The pristine surroundings and the serene ambiance of Bartlett Lake make it a perfect escape from the hustle and bustle of daily life.
Lake Pleasant: Recreation Haven
Lake Pleasant lives up to its name, offering a delightful blend of outdoor activities. Whether you're into kayaking, boating, or jet skiing, this lake has it all. Located just a short drive from Scottsdale, it's a popular spot for weekend getaways. You can spend the day exploring the vast expanse of water or simply relax on the shore and enjoy a picturesque picnic. The Arizona sunsets over Lake Pleasant are a sight to behold, making it an ideal spot for a romantic evening.
Canyon Lake: A Scenic Wonderland
As we journey deeper into the world of Arizona lakes and rivers, Canyon Lake deserves special mention. Surrounded by towering cliffs and rugged canyons, this lake offers a unique and captivating landscape. Adventurers can rent kayaks or paddleboards and navigate through the narrow channels, taking in the awe-inspiring scenery. Keep an eye out for desert bighorn sheep that often make appearances along the rocky shores.
Apache Lake: Serene Wilderness
Nestled amidst the Superstition Wilderness, Apache Lake offers a serene retreat for nature lovers. This reservoir on the Salt River is known for its pristine waters and tranquil ambiance. Whether you're fishing for the catch of the day or gliding on a kayak, Apache Lake promises an unforgettable experience. The lack of motorized boats here adds to the overall serenity, making it a top choice for those seeking solace in nature.
Roosevelt Lake: Waterfront History
Roosevelt Lake, the largest reservoir in Arizona, is steeped in history. It was created by the construction of the Theodore Roosevelt Dam, a feat of engineering that transformed the region. Today, the lake serves as a playground for water enthusiasts. You can explore its 128 miles of shoreline by kayak, reveling in the stunning desert vistas and rich history that surrounds you.
Chaparral Lake: Urban Oasis
While the previously mentioned lakes and rivers are more rugged and remote, Chaparral Lake offers an urban oasis right in the heart of Scottsdale. This 10-acre lake is surrounded by a beautiful park, making it a perfect spot for a leisurely paddle in a kayak. It's a great choice for those who want to experience the beauty of Arizona's waterways without venturing too far from the city.
Arizona Rivers: Flowing Through History
While the lakes near Scottsdale, AZ, are stunning in their own right, the rivers in Arizona have their own charm, flowing through the state's history and providing a lifeline for the region.
Salt River: A Historic Waterway
The Salt River, winding its way through the heart of Arizona, has played a significant role in the state's development. It's not just a river; it's a slice of history. You can choose from various guided river tours that offer insights into the region's past while you enjoy a leisurely float downstream. It's a unique way to immerse yourself in the culture and heritage of Arizona.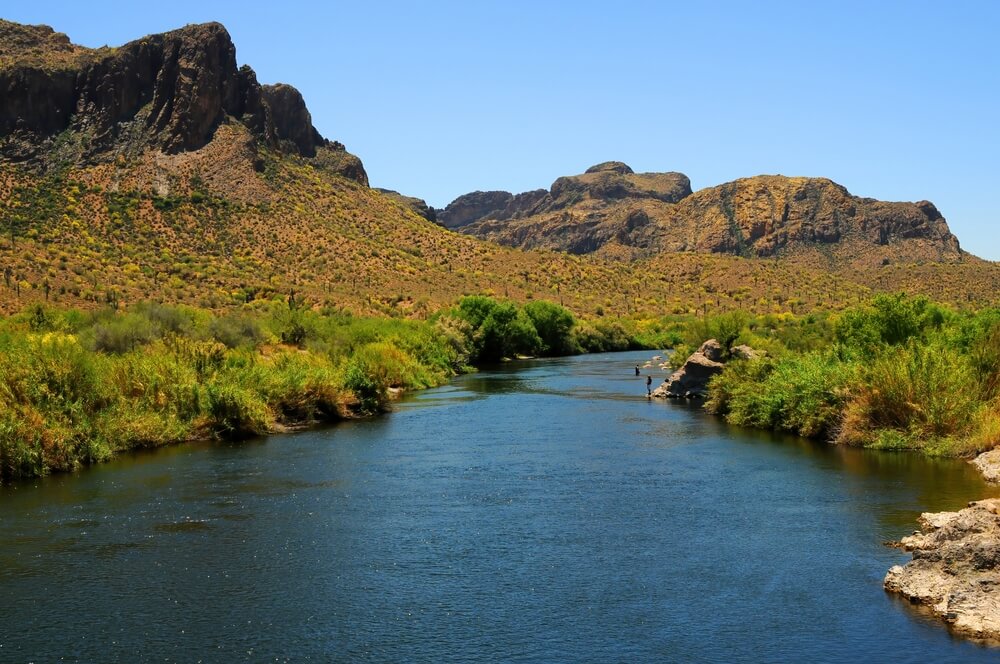 Verde River: A Desert Oasis
The Verde River, often dubbed the "last wild river" in Arizona, is a hidden gem waiting to be discovered. Its lush riparian zones and clear waters create a stark contrast to the desert landscape. Kayaking in Scottsdale, AZ, takes on a whole new meaning when you paddle down the Verde River, surrounded by towering cottonwood trees and an abundance of wildlife. It's a peaceful escape that feels worlds away from the city's hustle.
To Conclude
The lakes near Scottsdale, AZ, and the rivers in Arizona are like hidden treasures waiting to be discovered. While the lakes and rivers near Scottsdale offer an abundance of natural beauty and outdoor excitement, there's more to this city than just its waterways. Scottsdale itself boasts a thriving community that knows how to make the most of its aquatic assets. 
You can join guided tours that explore the local Scottsdale lakes and rivers, led by experts who will unveil the hidden gems of these waterways while sharing fascinating stories about the region's history and ecology. Additionally, Scottsdale is home to numerous waterfront restaurants and cafes where you can savor delicious meals while enjoying picturesque views of the lakes and rivers, ensuring your experience is not just about nature but also about the vibrant culture and cuisine of this charming city. 
Whether you're seeking adventure on the water or a relaxing lakeside meal, Scottsdale offers a diverse range of activities that allow you to fully immerse yourself in the lakes and rivers that define this desert oasis. And remember, you're welcome to book your stay at Meridian CondoResorts and experience the best that Scottsdale has to offer while enjoying true luxury without breaking the bank.