Will you be making an important business trip and wondering what furnished rentals Scottsdale has to offer? Maybe your employer has mentioned what kind of furnished rentals Phoenix AZ has and you were wondering how do corporate rentals work? Look no further than Meridian CondoResorts! We can answer all of your questions and concerns about furnished rentals in Scottsdale AZ and point you in the right direction to get started reserving one today! 
What Is Corporate Housing?
What is a corporate apartment anyway? Well, it refers to accommodations that have everything you need to be productive on your job while away from home. These can include full-size kitchens, separate spaces for dining and living rooms, WiFi, and all utensils and cooking equipment. Our corporate housing Scottsdale location offers much more than the typical long or short term rental but all corporate rentals are employer-paid. If you're wondering who uses corporate housing the most, you'd be correct in guessing companies looking to relocate employees. With average stays between 2 to 3 months, corporate rentals are also used for interns and temporary or contract workers. 
Meridian CondoResorts Corporate Housing
Corporate housing rentals and amenities may differ depending on where you or your company makes a reservation. Extended stay hotels do not always offer the same quality and value as corporate housing options. That's because extended stay hotels are generally not located in high traffic areas and are not all-inclusive. Our furnished rentals Phoenix and Scottsdale locations offer all-inclusive accommodations and unsurpassed square footage. Corporate rentals are meant to feel like home and should be a place to rejuvenate while away from your family on work assignments. That's why we offer the following luxury accommodations: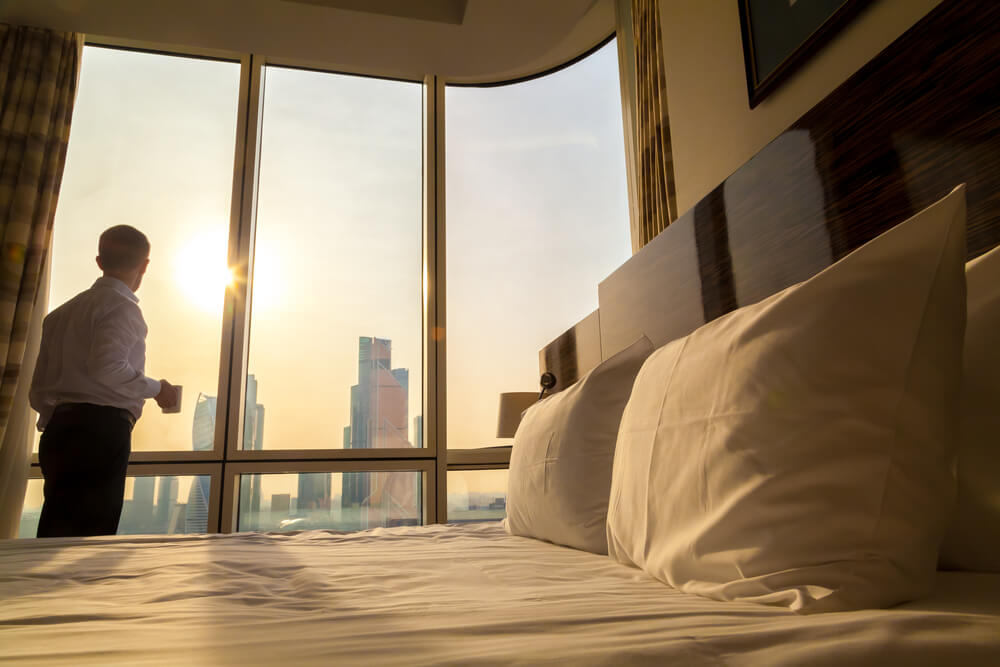 Luxury Condos

– Corporate rentals do not come more spacious and comfortable than our 1, 2, and 3 bedroom luxury condos that have up to 1400 square feet of space to stretch out. These all-inclusive luxury suites include a full-size washer and dryer, full-size gourmet kitchens with pots and pans, full-size refrigerators and stoves, free detergent, Tupperware, wine glasses, comfortable leather living room seating, free WiFi, flat screens, dining room tables, private balconies, and stunning decor. 

Amenities

– Our amenities will make your stay much more enjoyable so you won't have to worry about traveling anywhere else to relax. Some of our amenities include whirlpool spas, state of the art fitness facilities, heated resort-style swimming pools, clubhouse area with BBQ grills, and 24/7 concierge service available. 

Unlimited Stay and Play Golf

– Work and play in the same place! Conduct business meetings at Meridian CondoResorts while you impress your partners and colleagues with your golf game with our Unlimited Stay & Play golf packages. Get the VIP treatment with access to the best golf courses in the U.S: 

Las Sendas

Rancho Manana

Troon North Golf Course

Talking Stick Golf Club

Grayhawk Golf Club

Sedona, and so much more!
One of the best features of corporate housing is the ability to bring your pets! Meridian CondoResorts has pet-friendly luxury accommodations for an additional pet fee and refundable deposit. Housekeeping is available once a week for corporate rental stays and we can accommodate additional requests. Our all-inclusive luxury accommodations are 5-star rated with no hidden fees. You know that when you stay with us, you are receiving the highest standards in hospitality and customer service. 
Benefits of Staying at Corporate Housing Scottsdale & Phoenix Locations
Living in corporate housing gives you the chance to immerse yourself in the community. You'll be surrounded by stability rather than the transient nature of hotel stays. Long and short term corporate stays provide the opportunity to interact with other visitors and residents. This experience provides increased flexibility and engagement that helps residents do their jobs better. Living in a corporate rental should be just like living at home. At Meridian CondoResorts, we continue to execute this "home away from home" experience regularly and with the highest standards. 
What's Better: Corporate Housing or Buying Property?
Do you make regular business trips to the Scottsdale or Phoenix area? You may be wondering if it's more cost-effective to continue to book furnished rentals Scottsdale or buy property. This decision really depends on how often you visit and if you are prepared for the upkeep of your home when you are not in town. Residents that stay in corporate housing generally are only there for a short period of time and the cost to stay is covered by their employer. When purchasing a home, you are responsible for all costs associated with it even when you are not in town. This choice should be determined by what you feel is best for you and your family with these factors in mind: 
Length of Stay

– If you know you will be in the area for a while, it may be a good idea to purchase a home. Before taking this step, consider the down payment costs and whether your stay will give you the opportunity to recoup these funds. 

Age

– Buying a home is a big decision and ties you to an area long term. Young professionals who may not have a good idea of where they want to settle may not want to commit to a specific area. A career can send you anywhere in the world and its best to be flexible and open to those opportunities without the hassle of carrying a mortgage. 

Maintenance and Upkeep

– The costs of homeownership and maintenance are more than just the down payment. Ongoing maintenance costs and time spent may become a financial burden in the long run. Here at Meridian CondoResorts, all utility costs are included in the price which includes cable, WiFi, electric, water, trash, etc.

Know Your Numbers – Most of the time, a monthly mortgage can be less than rent before factoring in other monthly costs. When you include all monthly costs, it may not be the best decision for you. Check your bottom-line numbers to make sure it is worth the costs.
Book Your Next Stay at Our Corporate Housing Scottsdale Location 
Whether you're looking for short term furnished rentals Phoenix AZ location or wondering how do corporate rentals work, Meridian CondoResorts can address all of your concerns. When you book your corporate rental with us, you'll have access to our 24/7 concierge services that can help you with all the logistics from stocking your refrigerator with groceries to providing you the tee time for a round of golf. Our famous Unlimited Stay & Play golf packages are a favorite because they offer the most value and can be customized to your preference. Imagine golfing with your partners and negotiating on the golf course while overlooking stunning mountain views and luscious landscapes. 
With a minimum 30-night stay requirement on corporate rentals, we take care of all utilities and offer flexible payment options. We also accommodate groups both large and small with full access to customizable and discounted options that include unlimited stay and play packages. The average corporate rental costs $161. We can beat that and offer unlimited golfing with your stay. 
If you're ready to take the next step or just have questions, give us a call or book your stay today at Meridian CondoResorts today!