We can all use a long stay at our preferred choice of all inclusive golf resorts. There's nothing like a great location that you can bring your kids to and golf at the same time. That's what you can expect at Meridian CondoResorts and much more. With first-class amenities and luxury accommodations, you won't want to leave! Our unlimited stay and play golf packages sweeten the deal with access to some of the country's best golf courses right at your fingertips. Located near vibrant nightlife, fine dining, and cultural landmarks, you'll want to explore during your stay with us. 
The Best Golf Vacation Destinations
We are part of an exclusive list of great golf destinations that combine value with luxury. There are other locations throughout the U.S. that are breathtakingly beautiful as well. The best family resorts in the US combine the joy of golf with the joy of family. Check out some of our favorite all inclusive golf resorts options:
1. Pebble Beach Resort – We kick off our list with the famed Pebble Beach Resort. As one of the best golf vacation destinations in California and the world, you can expect to play golf amid a backdrop of the Monterey Peninsula. Lined with exquisite beaches, plunging cliffs, and plentiful cypress trees, this timeless and exclusive family resort is a natural beauty. One of the first things you'll notice is the attention to detail from the architecture to the immaculately landscaped greens. It is more than just a golfing destination. It is considered to be the best public golf course in the world. 
But expect to pay a lot. Both junior and senior golfers pay the same rate starting at over $1,300 for daily stay and play specials. You'll experience scenic drives, equestrian recreation, world-class accommodations and spa treatments. And you'll want to try the chocolate strawberries before you leave!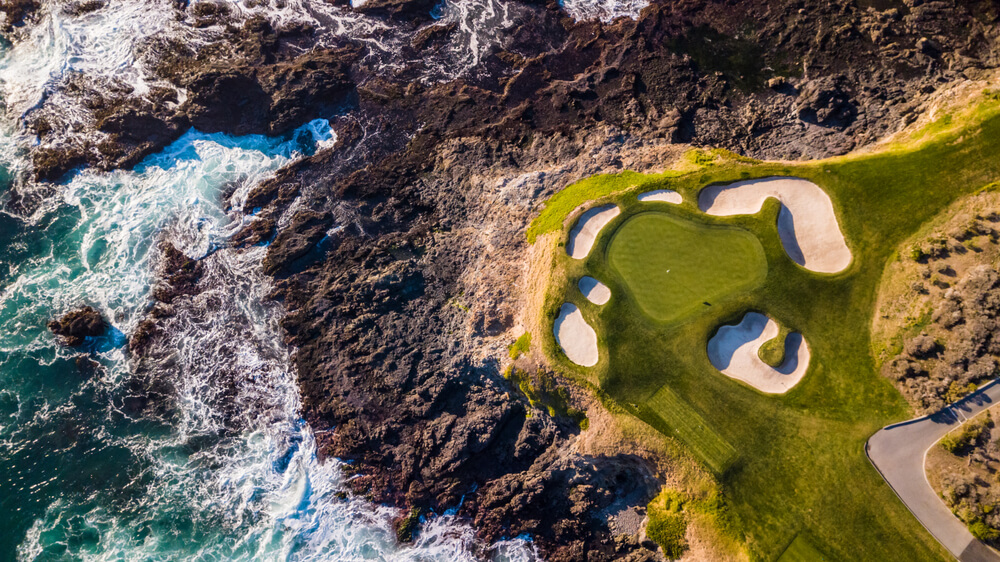 2. Kiawah Island Golf Resort – Located 20 miles away from Charleston, South Carolina, this luxurious resort is set amongst Spanish moss and lush Palmetto trees. You'll have your choice of 5 golf courses to choose from and an incredible selection of outdoor activities to keep the kids entertained. With 10 miles of remarkable sandy beach to explore, you'll want to carve out some time to enjoy the ocean or catch the Inshore Fishing Charter. 
One of the most beautiful family golf resorts, the daily stay and play rates start at $235. If you're a PGA fan, you'll have to play the Ocean Course at least once. Rent a bike or create original artwork in the Turtle's Nest Art Studio while you enjoy your stay in your private villa, home, or cottage. You have options!
3. Omni Homestead Resort – This luxury resort is a perfect family getaway destination. Surrounded by the Allegheny Mountains of western Virginia, your family will have an endless list of outdoor activities to choose from. This resort location has it all including archery, fly fishing, paintball, horseback riding, tennis, kayaking, ice skating, canoeing, carriage rides, and much more! The massive pool area is equipped with slides, splash pad, and a lazy river for the summer months. 
Expect to be charmed by the southern hospitality and elegant, pet-friendly accommodations. With daily stay and play rates starting at $248, you'll want to spend time sharpening your golf game on the Old Course and Cascades. During your stay, you'll want to check out the movie theater and immense spa. 
4. Grand Hotel – When you're ready for a unique golfing experience at one of the best family golf resorts in the country, make a trip to the Grand Hotel in Michigan. Located on Mackinac Island, your kids can spend the day at the Grand Kids Golf Academy while you transport between holes by horse-drawn carriage. Every guest room is different with one of a kind accommodations that include 14 bars and restaurants and a ballroom dance package. Since 1887, this resort and National Historic Landmark has been a favored summer destination for guests and golfers everywhere. 
5. The Wigwam Arizona – As part of Arizona's history since 1929, it is the state's only 54 hole golf course. With 440 acres, your family will have access to 2 outdoor pools, 2 waterslides, a tennis court, full-service spa, and 3 restaurants. Expect to be treated to stunning views of the Sonoran Desert at sunset when you play on any 1 of 3 championship golf courses. Only 25 minutes away from the Phoenix airport, you can look forward to relaxing in a 4 Diamond resort with cultural and hiking trail options. 
6. Palmetto Dunes – This award-winning family golf resort in South Carolina has incredible outdoor activity options outside of golfing that include dolphin tours, water sports, fishing charters, tennis, biking, and surfing. The kids will enjoy the Palmetto Dunes Golf Academy junior programs while the adults can bask in playing oceanfront holes on one of its 3 golf courses. With luxurious accommodation options of villas and multi-story properties, you'll be treated to exceptional ocean views of the Atlantic Ocean. Other amenities include private pools, deep-sea fishing, paved bike paths, and sailing. 
7. La Quinta Resort & Club – Located near the famed city of Coachella, this luxurious resort is in Southern California and is known for numerous Hollywood and PGA pro sightings. Home to 5 championship golf courses, this family-friendly golf course features historical architecture throughout its villas, suites, and casitas. Many accommodation options include fireplaces and private pools. The family can enjoy biking, fitness classes, tennis, shopping, sightseeing, and cycling. 
8. The Lodge Torrey Pines – Nestled in the distinguished area of La Jolla in Southern California, this world-renowned golf course features challenging greens, changing winds, and spectacular views. Plan to relax in luxurious rooms and bring the kids for scenic hiking along the ocean. With a 5 Diamond rating for the past 18 years, you'll appreciate the 1900s Craftsman-inspired architecture, fine dining restaurant, and the 9,500 square foot spa.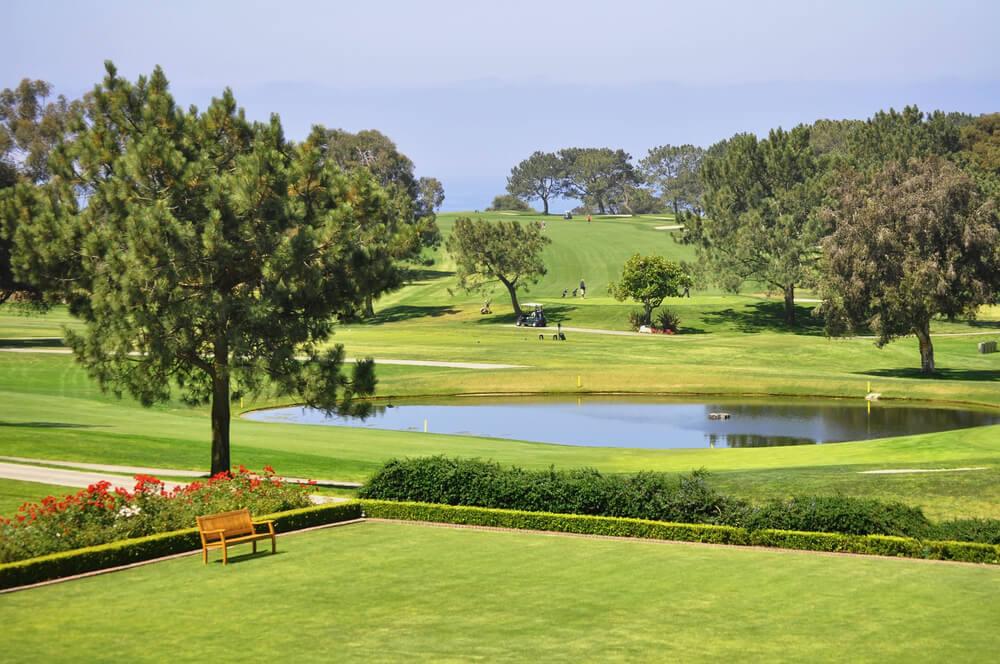 9. Crystal Springs Resort – Close to New York City, this luxury resort in New Jersey is surrounded by the Appalachian Mountains and rivers. The adults can expect challenging terrain and breathtaking views of the green plataus and open fairways. The kids can take advantage of junior instruction with the onsite Leadbetter Golf Academy, which is available for all ages and experience levels. You'll want to play the 9 hole Minerals Golf Club course in between zip lining, paddle boarding, and kayaking. Accommodations are second to none with mountain view lodges perfect for families and far from the busyness of New York City. 
10. JW Marriott Desert Springs Resort & Spa – This sprawling Palm Desert resort offers rolling green golf courses lined with palm trees in Southern California. As one of Coachella Valley's largest resorts, every single room has its own private balcony with incredible desert views. As soon as you enter the lobby, you'll be greeted with a 30,000 square foot atrium that features exotic birds and a glass water wall! The adults will want to take full advantage of the 38,000 square foot spa and the Blue Star Lounge for cocktails. You'll have your choice to play on 2 championship golf courses lined with palm trees and towering mountains. The kids can enjoy the play area and water sports with additional babysitting services available offsite. 
Book a Stay at Our Family Golf Resorts
These may be the best family resorts in the US, but our unlimited stay and play package rates beat all of these all inclusive golf resorts! We offer the value of luxury amenities and accommodations without the price tag. Our 24 / 7 concierge is here to help you with dinner reservations, grocery delivery, or special events tickets. 
Give us a call to book your family golf vacations today!