Whether you're a seasoned pro or a passionate beginner, Scottsdale offers an array of golf courses that cater to every skill level. And the best part? You don't need to break the bank to experience top-notch fairways and pristine greens. In this article, we'll unveil the best affordable golf in Scottsdale, where you can play like a pro on a budget without compromising on quality. Don't miss out on top Scottsdale Golf Packages if you're looking for the perfect golfing vacation that fits your budget.
Golfing in Arizona
Arizona has long been recognized as one of the premier golf destinations in the United States. The state's year-round sunny weather, dramatic desert landscapes, and an impressive selection of courses designed by legendary architects make it a golfing haven. Among Arizona's top golfing destinations, Scottsdale stands out for its remarkable diversity of courses, from lush resort layouts to challenging desert-style fairways.
Notably, the city of Scottsdale has earned a reputation for offering golf enthusiasts an unparalleled golfing experience. Still, many may assume that playing on these top-tier courses requires a hefty investment. However, there are hidden gems among Scottsdale's public golf courses that provide outstanding playability at affordable rates.
How to Find the Best Golf Deals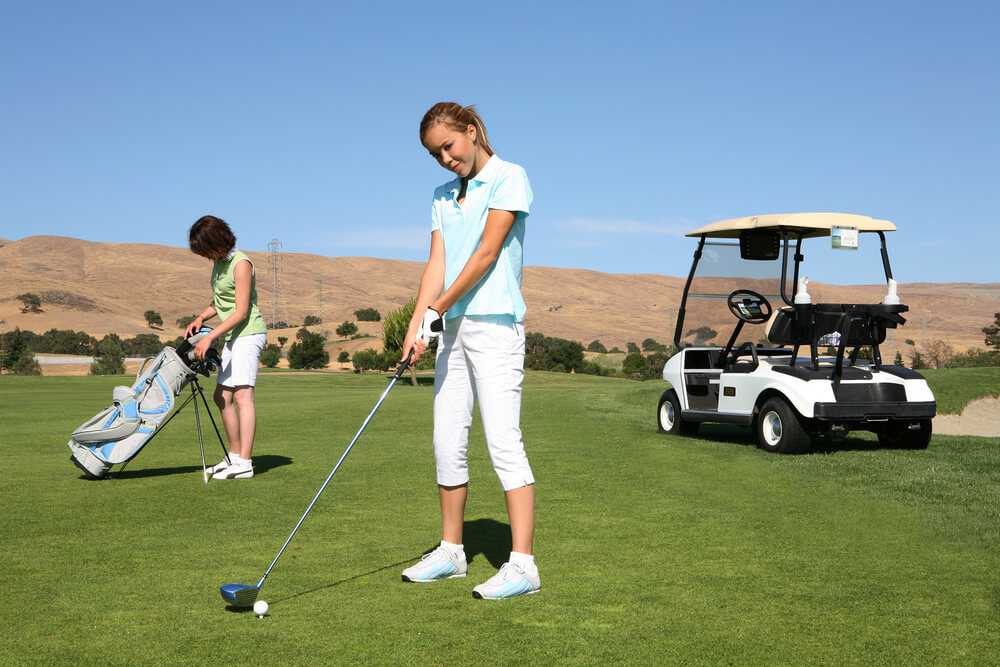 Before diving into our list of the Scottsdale golf courses with the best value, let's explore some tips on how to find the best golf deals. Golfing on a budget requires a bit of savvy and research, but with these guidelines, you'll be teeing off without a financial handicap.
Tee Time Booking Websites

: Embrace the digital age and leverage tee time booking websites that offer discounted rates on various courses. 

Off-Peak Hours

: Playing during off-peak hours, typically on weekdays or early mornings, can yield significant savings. Plus, you'll enjoy a more relaxed pace on the course.

Twilight Golfing

: Many courses offer twilight rates, allowing you to play later in the day at reduced prices. This way, you can savor the sunset views while saving some dollars.

Golf Memberships and Loyalty Programs

: If you plan to golf regularly, consider investing in memberships or loyalty programs at your favorite courses. These programs often come with perks and discounted rates.

Check for Special Offers

: Keep an eye out for special promotions, seasonal discounts, or package deals that can grant you access to premium courses at lower prices. For example,

Meridian CondoResorts

has great golf deals and Stay & Play packages to explore if you seek affordability with a top-notch golfing experience.
Top 10 Affordable Scottsdale Public Golf Courses
Ak-Chin Southern Dunes
Nestled in the quaint town of Maricopa, a short drive from Scottsdale, Ak-Chin Southern Dunes is a golfer's dream come true. Designed by the acclaimed golf course architect Brian Curley, this 18-hole championship course showcases rolling fairways, intriguing bunkers, and impeccable greens. The course seamlessly blends with the natural surroundings, offering a genuine desert golf experience.
Despite its world-class layout, Ak-Chin Southern Dunes surprises golfers with its affordable green fees. This hidden gem stands out as one of the best options for affordable golf in Scottsdale.
Wigwam Gold
The historic Wigwam resort is home to three impressive 18-hole courses, and among them, Wigwam Gold stands tall as a true championship layout. Designed by the renowned Robert Trent Jones Sr., this classic course combines challenging play with stunning aesthetics.
Wigwam Gold boasts lush fairways, mature trees, and well-bunkered greens, providing a challenging yet enjoyable round for golfers of all levels. As a part of the Wigwam resort, it offers excellent value for those seeking a premium golfing experience without a reasonable price tag.
Wigwam Red
Next on our list is another gem within the Wigwam resort – the Wigwam Red. Designed by Robert Trent Jones Sr. and later enhanced by his son, Robert Trent Jones Jr., this parkland-style course is a testament to golfing excellence.
The Wigwam Red is revered for its strategic layout, incorporating water features, well-placed bunkers, and lush landscapes. The course showcases Arizona's natural beauty, and with its reasonable green fees, it stands out with its fantastic golf deals in Scottsdale.
Verrado Victory
If you seek a golf course that seamlessly blends with the awe-inspiring desert scenery, Verrado Victory should be on your radar. This Arizona treasure was designed by the renowned Tom Lehman, offering 18 holes of pure golfing delight.
Verrado Victory provides an engaging play for golfers of all abilities, with its wide fairways and large, receptive greens. The picturesque views of the White Tank Mountains add a touch of magic to the experience. Despite its outstanding design and setting, Verrado Victory maintains reasonable rates that won't put a dent in your wallet.
Verrado Founders
Another jewel within the Verrado community, the Verrado Founders course, designed by John Fought, is a true testament to traditional golfing excellence. Fought brilliantly incorporated the desert landscape into the course, offering golfers a harmonious blend of challenges and scenic beauty.
This 18-hole championship course boasts impeccable conditions and provides an unforgettable golfing experience without the premium price typically associated with courses of this caliber.
Raven Phoenix
For the best Phoenix golf courses under $100, look no further than the Raven Phoenix, a golf oasis in the heart of Phoenix, just a stone's throw away from Scottsdale. Designed by David Graham and Gary Panks, this award-winning course features striking vistas of South Mountain and a unique layout that keeps golfers on their toes.
The Raven Phoenix offers a captivating mix of elevated tees, undulating fairways, and fast greens, guaranteeing a memorable round for golfers of all levels. 
Silverado
For golfers seeking an authentic Arizona golfing experience, Silverado fits the bill perfectly. Located in the East Valley, this course showcases Arizona's beauty with picturesque views of the Superstition Mountains.
Designed by Gilmore-Graves Golf, Silverado features a player-friendly layout with generous fairways and well-manicured greens. It's an ideal option for players looking to test their skills without splurging on greens fees.
Eagle Mountain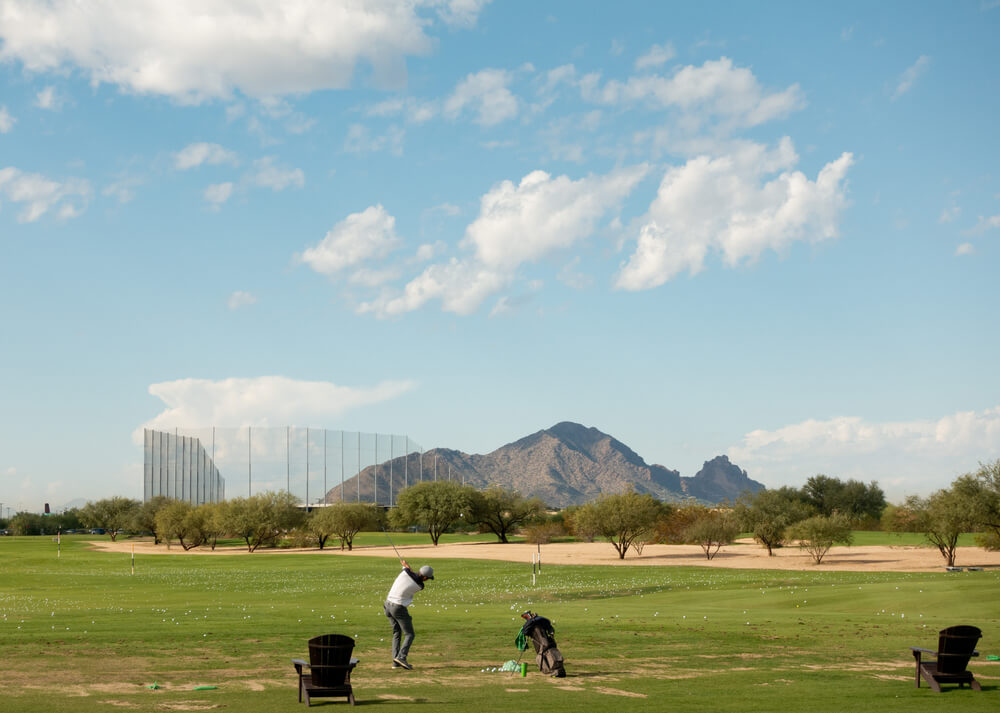 Eagle Mountain is a captivating course sculpted into the McDowell Mountains, offering golfers an unforgettable experience amidst the desert's rugged charm. Designed by Scott Miller, this course presents a challenging yet rewarding adventure.
With its elevated tee boxes, stunning views, and pristine fairways, Eagle Mountain provides a top-tier golfing experience without the hefty price tag, earning a spot on our list of great Scottsdale golf courses with the best value.
Ocotillo
Ocotillo is an oasis of green in the desert located in Chandler, just a short drive from Scottsdale. This Ted Robinson-designed course features lush landscaping, 27 holes of varied play, and an abundance of water features.
Ocotillo is renowned for its immaculate conditions and welcoming atmosphere, attracting golfers of all skill levels. Despite its resort-like ambiance, Ocotillo manages to offer affordable rates, making it a top pick for golfers on a budget.
Starfire
Last but not least, we have Starfire Golf Club, located in the heart of Scottsdale. This Arnold Palmer-designed course offers 27 holes of enjoyable play set amidst a vibrant community.
Starfire boasts player-friendly fairways, excellent practice facilities, and a friendly staff that makes every visit a pleasure. With reasonable green fees and a prime location, it's a go-to option for locals and visitors alike, offering some of the best golf deals in Scottsdale.
To Conclude
As you can see, Scottsdale offers a treasure trove of affordable golf courses that cater to every golfer's dream. Whether you're seeking a championship layout or a relaxing resort-style round, these top 10 affordable public golf courses will surely exceed your expectations without stretching your budget.