Do you really need a reason for visiting Scottsdale? It's no secret that we have some of the most beautiful natural scenery, luxurious resorts, and stunning golf courses in the country. Most likely, you don't need a reason but are looking at where to stay in Scottsdale and planning activities for your next trip. We can help with that and much more! Not only do we provide luxury accommodations and world-renowned stay and play golf packages, but we also offer an excellent 24-hour concierge service to help you plan your vacation with us. We're that good! For now, let's talk about the best time to visit Scottsdale and the buzz you may have heard in the grapevine lately. 
The Best Extended Stay Scottsdale Has to Offer
No need to wonder where to stay in Scottsdale. In case you were wondering, Meridian CondoResorts is the best extended stay Scottsdale has to offer and we're happy to tell you why. Nestled in Scottsdale's rolling hills and gorgeous rock formations, you'll find luxurious accommodations with numerous amenities and exceptional customer service. Our seasoned staff and golf pros are on hand to answer any questions you may have regarding your vacation and stay and play package. When you book your extended stay with us, you'll have access to the following amenities: 
Luxury condos

Whirlpool spas

Heated resort-style swimming pools

State of the art fitness facilities

Clubhouse/meeting facilities 

Gas BBQ grills with gazebos

Full 24-hour concierge service
As if that isn't enough to convince you, our extended stay Scottsdale luxury condos come with full-size gourmet kitchens, washers and dryers, and free weekly housekeeping services. While you're here with us, you'll want to take advantage of the unlimited stay and play golf packages featuring some of Arizona's most beautiful championship golf courses in the country. If the idea of golfing on the famed TPC Stadium Course, home to the Waste Management Phoenix Open, doesn't excite you enough, imagine going for another round at no extra cost! Our customizable VIP stay and play packages will elevate your extended stay Scottsdale experience to new and relaxing heights.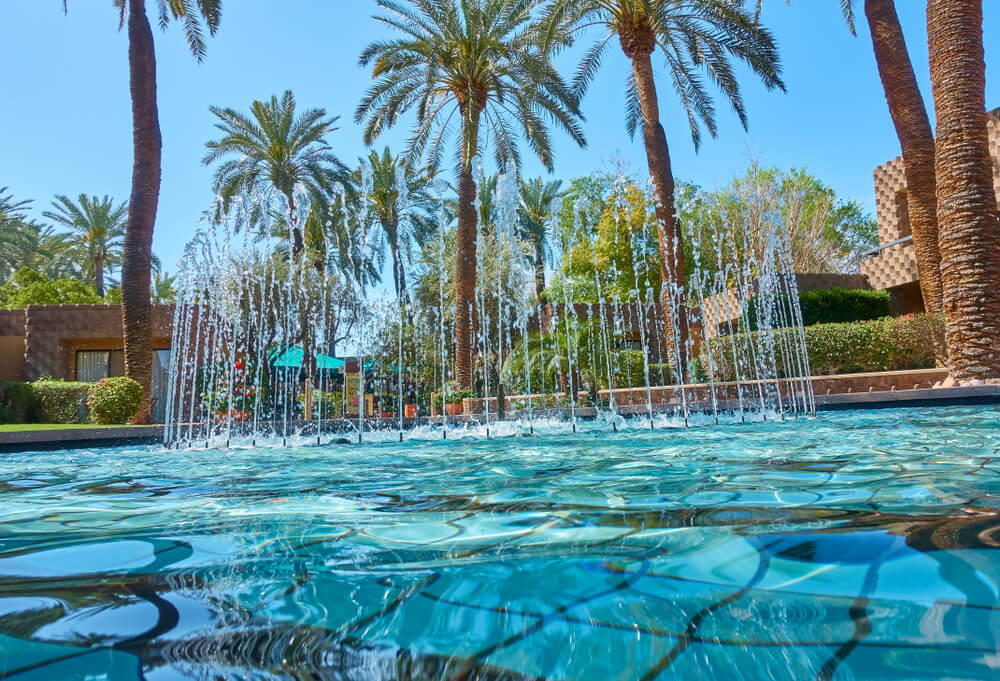 Why Visiting Scottsdale Is So Awesome
There is such a thing as the best time to visit Scottsdale. Although it's a lovely destination to visit year-round, there are certain times and locations that Scottsdale is best known for and you'll want to make sure to include those in your itinerary to make the most of your extended stay. Depending on your personal activity and vacation preferences, you'll have a plethora of options to choose from while visiting Scottsdale. Here are a few reasons why people from all over the country come visit us: 
The great outdoors –

It's no surprise that Scottsdale is a favorite destination for travelers, golfers, and vacationers alike. The exquisite natural scenery is unparalleled. Coupled with the fact that the weather makes this location a prime year-round destination, there are numerous outdoor activities to choose from. Scottsdale has everything from hiking trails to lakes with everything in between. Come enjoy over 30,000 acres of the McDowell Sonoran Preserve! You'll have your choice of 5 hiking trails and plenty of opportunities for kayaking on the Salt River. While you're here, try horseback riding, rock climbing, mountain biking, or take a hot air balloon ride with a special person. Don't forget to check out the former winter residence of famed architect Frank Lloyd Wright called the Taliesin West. The Frank Lloyd Wright School of Architecture spans 600 acres of pure desert paradise with places to sleep on the open patio and next to the fireplace. Get the inside scoop with a 3 hour behind the scenes tour!

Food, food, and more food

– Where do we begin? There are so many great restaurants to choose from when visiting Scottsdale, you may need a few more days to explore them all! Our seasoned staff has local expertise about the best places to eat but there are a few restaurants that should be on your priority list. For foodies, the FnB restaurant is the place to eat for great southwestern cuisine. Dishes made by Chef Charleen Badman are globally influenced by ingredients sourced from top local and organic farmers. A great dish is perfected with a crisp glass of wine from the state's well crafted local wineries. The Mission is another must-see spot for sophisticated yet casual dining and tasty tacos. The ambiance blends old world charm with modern elegance to produce some of the best dishes in modern Latin cuisine. Take advantage of the outdoor seating in the evening and enjoy being surrounded by the glow of a Himalayan salt block wall and flickering candlelight. At The Mission, you'll immerse yourself in the aromas of Latin cuisine and music.  

Exotic spas

– There is no shortage of beautiful spas to unwind at in Scottsdale. But there is one that you should pay attention to called the Waldorf Astoria Spa at the Boulders. Embracing the "Zen Desert Lifestyle", you will be surrounded by the serenity and tranquility of earth's natural beauty. The Boulders is a secluded and luxurious retreat that offers 80-minute spa treatments that feature turquoise. Native Americans believe that it provides protection and self-confidence. The Turquoise Wrap features a clay wrap followed by a salt scrub that will have you relaxed throughout your body and soul. Finish your treatment with a Desert Zen Signature massage for 50 to 80 minutes that begins with a Swedish massage. For the ultimate experience, book the private Sun Suite for half or full day that includes a spa lunch. Watch your worries and cares melt away!

Millennial hotspot

– If you've finally graduated or are looking for a great getaway, visiting Scottsdale is one of the best ways to celebrate! We welcome you to come and explore Scottsdale like never before and take plenty of pictures to share on your Instagram page. Numerous hotels cater to a younger crowd with free Tesla rides available in a 5-mile radius! Most parking downtown is free and there are plenty of affordable Uber and Lyft rides for those wild nights out. During the day, the various shades of pink, red, and beige found at places like Old Town Scottsdale or the

Desert Botanical Garden

will leave you in awe. The nightlife is always lit with music, food, and pool parties thrown on the weekends. For music lovers, you'll find the Musical Instrument Museum full of high tech displays of headphones and multimedia. Get up close and personal with the hands-on Experience Gallery featuring guitars, gongs, and gamelans for aspiring musicians of any age to enjoy. You'll love the luxury amenities without the luxury price tag. 

Golfers paradise

– Did we mention golf? Just in case we didn't, we're mentioning it one more time! If you think the desert spas are gorgeous, you must see the rock formations from the golf course. You'll be amongst rolling hills and stunning mountaintops with seasoned pros providing guidance and advice on your golf game. Our unlimited stay and play golf packages are an experience like no other. Explore beautiful golf courses like The Boulders, Dove Mountain, Troon North, Lookout Mountain, and numerous others that are included in our golf packages. The packages include golf for each person in your party and we will confirm your first tee time for unlimited golf packages. Our championship courses are our most economical and provide a traditional layout including more desert features and elevation changes. Our premium courses will give you the best of Arizona wildlife scenic mountain views and bold elevation changes. 

Easily accessible

– It's easier than you think to get to Scottsdale! A quick 20-minute drive from the Phoenix Sky Harbor International Airport will bring you here in no time. Visiting Scottsdale from anywhere in the world is fairly easy and convenient due to our proximity to the nearest airport.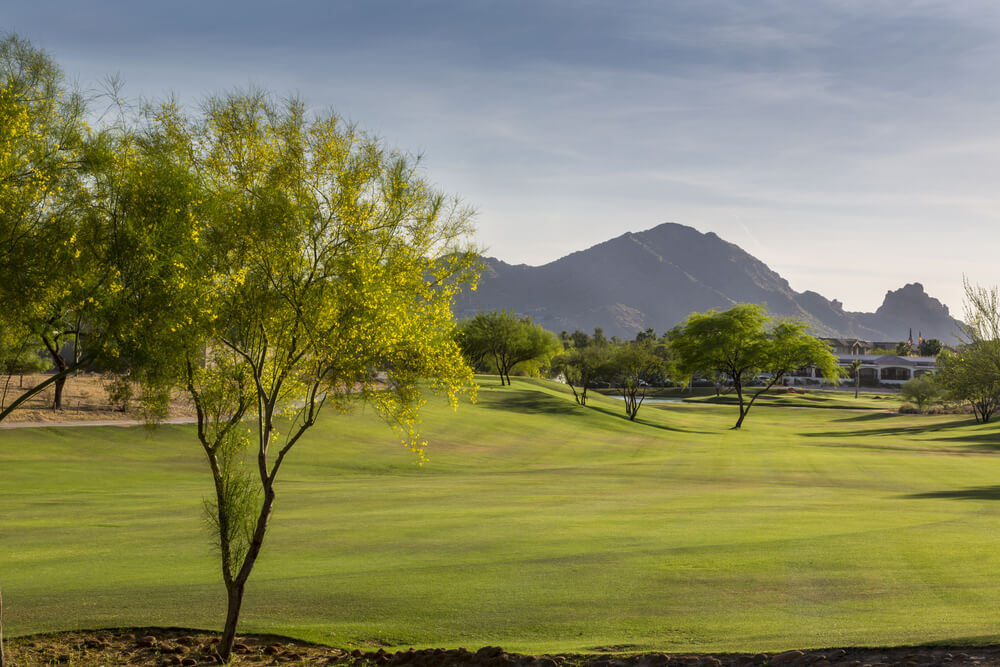 Book Your Extended Stay Scottsdale Luxury Condo Today
The best time to visit Scottsdale depends on what you're looking to get into while you're with us. With so many activities happening year-round, your options are endless! From baseball spring training to kayaking, visiting Scottsdale is never a dull experience. Now you know where to stay in Scottsdale and why it's such a beloved and luxurious vacation hotspot! Let our seasoned staff help you with the logistics of your next extended stay at Meridian CondoResorts. 
It's time to book your extended stay Scottsdale luxury condo today!