Are you considering a Scottsdale condo rental for the upcoming Barrett-Jackson auctions? The Barrett-Jackson Scottsdale auction is a one-of-a-kind indoor experience featuring the world's greatest classic cars. Whether this is your first time or 10th visit, consider treating yourself to VIP accommodations with our luxury stay and play golf packages featuring unlimited access to some of the best golf courses in the country! We offer the best value for any Scottsdale condo rental in the area, with luxurious accommodations that are always in high demand. Arrive early to play on pristine championship golf courses and leave with a rare automotive collectible for a win-win vacation. 
What is a Barrett-Jackson Scottsdale Auction?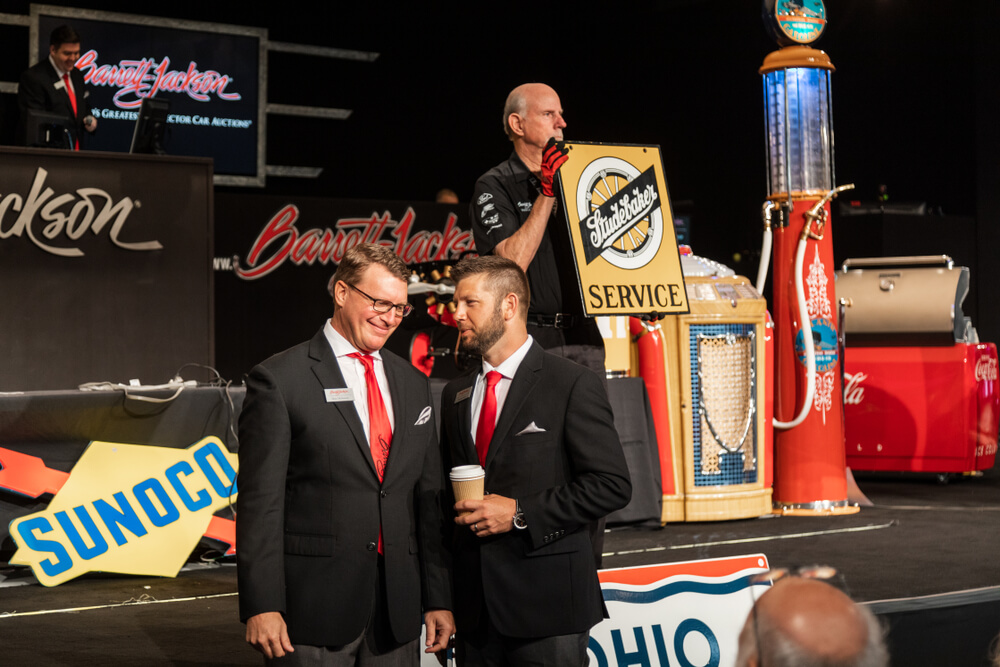 Founded in 1970, the Barrett-Jackson Scottsdale auction is a highly anticipated event featuring collector cars and associated memorabilia you won't find anywhere else! It is the first car collector auction to be televised, with many car manufacturers showcasing their first production vehicles in the show. Barrett-Jackson includes other items like boats, motorcycles, airplanes, engines, trucks, and precious memorabilia.
The highly anticipated event attracts over 325,000 attendees with prominent figures and celebrities like William Shatner, Sharon Stone, Justin Bieber, Gene Simmons, and Floyd Mayweather. In recent years, the Barrett-Jackson auction has drawn almost 5,200 bidders from all over the world and over 70 food vendors and exhibitors. However, one of the greatest pillars of the upcoming Barrett-Jackson auctions is charity. A few years ago, the auction raised over $100 million, with the sale of the first production Chevrolet Corvette Carbon 65 Edition. In addition, the renowned auction started a yearlong charity initiative called "Driven Hearts" with the goal of fundraising for the American Heart Association while raising awareness about heart disease and stroke. 
Are you curious about how to get involved with the upcoming Barrett-Jackson Auctions? We recommend you reserve your tickets in advance for the hottest kickoff event of the year! Here's how to get started: 
How to get into a Barrett-Jackson auction

– To secure your all-event ticket passes, you have the option of purchasing advance online tickets or on the day of the event that lasts from Saturday, January 22, 2022, through Sunday, January 30, 2022. If you prefer to attend on certain days, there are one-day advance passes available for purchase online with a discount and on the day of the event at regular price. For attendees looking for an exclusive, insider experience at the Barrett-Jackson Scottsdale auction, there are VIP packages available including a VIP auction tour, all-inclusive hospitality, opening Gala tickets, private skybox views, and first access to view each car as it enters the block! More VIP amenities include: 

Complimentary bidder badges

Dedicated bidder assistant

Complimentary parking passes

VIP bidder bar access

How to bid at a Barrett-Jackson auction

– There's nothing more thrilling than the fast-paced intensity of bidding on collector cars at incredible prices at a Barrett-Jackson Scottsdale auction! As a bidder, you are a player in a world-class lifestyle event where you can buy the car of your dreams while rubbing elbows with celebrities. There are several bidding options, including: 

Register to bid online or

Print and mail your bidder registration and 

Become an online bidder or

Become a phone bidder or

Become a proxy bidder or

Become an onsite bidder
How Much Does it Cost to Go to a Barrett-Jackson Auction? 
The cost will depend on the type of experience you are looking for. Advance day passes for general admission start at $23, and all event passes start at $180. Exclusive VIP packages start at $1,699 and up. 
Book a Scottsdale Condo Rental for Upcoming Barrett-Jackson Auctions
Our stay and play golf packages are the ultimate combination of luxurious leisure. With a 24-hour concierge service, we can help you plan your Scottsdale trip in preparation for the Barrett-Jackson Scottsdale auction while enjoying the best golf courses in the country. Give us a call today to book your reservation!