There's a reason why golf lovers all over the world flock to Arizona. We have some of the best golf courses in Scottsdale with stunning mountain views peppered with lush desert greenery. In fact, Scottsdale is literally the golf epicenter of the entire Southwest region with almost 200 beautiful golf courses to choose from. We've managed to combine access to some of the best Scottsdale AZ golf courses with luxury condo accommodations to offer you the ultimate golfing experience. With our easy, affordable, and unforgettable Stay and Play VIP golf packages specially designed for your needs, you'll enjoy all that Scottsdale has to offer and more. We'll elaborate on our infamous unlimited Stay and Play golf packages but right now, let's explore the best golf courses in Scottsdale!
Best Golf Courses in Scottsdale
You may wonder why so many of the world's most beautiful golf courses are located in Scottsdale. That's because the weather in the winter is perfect for golf aficionados and entrepreneurs in the early 1920s saw an opportunity. Soon, they built the first golf course on Indian School Road amid packed oily dirt and very little grass. Since no one seemed to mind the lack of greenery, they built more but located the new golf courses near canals to provide irrigation for grass. 
Once the Phoenix Open was founded by Robert Goldwater, he began spreading the word amongst his famous friends. Soon, Hollywood stars like Bob Hope and Bing Crosby began frequenting the golf courses and spread Scottsdale's reputation as the best place to golf during the 40s and 50s. The reputation soon snowballed and developers became increasingly interested in building stunning golf courses in Scottsdale.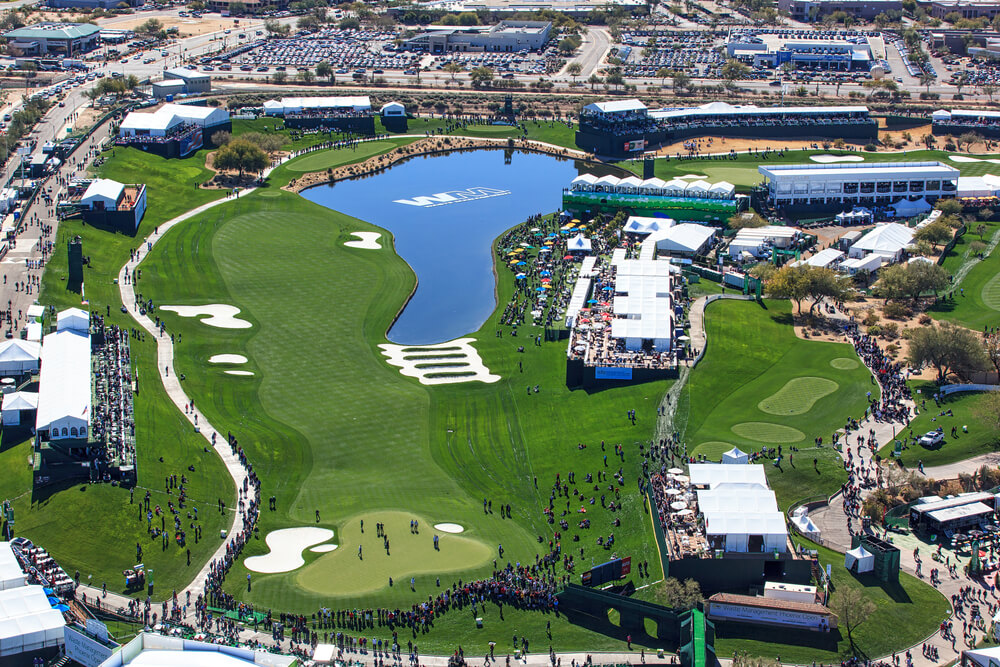 It may be a daunting task choosing which course to experience during your stay with us. Luckily, our local and seasoned pros know Scottsdale like the back of their hand and can easily recommend tee times for you. Additionally, our 24 / 7 concierge service can handle all of the logistics of your trip if needed. From making car rental reservations to dinner reservations, we are here to make sure your stay is an enjoyable one. In the meantime, here's a list of some of what you can expect to see when you take advantage of our unlimited Stay and Play golf packages: 
TPC Stadium Course

– As the home to one of the largest golf tournaments in the world, the Waste Management Phoenix Open, it is a favorite course of some of the top players in the world. Surrounded by McDowell Mountains featuring two golf courses, including the Stadium Course and Champions Course, it is Arizona's only PGA tour facility and attracts golf enthusiasts like yourself from around the world. Yes, you will be able to golf on this world-renowned golf course when you book at Meridian Condo Resorts. Your welcome. 

Las Sendas –

You won't want to miss out playing on this top rated, world class golf course during your stay. Recognized throughout North America as one of the top 10 golf courses in the country, this course has undergone $3 million in innovations to bring you the best golf experience imaginable. Nestled in the Usary Mountains, this upscale course features skyline views of Phoenix. 

Eagle Mountain Golf Club –

Located in the community of Fountain Hills along the McDowell Mountains, this golf course features 6800 yards shaped by beautiful canyons and mountain peaks. As one of the most scenic areas of the Sonoran Desert, it is a challenging course fit for golfers of all different levels and experience. It is consistently ranked as one of the best golf courses in local and national publications. 

We – Ko – Pa Golf Course –

Stretching across the Fort McDowell Yavapai Nation, it features two 18 hole courses unobstructed by any residential housing. This allows you to take in the full and immersive view of a natural landscape featuring the McDowell Mountains, Four Peaks, Red Mountain, and Superstitions. 

Troon North Golf Club –

Also referred to as Scottsdale's "crown jewel", you'll be met with scenic views of foothills and natural springs woven throughout Pinnacle Peak. The Sonoran Desert creates a rugged landscape throughout this golf course, making a challenging and immaculately manicured course. Ranked as some of the best courses in the country, the Pinnacle and Monument courses should be on your priority list when you arrive. 

The Boulders Golf Club –

This desert golf course is perfect for you if you are craving the desert terrain away from it all! The breathtaking scenery is enough to put you at ease but the South Course's impeccable greenery will get you excited to play. You must see the sunset against a backdrop of clustered boulders. This course should be on your to – do list as well. 
Unlimited Stay and Play Golf Packages
Finally, let's talk about our infamous unlimited Stay and Play golf packages! All of the courses listed above are part of these packages. We tailor every package to fit your experience, style, and budget for the best all-inclusive golf package experience. Your package includes luxury condo accommodations, unlimited play, car rentals at preferential rates, exclusive amenities, local insight and expertise, and unparalleled customer service 24 hours. This all starts at just $59 a night. 
Our Stay and Play packages let you back out at no extra cost, while we take care of all of the logistics. Those courses that you've seen on TV are real and we can't wait to show you around once you arrive. We will take the time to assess your skill level and chat with you before recommending golf courses. Even if you're looking for golf lessons, Scottsdale is the best place to find them. We promise you will not look at municipal golf courses the same way again.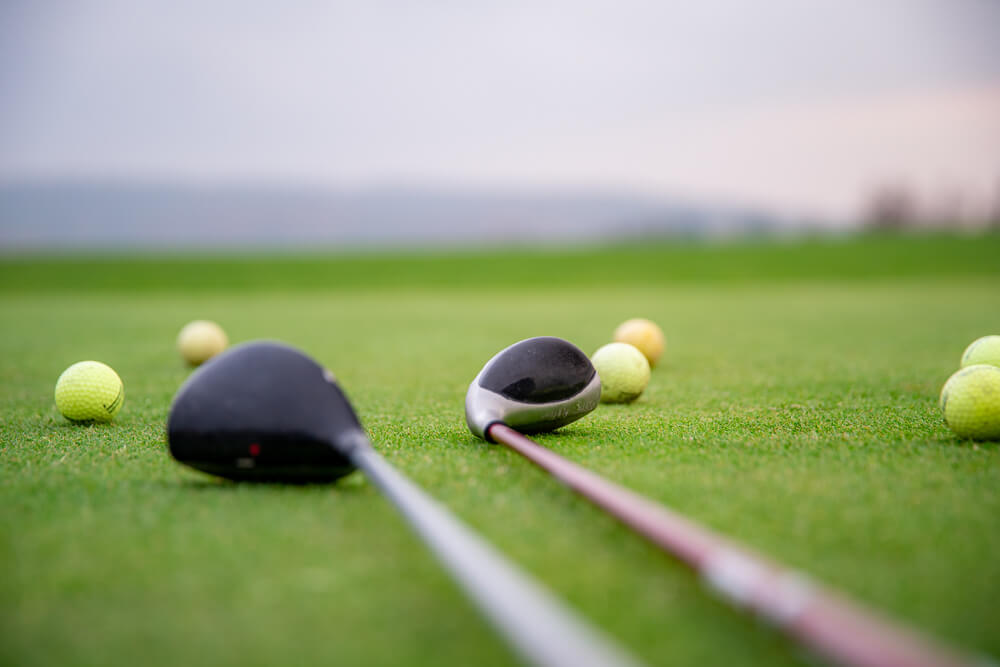 Book your Luxury Condo Today
Now, let's talk about luxury accommodations! We have some of the best that Scottsdale offers at the best rates. Whether you're coming as a couple or bringing a group of friends, we've got your covered. Here's what you could expect in your luxury accommodations: 
Luxurious fully equipped condos

– Choose from three-floor plans that range from 900 to 1400 square feet. Stay in and cook in a gourmet kitchen complete with pots, pans, dishes, wine glasses and so much more. Pack light and Wash and dry your clothes while you're here. Enjoy free WiFi, 65-inch flat-screen TVs, private open-air balconies, recliners, and fireplaces in some units. 

Amenities

– When you're not in your condo, you could be enjoying the summer sun poolside. At night, you may want to take a dip in one of our whirlpool spas or burn off calories from a Scottsdale restaurant in our state of the art fitness center. Top it off with a private gathering in our clubhouse while grilling on the BBQ!

Unlimited Stay and Play golf packages

– Our world-famous stay and play golf packages keep vacationers coming back for more. You'll enjoy the VIP treatment with packages tailored just for you. Enjoy the best Scottsdale golf resorts at a premium rate while accompanied by seasoned pros. 
During COVID – 19, be assured that we are taking all of the necessary precautions to ensure our guests' safety, even as the country slowly begins to open up. Take advantage of our guest services that provide a number of conveniences to help you plan a memorable golf vacation. Some of these services include spa packages, bike rentals, grocery delivery, air mattresses, crib, full condo daily cleaning, and linen service. Come play on the best Scottsdale, AZ  golf courses and book your luxury stay with us today!