With the weather cooling off, it's the perfect opportunity to swing that golf club. Planning your next Scottsdale golf vacation should be top of mind right now and Meridian CondoResorts is the perfect place to stay. Our local expertise is another advantage in planning the logistics for a golf trip to Arizona. In addition to our luxurious condos and amenities, we provide a concierge service that will help you navigate Scottsdale's daytime and nightlife activities. The Valley of the Sun has so much to offer, you'll never be disappointed. In the meantime, we have a few tips for maximizing your next Scottsdale golf trip. 
New Attractions in the New Year
The best time to come to Scottsdale is between October and April when temperatures stay comfortably in the 70 – 80 ranges. Major league baseball is starting to warm up so you'll run into preseason game crowds at restaurants, hotels, and golf courses. What is new are the additions that were made of the renovated golf courses. 
The Mountain Shadows resort has been reopened with a brand new modern look and fun "Short Course" with a par three layout. It is so good that the PGA players who reside in the area play there regularly. The Phoenician Resort is also undergoing a facelift with renovations that include room, casita, and public space upgrades along with a change in holes from 27 to 18. By March, a new athletic club will round out these golf property additions. One of the first resorts in the desert, The Boulders, just completed a renovation that includes upgrades to its clubhouse, pro shop, pool area, lounges and added caddies. 
Scottsdale Golf Week is the perfect time to explore the city of Scottsdale. The week of January 7th gives golf aficionados an opportunity to snag great deals on courses and resorts. Give us a call for all the information on local golfing deals before booking your next stay.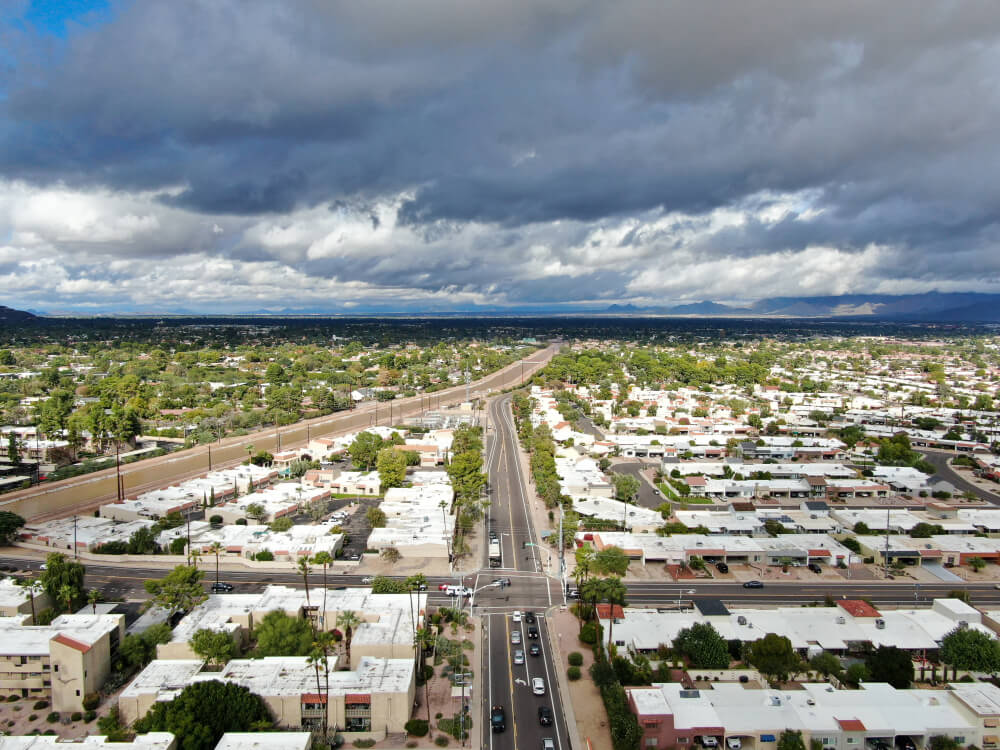 Stay at Meridian CondoResorts
You are going to need a great place to stay and Meridian CondoResorts is the ideal place to lay your head as you journey the best surrounding golf courses. Our all-inclusive world-famous unlimited stay and play golf packages are just what you're looking for in a Scottsdale golf trip. Our golf package special includes all of the best local golf courses played by all the professionals. Courses included in these unique packages are Coyote Lakes, Desert Canyon, Dove Valley Ranch, and The Boulders. Our unlimited Scottsdale golf packages allow you to play all 18 holes and book another round of golf at no additional charge. All packages are completely customizable to fit your needs. 
Picture yourself staying in a sleek, contemporary style luxury condo equipped with free WiFi, sofa and recliners, fireplaces, and free local and long-distance calling during your stay! Between golf sessions, whip up a quick casserole using our onsite dishes, pots, and pans. 
Staying for the whole week? Grocery shop while you're here and keep everything fresh in a full-sized refrigerator complete with ice maker. Staying for two weeks? Wash your clothes using an in-unit washer and dryer along with complimentary laundry detergent. We pride ourselves in providing an abundance of amenities that will make your experience that much more comfortable. Our onsite concierge service can make arrangements for you including car rental arrangements with special discounts, reservations for tables at the trendiest restaurants, and even stock your room with groceries while you golf!
Equipment to Check out
The Valley of the Sun is not only the premier golf destination but a hub for the best-golfing equipment with the sport's most notable companies. You'll want to take advantage of the proximity to obtain the best golf equipment while you are here. Here's a quick list of premier golf companies you should be checking out during your stay: 
Cool Clubs

– One of the country's leading agnostic club fitters, the company produces over 20,000 head shaft combinations on-site using the latest in technology, proprietary software, design, and manufacturing. 

Ping

– Factory trained master fitters are available throughout the Valley. This company has a long history both locally and worldwide. 

PXG

– Specializing in high premium clubs, this retail space also offers golf apparel and fittings. 

Boccieri Golf – With a Research and Performance Center located in Scottsdale, they are best known for heavy quality putters and golf instruction using Robo Golf Swing Trainer.
Taste of the Good Life
When you're not golfing, you'll want to visit the many wineries and breweries in the surrounding area. In fact, you'll find over 200 different types of tequilas at La Hacienda. If whiskey is your drink of choice, you won't have to go far. The Scotch Library at Westin Kierland has you covered with over 175 single malts, 30 blends, and rare bottles from Scotland. For wine connoisseurs, there are plenty of great wineries to choose from. From tasting rooms to vineyards, the Scottsdale Wine Trail is the best way to expand your palette. Schedule your trip around the fun events that are being celebrated the entire month. 
Book Your Stay Today
In the case you that you missed Scottsdale Golf Week this year, it doesn't mean you've missed out on the great golf deals and beautiful weather. Now is the perfect time to visit and book your next golf excursion. Visit our website and give us a call to book your luxury condo and unlimited golf package. We'll take care of the rest!