Gold Canyon-Dinosaur Mtn Golf Course Review Apache Junction AZ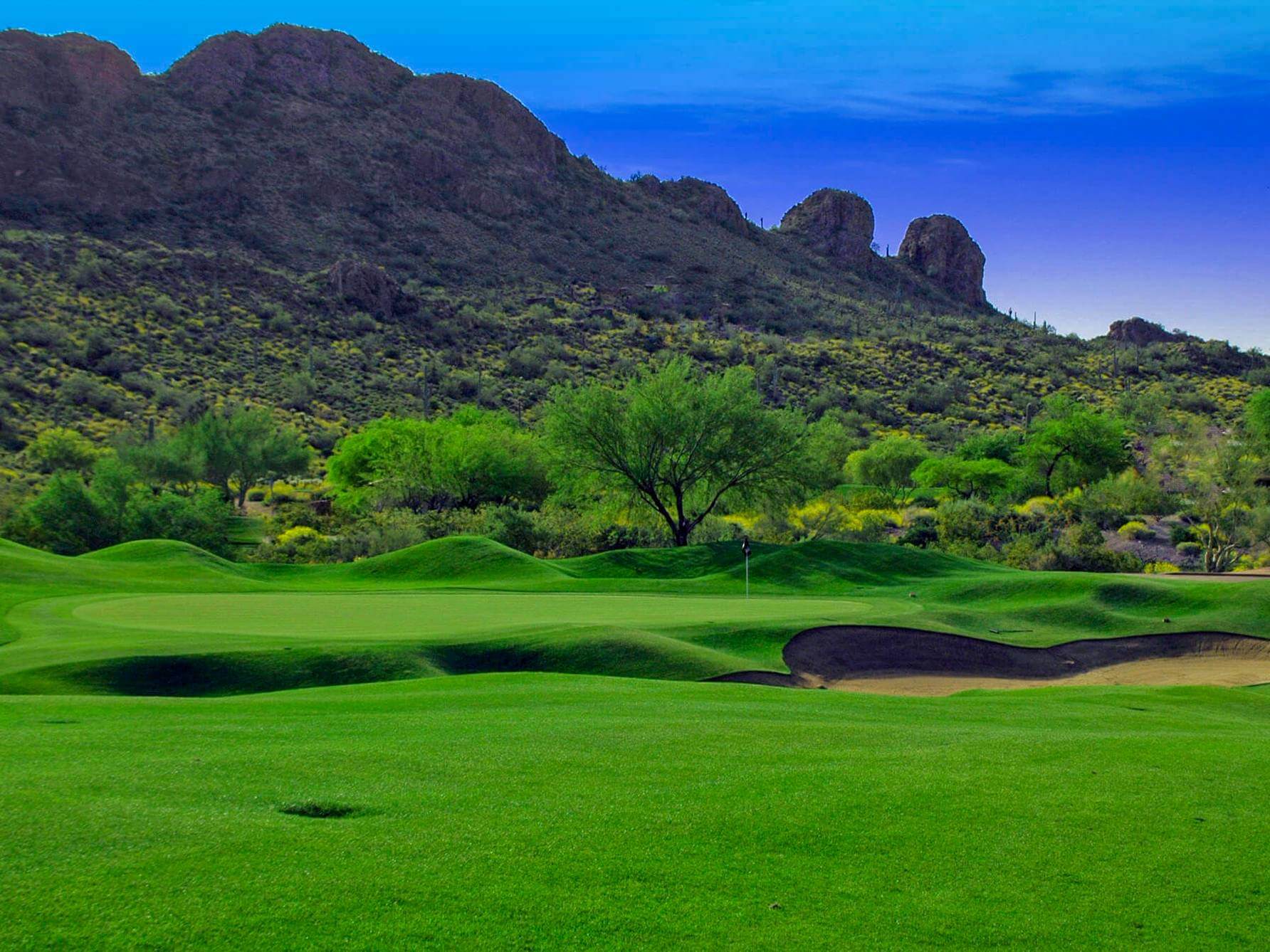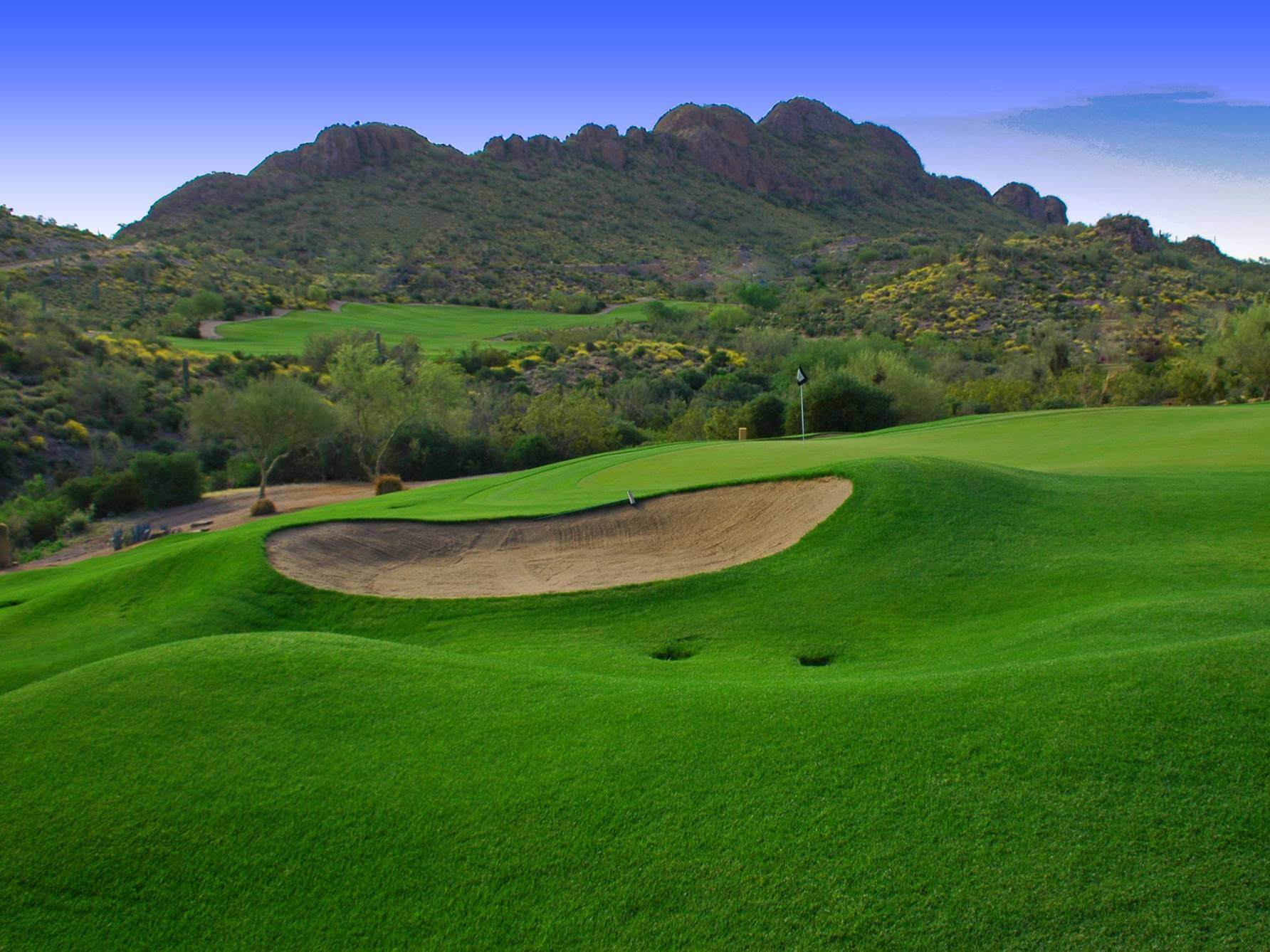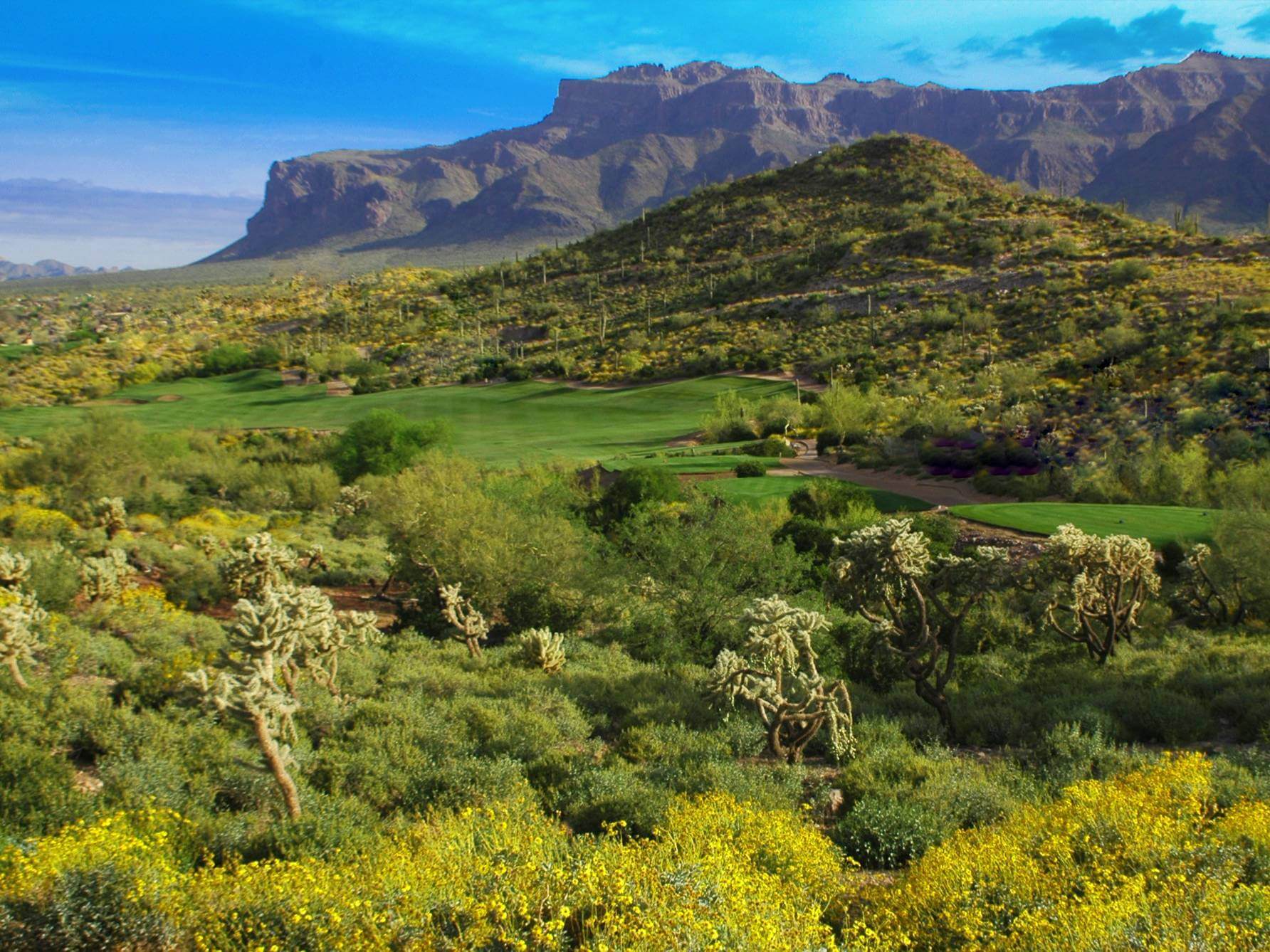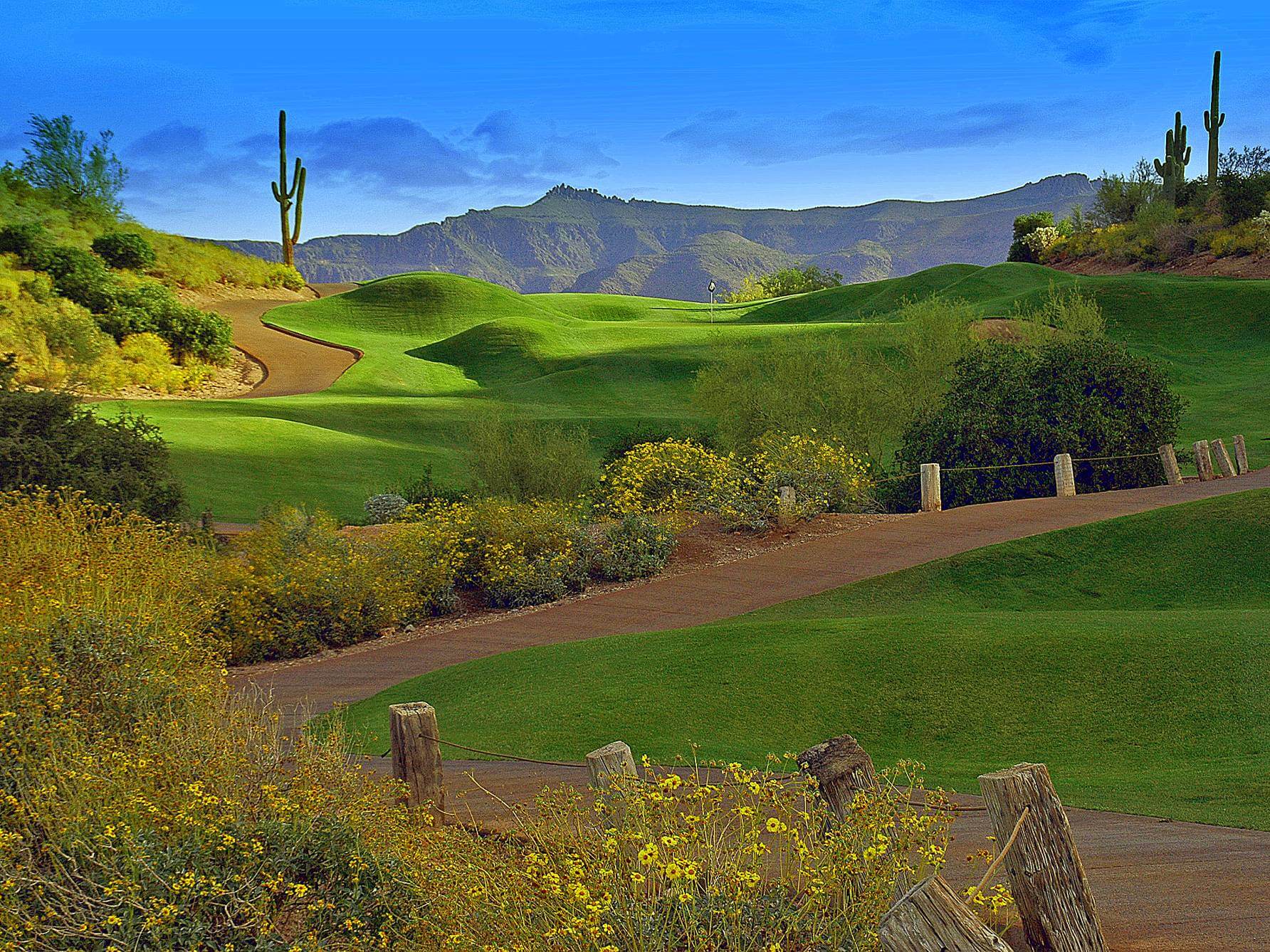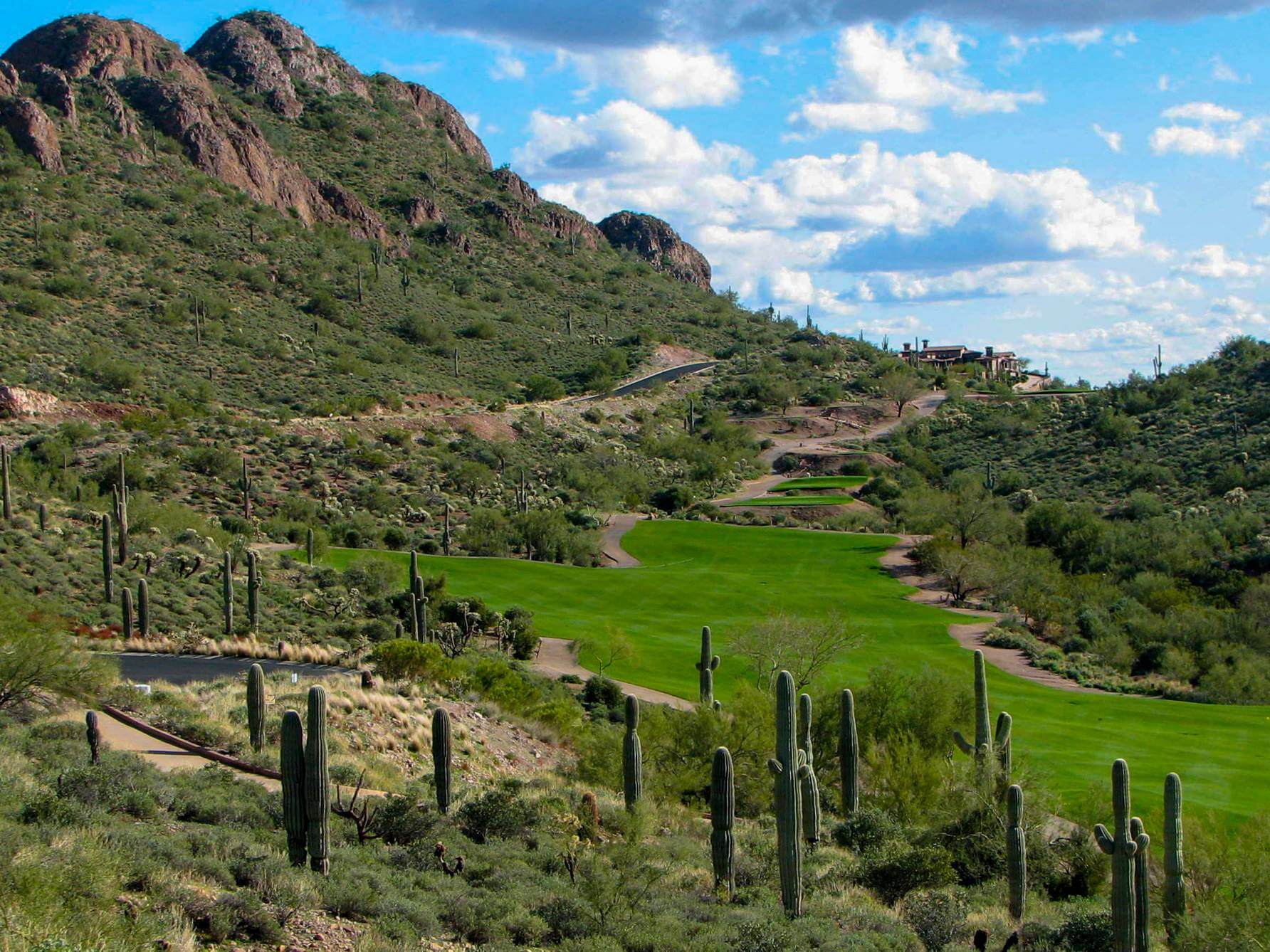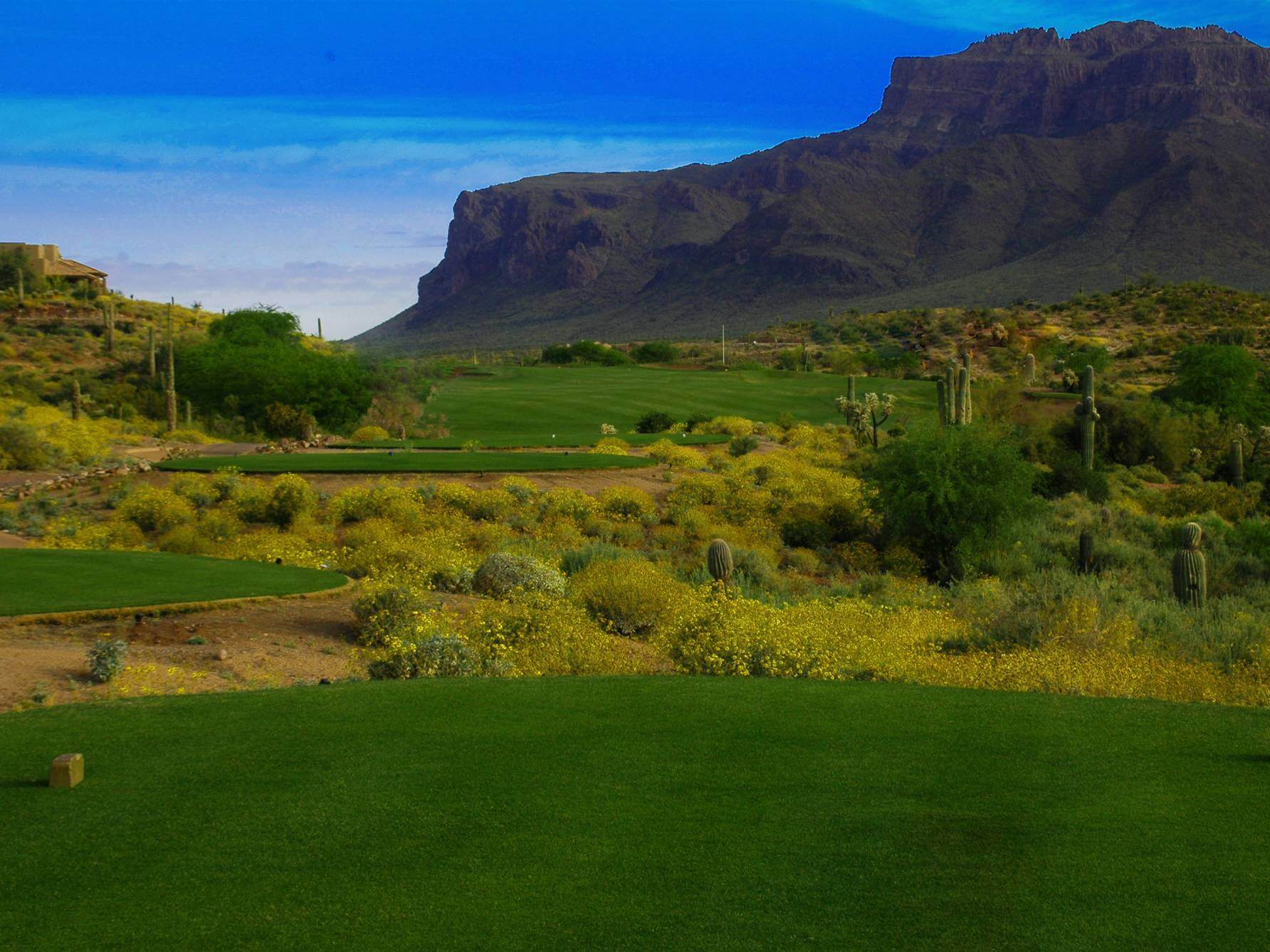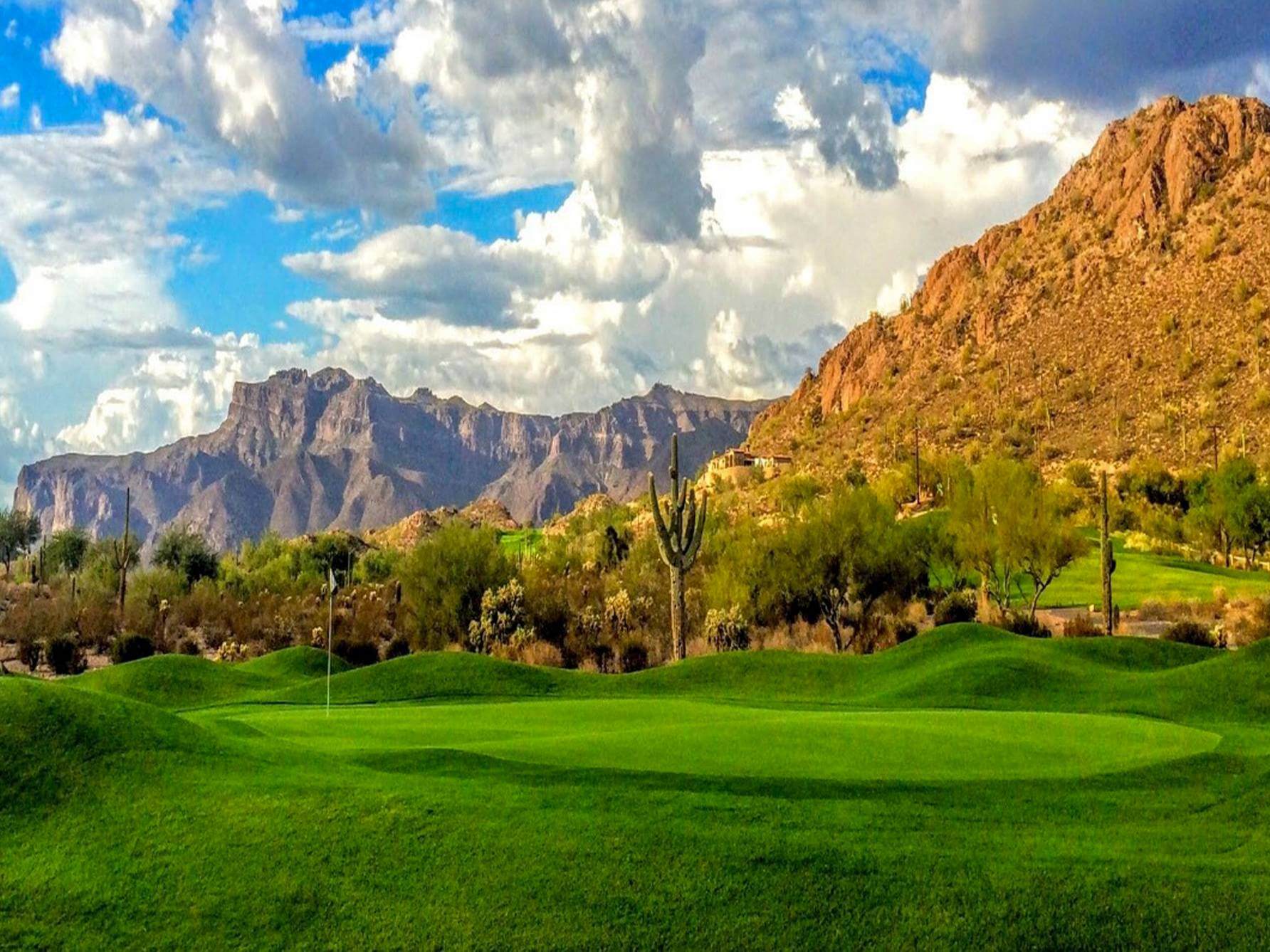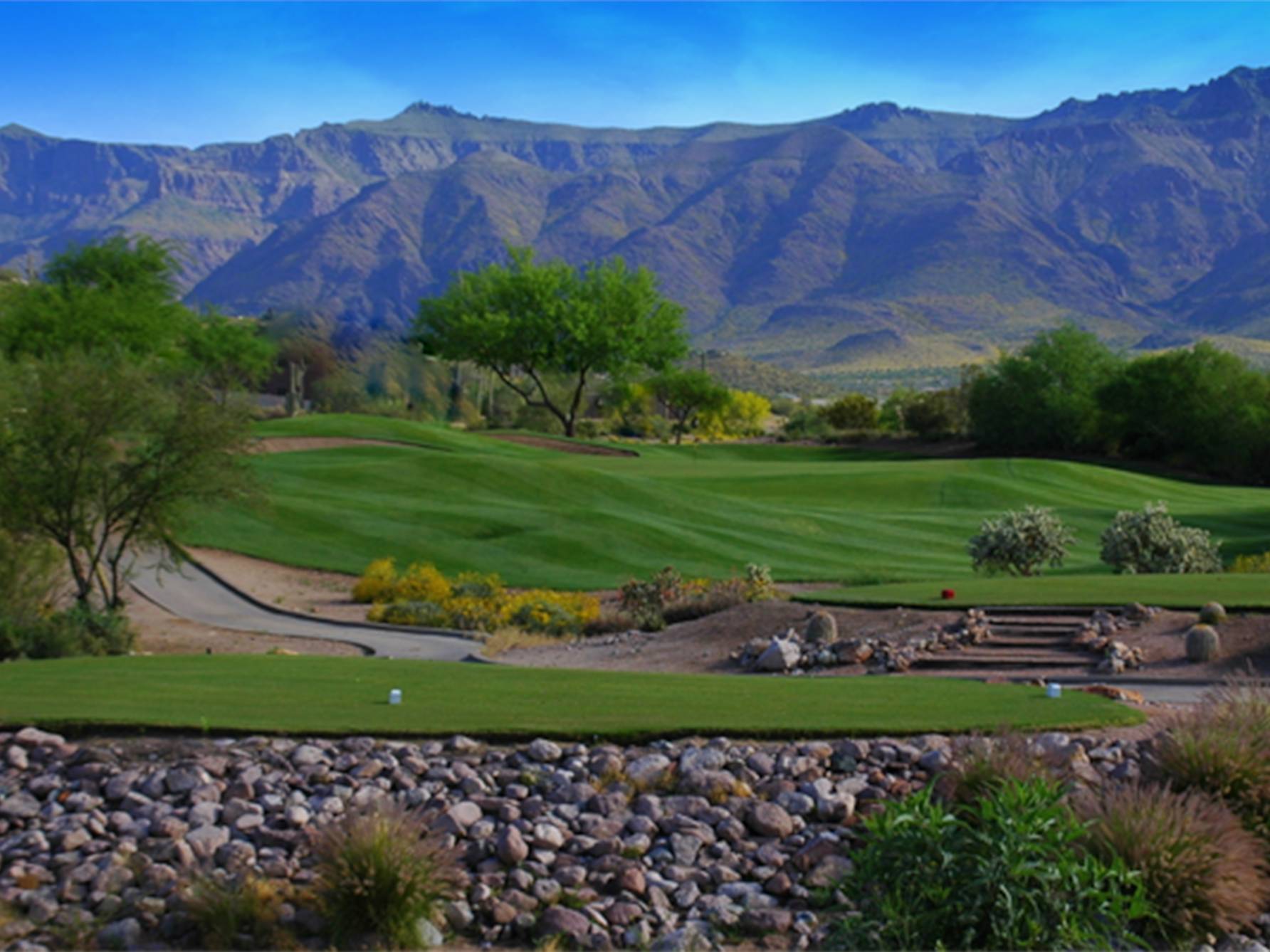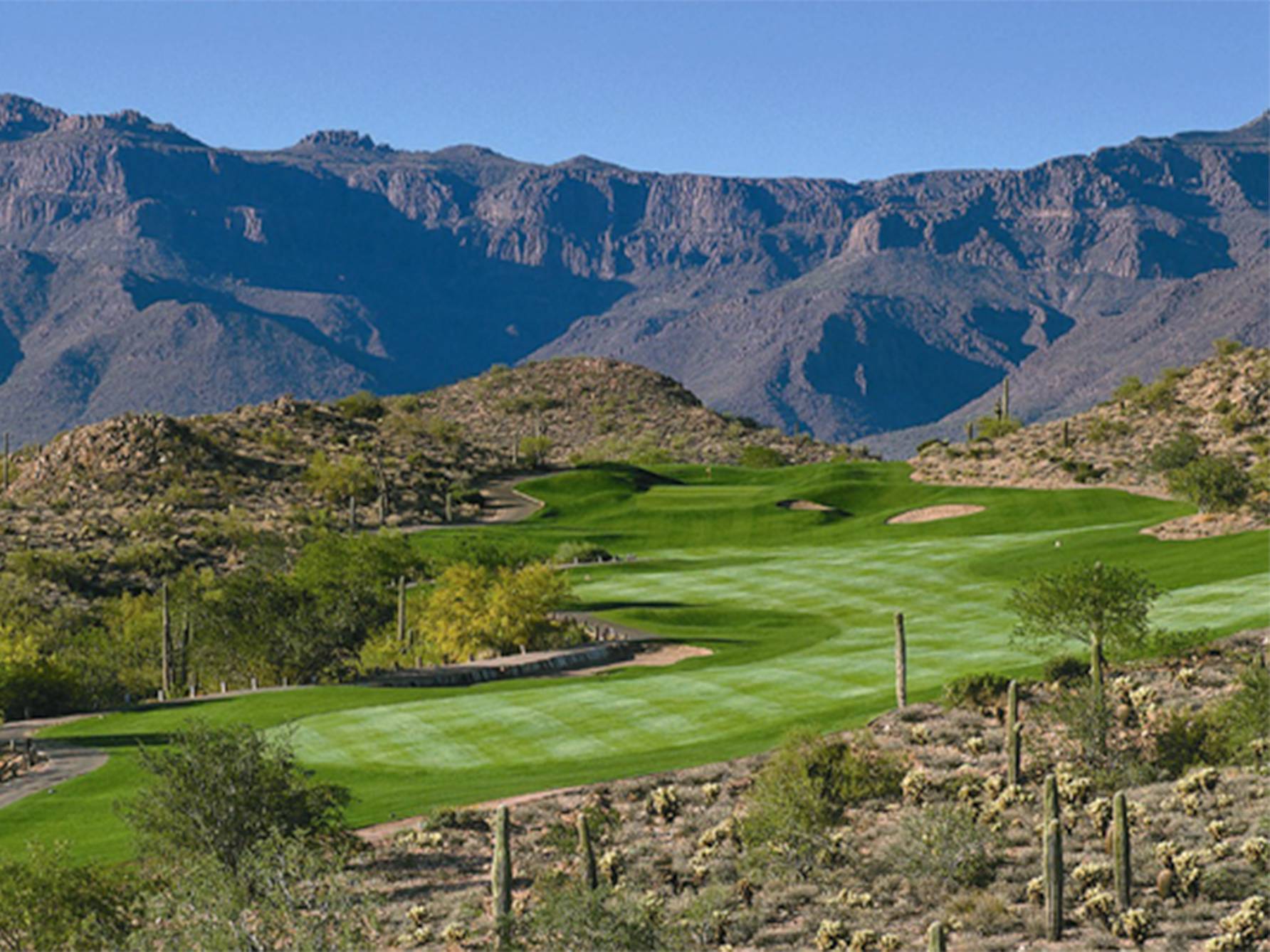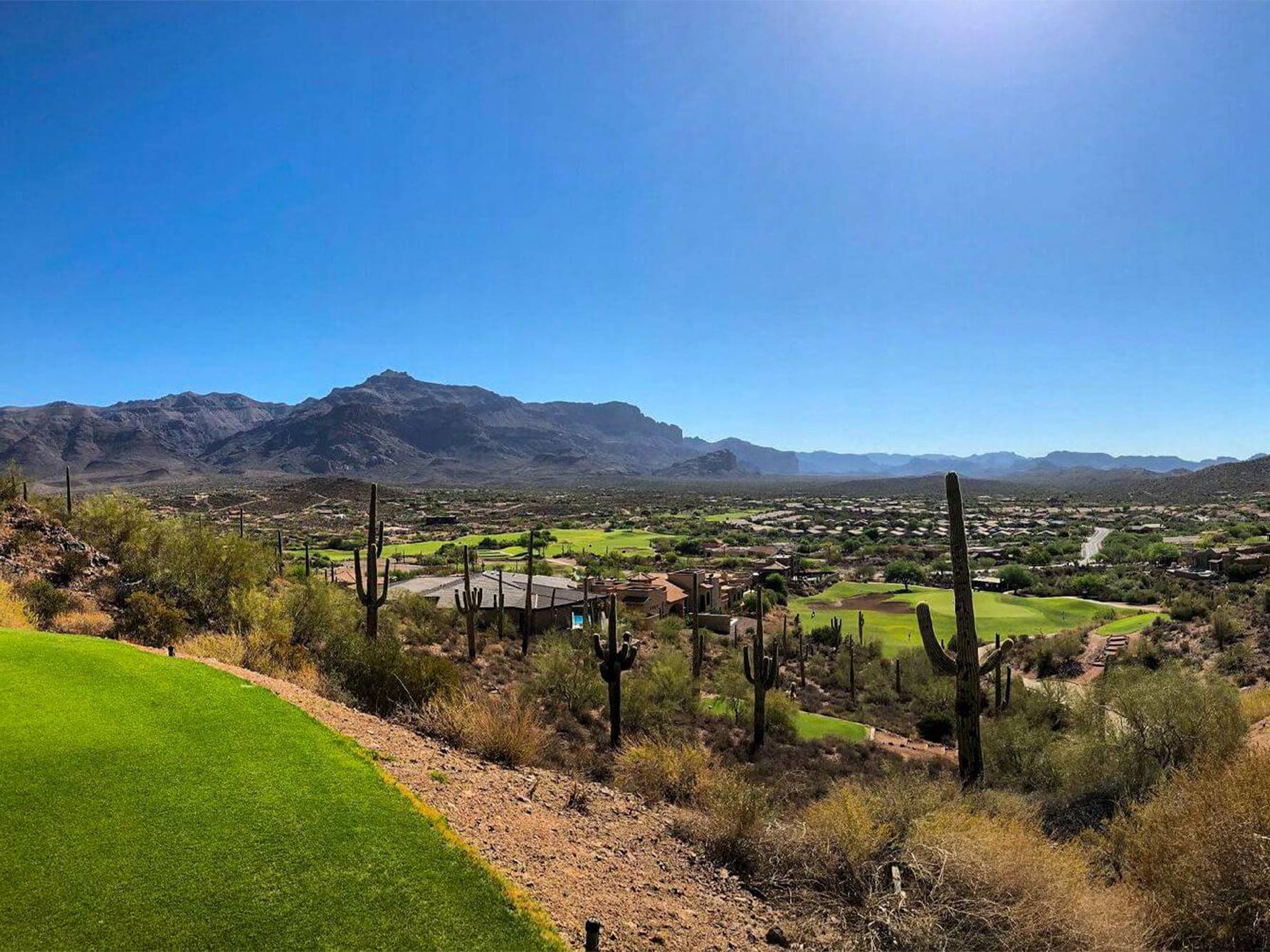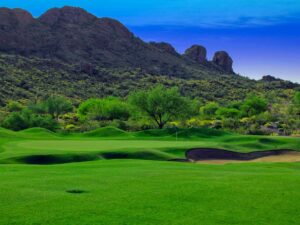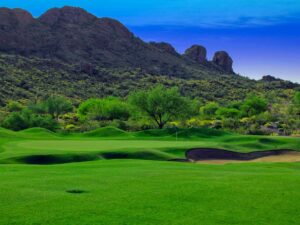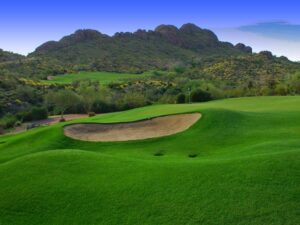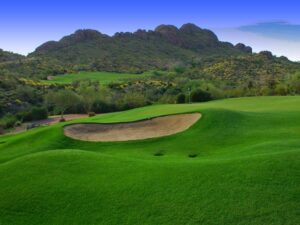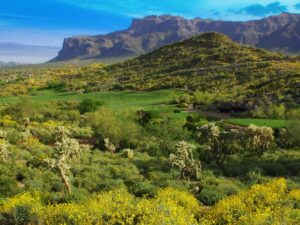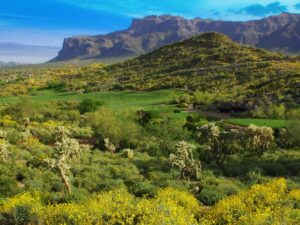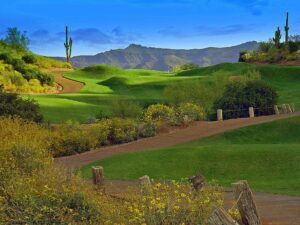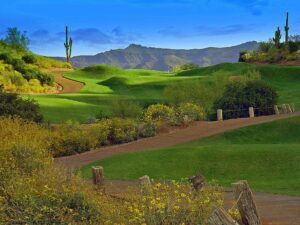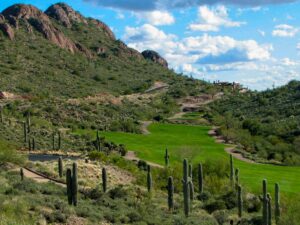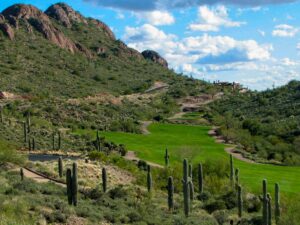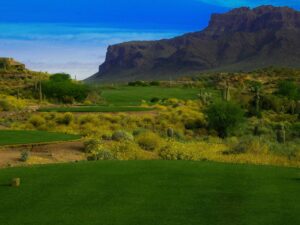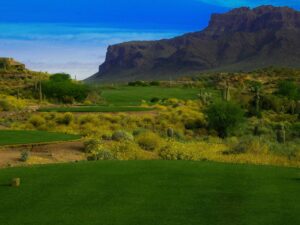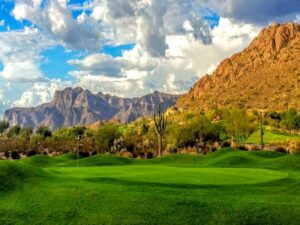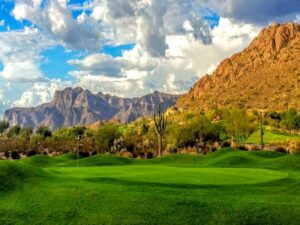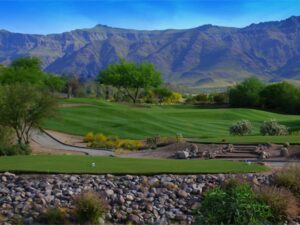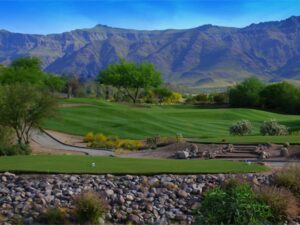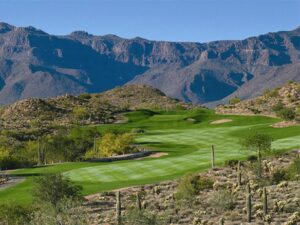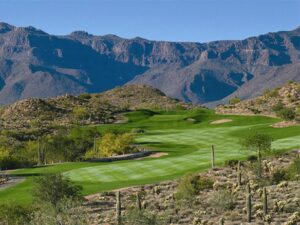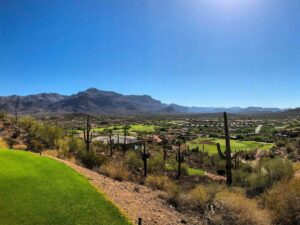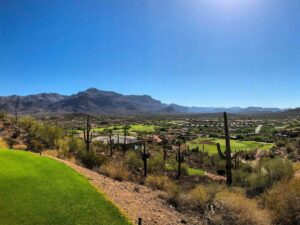 Course Review – Gold Canyon Golf Resort
Uniquely situated at the base of the historic Superstition Mountains, Gold Canyon Dinosaur Mountain winds through three distinct canyons featuring dramatic elevation changes and breathtaking views that will leave you speechless or have you babbling for hours.
The course, which opened in 1997, also sports colorful, native high Gold fauna and an abundant wildlife population. Gold Canyon is immaculately manicured and maintained in tournament like conditions. The dramatic elevation changes are breathtaking. The severe slopes throughout the course will challenge even the highest skilled golfer in a natural Gold setting. Tiered greens challenge your short iron game to produce makeable putts. It is believed that the fabled Lost Dutchman Gold Mine is nestled somewhere near or on the course. The mine still has not been found but evidence of its existence is abundant. The natural beauty of the High Sonoran Gold in this area is legendary. Every green, collar, approach area, and tee is mowed by hand using state-of-the-art walk mowers. Fairways and roughs are mowed on a continuous basis. All bunkers, tees and cart paths are edged by hand at least twice per month. This attention to detail coupled with incredible natural scenery creates a magnificent Gold golf experience.
To pick a signature hole on the Dinosaur Mountain course is not easy because the course has 12 of the top 100 holes in the entire state of Arizona. If you ask 12 people you probably will get a dozen different answers. The dramatic elevation changes, delivers breathtaking scenery, and causes club selection to become a major strategic element of the round.
Other Information – Gold Canyon Golf Resort
Designer: Ken Kavanaugh
Year Opened: 1997
Practice Facilities: Driving range and putting green.
Range balls Included: Yes
19th Hole: The Dining Room is called Kokopelli Restaurant. The snack bar is called Greenwoods Sports Bar. The banquet facilities can accommodate up to 300 guests. There is a drink cart.
Clubhouse: There is a full service clubhouse. The golf shop has the latest equipment and fashion.
Awards: Arizona Business Magazine: #1 Public Golf Course in Arizona in 2001 and 2002.
Four Star Ranking by Golf Digest Magazine
Phoenix Convention and Visitors Bureau: Top 5 Public Course in 97.
Top 10 Public Golf Course in Arizona-Arizona Republic
Most scenic golf courses in Arizona-Guest Information
1 -10 Course Rating by Meridian's Golf Specialists: 9 ½
Comments by Meridian Guests: "One of the finest courses ever made." "This course will challenge all skill levels."
"Every hole is so unique, so good, so beautiful, so spectacular, so challenging." "I never heard of Gold Canyon and I am glad I took the advice of Meridian's staff. The course was a better layout than Troon, GrayHawk or the TPC Stadium and it was more fun. We also saved a few bucks. We were blown away from the dramatic elevation changes and the picturesque scenery at every turn."
"The most fun I ever had." "Visiting from the east coast I have never seen such a spectacular Gold setting." "If you bring your camera don't forget to bring lots of film because you may use a roll on every hole."
The Gold Canyon Dinosaur Mountain Golf Course is a spectacular desert style golf course, opened in 1997, designed by Ken Kavanaugh and is one of two courses at the Gold Canyon Golf Resort; the other is Gold Canyon Sidewinder Course.
The Gold Canyon Dinosaur Mountain Golf Course is located in Gold Canyon, Arizona, approximately 35 minutes east of Phoenix Sky Harbor International Airport (PHX), features beautiful view of the Superstition Mountains and is located about 50 minutes from our properties and condos. The Gold Canyon Dinosaur Course features some of the most dramatic elevation changes of any course in all of Arizona.
The Gold Canyon Dinosaur Golf Course is rated in our highest tier, Premium Plus, has been ranked consistently in the Top 10 Public Courses in Arizona and has been ranked as high as the #1 Public Course in Arizona on multiple occasion by Arizona Business Magazine.