Ocotillo Golf Course Review Chandler AZ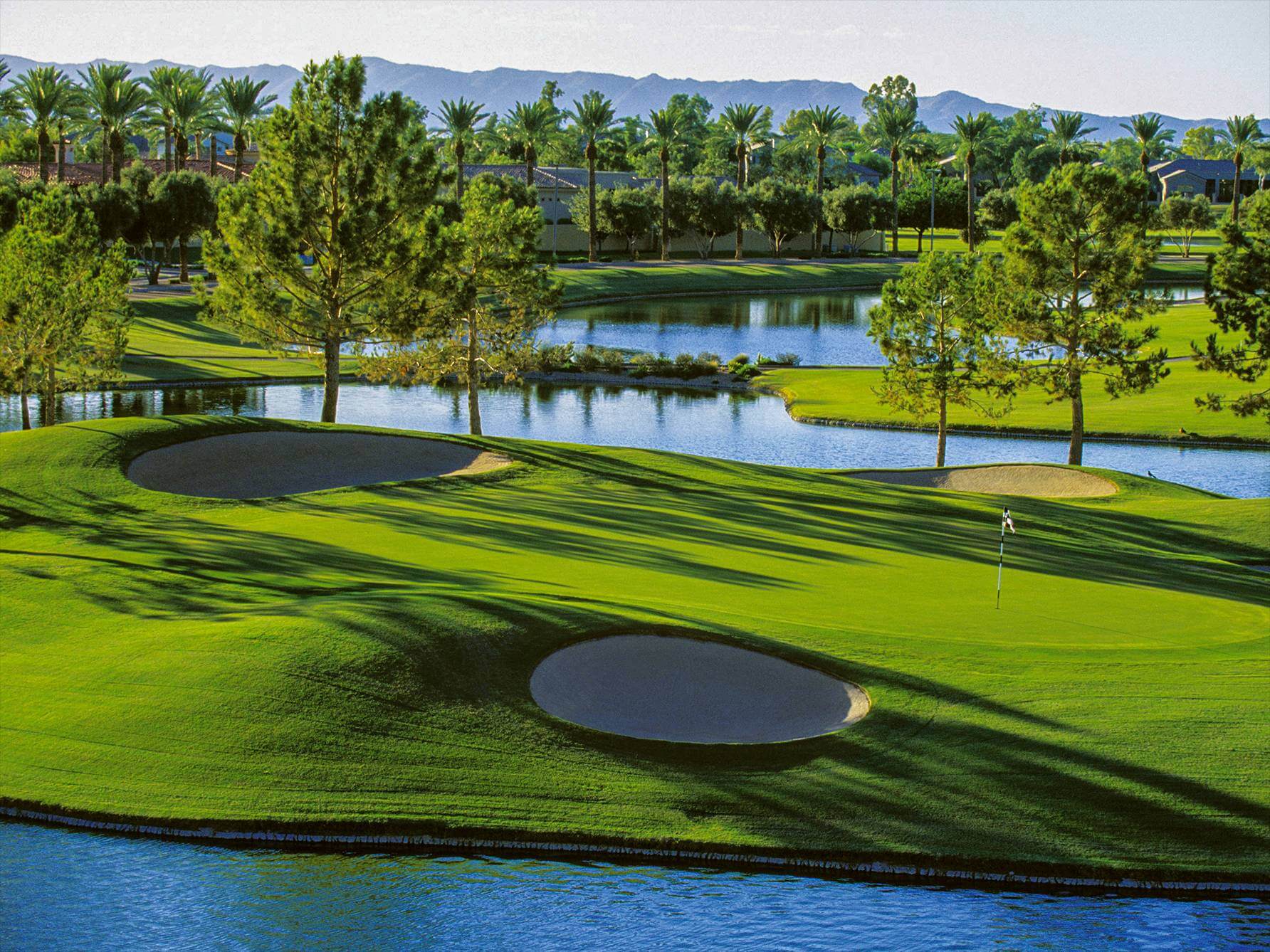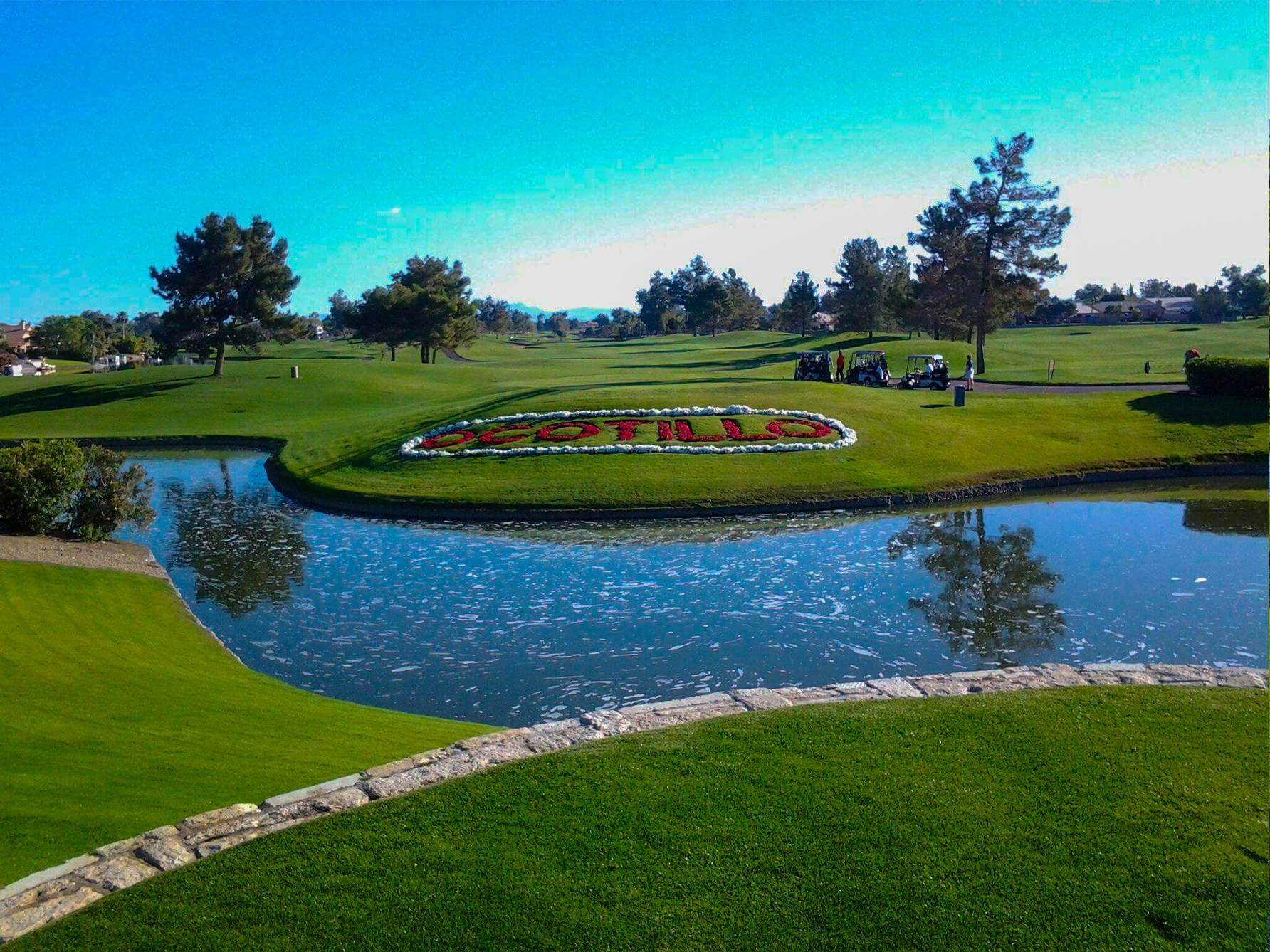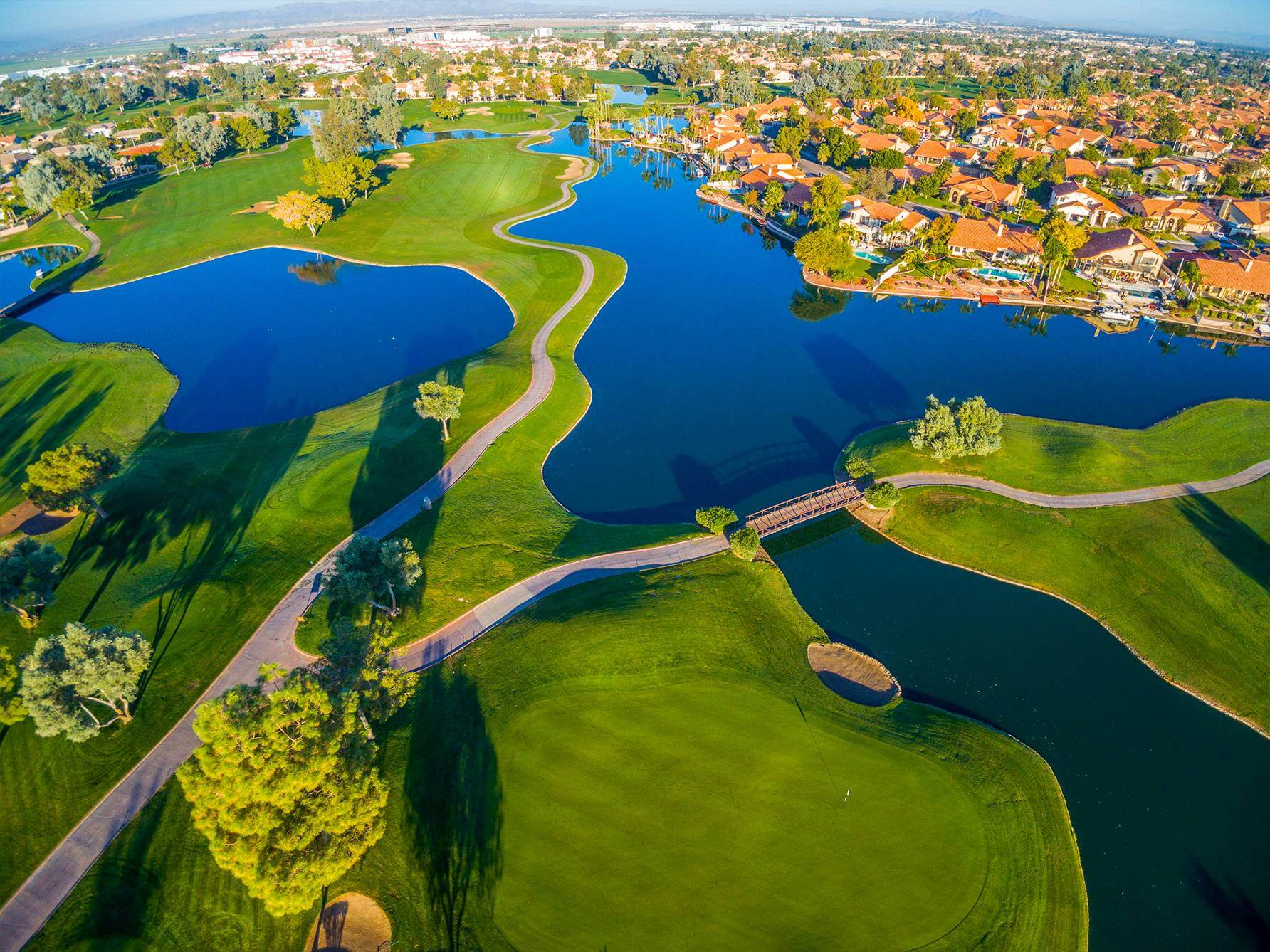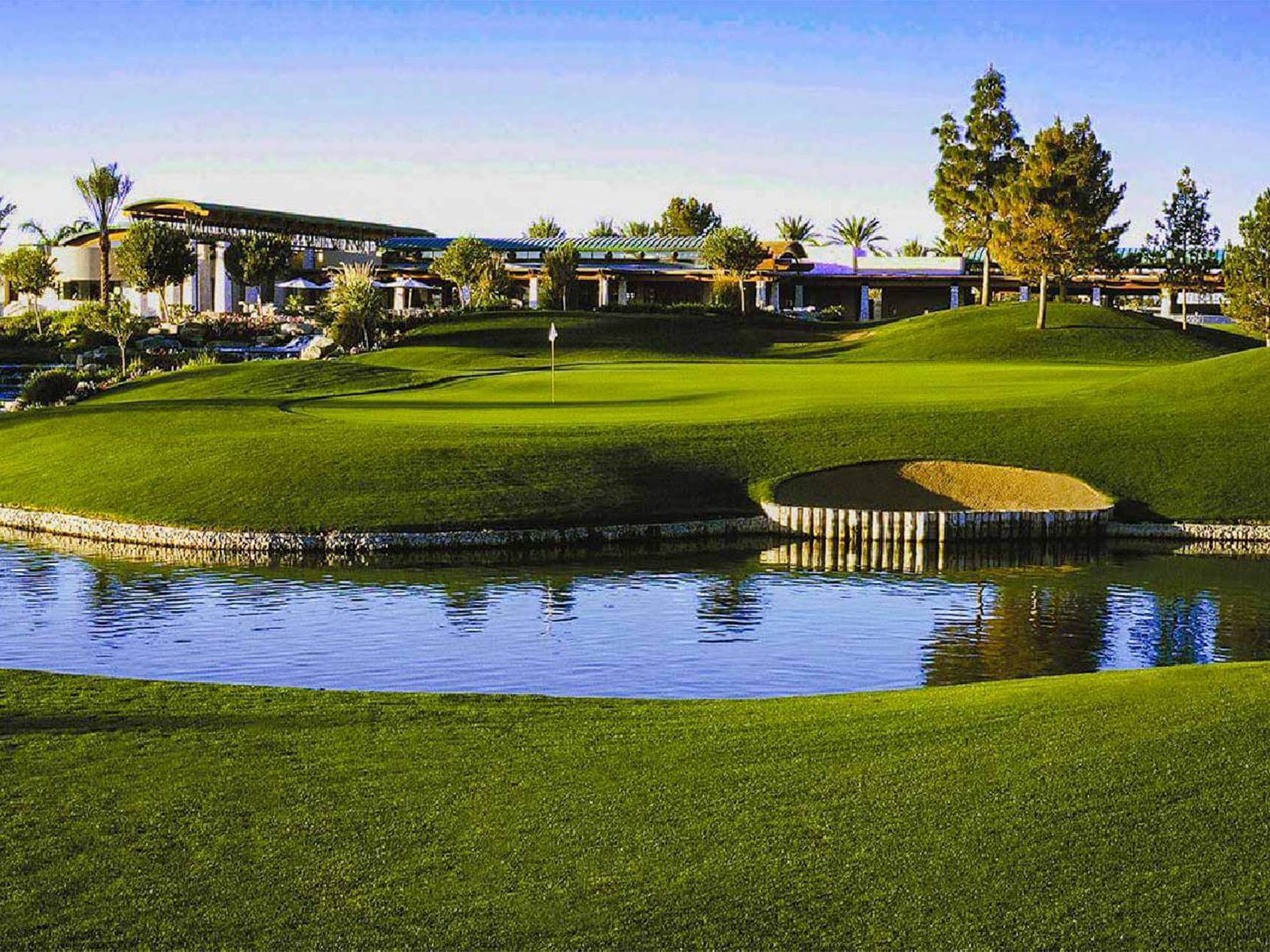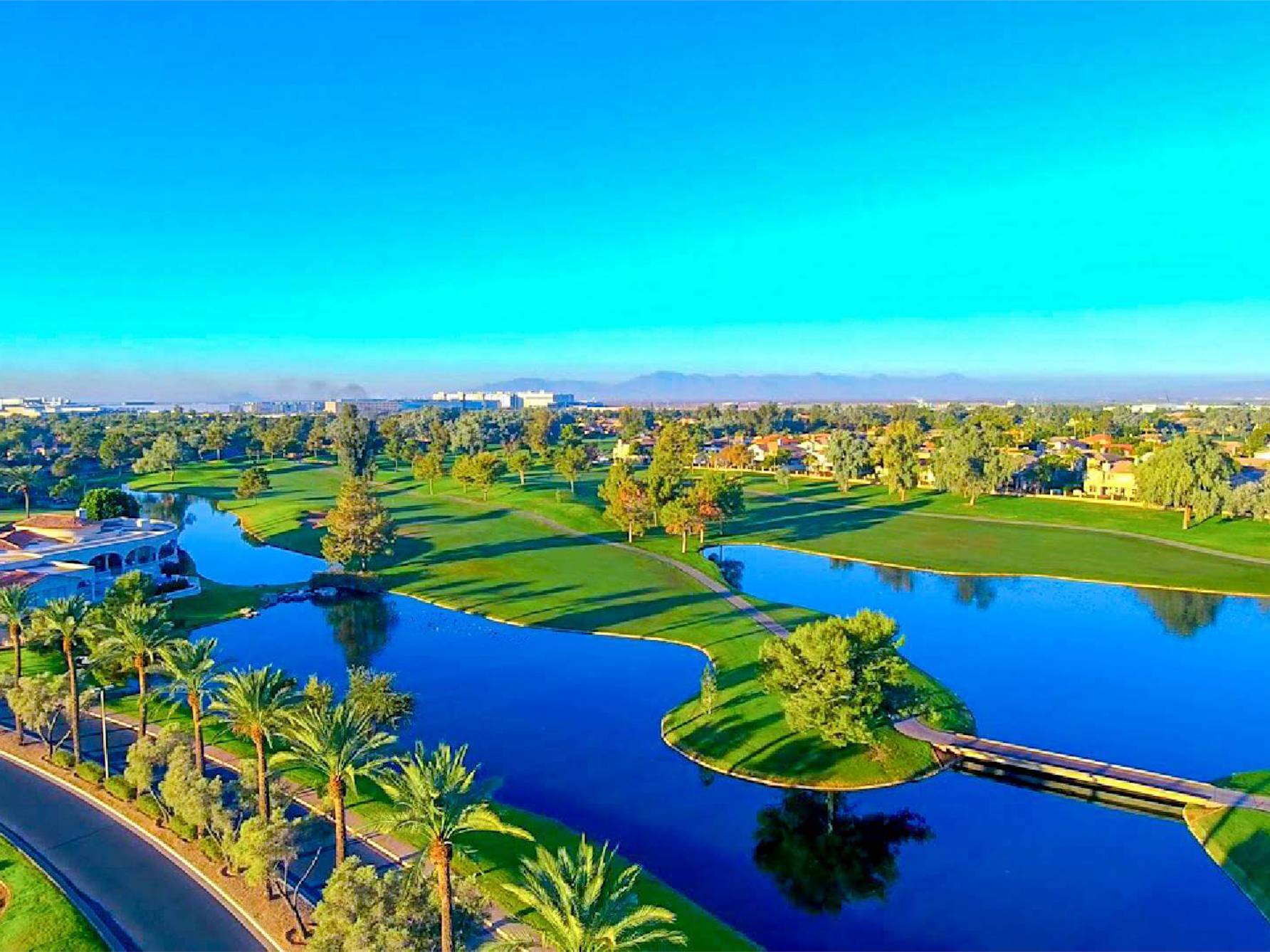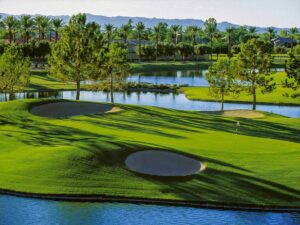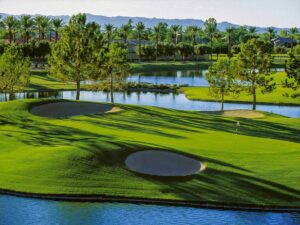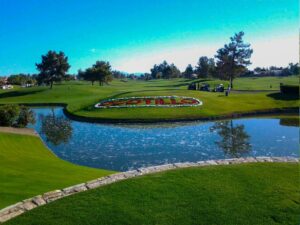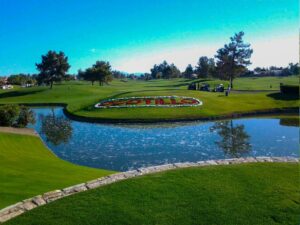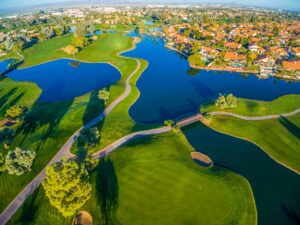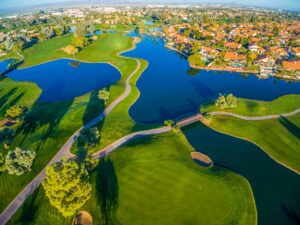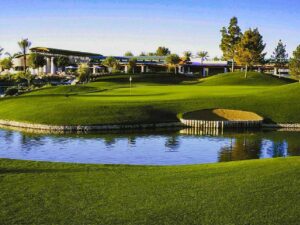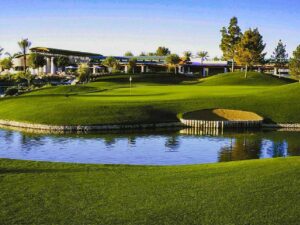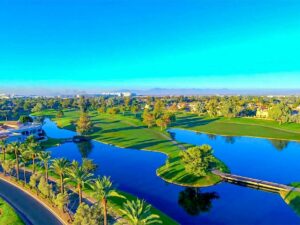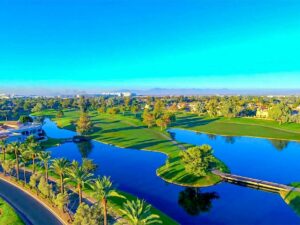 Course Review – Ocotillo Golf Club
Water water everywhere and not a single cactus to see. At first glance you may think you have fallen victim to a desert mirage while playing at the Ocotillo Golf Club. Although the word ocotillo means cactus branch, you won't see a cactus or a mountain peak at this golf course located in Chandler, Arizona. Ocotillo is not for golfers seeking a pure desert golf experience. Ocotillo is a vacation from the desert, with its luscious rolling fairways and abundance of crystal blue water.
The drive up to the clubhouse is a foreshadowing of the round that awaits you. The signature hole is showcased on the right side as you enter the clubhouse. Sparkling water runs along the entire left side of the emerald fairway as it is fed by gigantic green-side cascading waterfalls.
Managed by Troon Golf, Ocotillo Golf Resort adheres to the highest standards of course conditions, customer service and amenities, creating a country club experience at what has become known as one of the nation's finest daily-fee facilities. The landscape throughout the 27 Hole Ted Robinson design is full of soothing rich greens and deep blues. Using many of his well-known trademarks in the creation of this masterpiece, Ocotillo is a panorama of cascading waterfalls, palm trees, gently rolling fairways and brightly colored flowerbeds that have been blended into a remarkable golfer's paradise. This truly superb 27 hole championship facility, is now located only minutes from most of the Valley's prominent resorts and hotels via the newly opened 101 Price Freeway. Ocotillo Golf Resort's golf shop has been voted as one of the "Top 100 Golf Shop in the country". For after golf dining, guests can enjoy the casual club bar or the more luxurious atmosphere of Bernard's Restaurant. Private parties can choose between the newly added indoor-outdoor Crown Terrace Ballroom for hundreds of guests or the more intimate Director's room for up to 35.
Ocotillo Golf Club's 27 hole layout (3 separate nines) winds through 95 acres, including 7 miles of shoreline, lakes and cascading water features. Fully mature trees, lush landscaping and colorful flowerbeds contribute significantly to the comfort, beauty, and challenge of this elegant Arizona Oasis. Unique among all others in the Valley, Ocotillo is a lushly landscaped retreat with superbly maintained grounds and broad rolling fairways that provide golfers with a refreshing change of pace from the desert style golf where target fairways are almost always surrounded by unforgiving rocks and cacti.
Other Information – Ocotillo Golf Club
Designer: Ted Robinson
Practice Facilities: Driving range, putting and chipping green with a practice bunker.
Range balls included: No
19th Hole: Ocotillo Grille.
Awards:
Golf Digest 4 star rating
Golf Digest Reader's Poll "Must Play Course"
1997 Crittenden Golf, "Best New Daily Fee Clubhouse"
Golf World Business Magazine "Top 100 Golf Shops"
2001 February Phoenix Magazine "Top Seven Restaurants"
Golf World Magazine as one of the top 100 Pro Shops in the United States.
PGA as "Merchandiser of the Year for 2000"
Recommended handicap: It is a challenging course with water trying to swallow up virtually every shot. The course plays longer than the yardage so when teeing off error on the side of the shorter tee box. That decision might save you a few balls as well. You must hit straight. Anyone with a handicap under 25 will really enjoy the course. High handicappers will still have lots of fun as long as they don't mind losing a bunch of balls.
1 -10 Course Rating by Meridian's Golf Specialists: 8 ½
Comments by Meridian Guests: "It is still target golf. You just have water instead of desert surrounding you at every turn." "After getting beat up on some of the desert courses I really enjoyed Ocotillo. It made our golf package perfect by mixing in an oasis of water, flowers, and lush green to our desert golf experience."
"I enjoyed watching some of the wildlife on the course." "Plays very long and it is very challenging from the back tees. It is about 7000 yards but plays longer than that. " "I loved the double island and the island hole."
"A beautiful and refreshing mix after playing all those desert style courses." "Each hole showcases a variety of breathtaking homes." "Simply magnificent." "It's the total package: the golf course, the clubhouse, and the restaurant were all phenomenal."
The Drive: Within 30 minutes of Meridian CondoResorts. It is also about 30 minutes from Sky Harbor Airport.