Tonto Verde-Peaks Golf Course Review Rio Verde AZ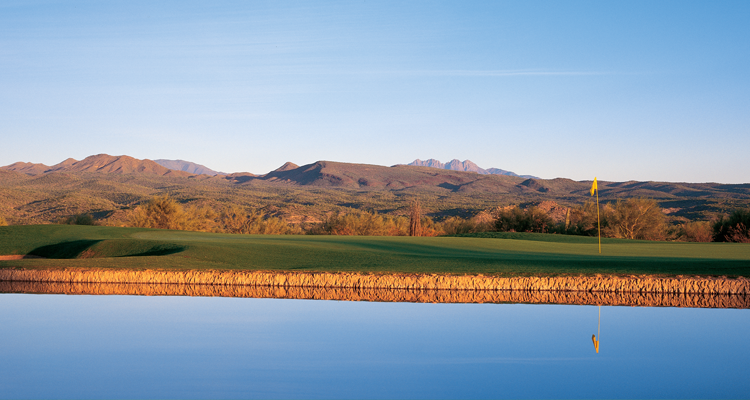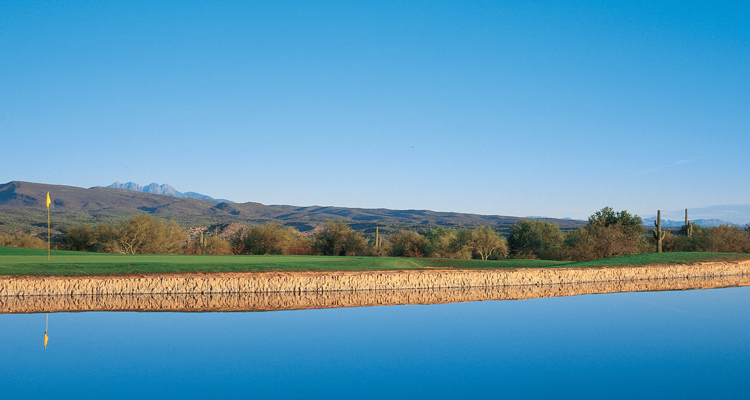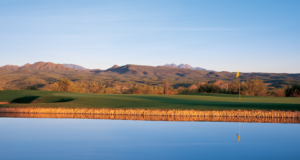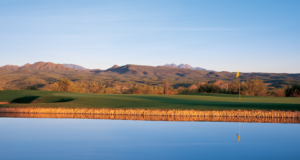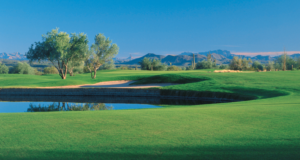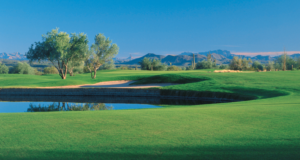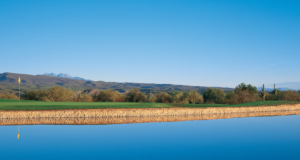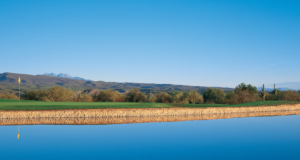 Course Review – Tonto Verde Golf Club-Peaks
In Spanish, Tonto Verde translates to "stupid green." As the saying goes, "Don't judge a book by its cover," and certainly don't judge this golf course by its name. Both of Tonto Verde's spectacular golf courses (The Peaks and The Ranch) are brilliantly designed to respect both the beauty of the desert and the ability of the golfer
At Tonto Verde you will experience a country club environment and will always be treated "or spoiled" like a private member. Don't be surprised to see a local member riding around the course in their beautifully appointed Mercedes or Hummer golf cart. Tonto Verde is kept in tournament like conditions throughout the year. Perfectly manicured tee boxes, fairways and bunkers are just the beginning. As you get closer to the hole the conditions just get better. The lightning quick greens are more like the surface of a pool table, resulting in the ball rolling so true. Watching long putts roll smoothly towards the hole with no bounce, is thrilling, and will really test your putting game. Tonto Verde leaves no stone unturned, and when you get close to the hole you will realize the perfectly cut cup, is even painted.
Before teeing off you can fine tune your putting game on the extraordinary 52,000 square foot, 18-hole putting course (at no extra charge) with breathtaking views of the Superstition and Mazatzal Mountains.
Tonto Verde is surrounded by magnificent mountain vistas and rich, lush desert vegetation, which is shared by deer, coyotes, rabbits, javalinas and songbirds abound. Both "The Peaks" and "The Ranch," golf courses have been honored with national awards for their scenic charm and playability. The fairways are gently rolling, greens have subtle contours and hazards are fair. Majestic mountains surround you at every turn. Tall saguaros dot the landscape. The desert sky floats above you, a perfect dome of blue. In this setting, you'll find many challenging and breathtaking holes. To speed the pace of play, state-of-the-art GPS yardage and course information systems are on the golf carts. Golfers are allowed to leave cart paths and drive directly to their ball as well.
Other Information – Tonto Verde Golf Club-Peaks
Designer: David Graham/ Gary Panks. Ranch: Gary Panks
Year Opened: 1993
19th Hole: Two dining rooms offer service and cuisine in a friendly and casually elegant environment. It offers magnificent views as you enjoy the great food. There is also a snack bar, and drink cart.
Awards: Voted 12th best course in Arizona – Golf Digest.
Gold Nugget Award of Merit for the best designed clubhouse recreation facility (public/private) in the west.
Recommended handicap: Both courses have five sets of tees. This allows golfers of all skill levels to choose the distance that will result in an enjoyable and challenging round of golf, without getting beat up in the process. High and low handicappers will enjoy the layout, conditions, peaceful desert setting, amazing mountain scenery, and will be challenged by the layout and the greens.
1 -10 Course Rating by Meridian's Golf Specialists:
Peaks: 8 ½
Ranch: 9 ½
Comments by Meridian Guests: "One of the nicest County Club settings I have ever experienced. I can't wait to come back next year." "Similar to GrayHawk. Both have two courses with many parallels including similar layouts. However, Tonto Verde offers a more magnificent setting, even better course conditions, and is more fun and playable."
"My wife went nuts over the views, scenery and country club atmosphere, I just enjoyed the layout and the conditions." "Last year I played the Peaks course and loved it. This year I played the Ranch course and it might even be better." "So peaceful, relaxing, and mesmerizing."
"The conditions just blew us all away. There is no excuse if you miss a putt because they roll true." "Wow! Tonto Verde is heaven."
The Drive: A scenic and peaceful 30 minute drive through the desert.