TontoVerde Golf Club – Peaks
18401 El Circulo Drive Rio Verde, AZ 85263
| Quick Info | Tee | Par | Length | Rating | Slope |
| --- | --- | --- | --- | --- | --- |
Holes: 18
Par: 72
Length: 6988 yards
Slope: 133
Rating: 73.1
Year built: 1993
Architect(s): David Graham, Gary Panks, Mike Gogel
Season: Year round
Black
72
6729 yards
71.9
129
Blue
72
6370 yards
70.3
126
Combo Blue/White
72
6171 yards
69.2
124
White
72
5892 yards
68.2
119
White (W)
72
5892 yards
74.3
131
Combo White/Green
72
5624 yards
66.4
115
Combo White/Green (W)
72
5624 yards
72.1
126
Green
72
5366 yards
65.5
112
Green (W)
72
5366 yards
71.3
125
Combo Green/Gold
72
5076 yards
64.2
110
Combo Green /Gold (W)
72
5076 yards
69.7
117
Gold (W)
72
4787 yards
68.4
114
Combo Gold/Silver (W)
72
4317 yards
65
106
Silver (W)
72
3846 yards
61.6
101
Carts (included in green fees)
Clubs
Driving range
Pitching/chipping area
Putting green
Teaching Pro
Tonto Verde Golf Course Review – Peaks
Tonto Verde Golf Club, situated in the scenic Tonto National Forest near Rio Verde, Arizona, is a prestigious golfing destination that offers players a unique blend of challenging golf and captivating natural beauty. Renowned for its exquisite design, panoramic views, and commitment to providing an exceptional golf experience, Tonto Verde Golf Club Peaks Course has earned its place among the top courses in the Scottsdale area.
Designed by David Graham and Gary Panks, the architects ingeniously utilized the rolling terrain and desert surroundings to create a layout that presents golfers with both strategic challenges and breathtaking vistas.
Tonto Verde Golf Club Peaks Course is characterized by its lush fairways, strategically placed bunkers, and greens that demand precision in approach shots and putting. The layout seamlessly integrates with the desert landscape, incorporating natural features and elevation changes that add variety and complexity to the game.
One of the defining features of Tonto Verde Golf Course, AZ, is its stunning views. As golfers make their way through the course, they are treated to panoramic vistas of the nearby Mazatzal Mountains and Four Peaks Wilderness Area. These views create a sense of serenity and immersion in the beauty of the Sonoran Desert, enhancing the overall golfing experience.
The course's design encourages players to think strategically and make informed shot selections. The integration of water features, desert vegetation, and varying hole lengths ensures that each round remains engaging and memorable.
Tonto Verde Golf Club provides a range of amenities to enhance the golfing experience. The clubhouse features facilities for pre-round preparation, post-game relaxation, and dining. The pro shop offers golf equipment, apparel, and accessories to cater to the needs of golfers. The practice facilities, including a driving range and putting greens, allow players to warm up and improve their skills.
Tonto Verde Golf Course, AZ, is also known for hosting events and tournaments. Its picturesque setting and challenging layout make it a sought-after venue for competitive play and social gatherings.
1-10 Course Rating by Meridian's Golf Specialists: 8 ½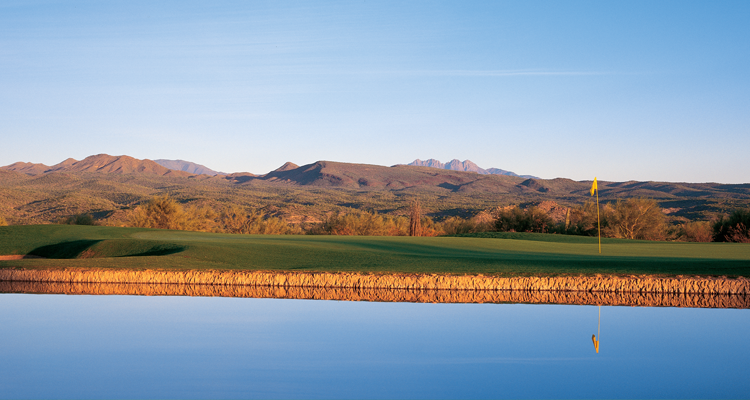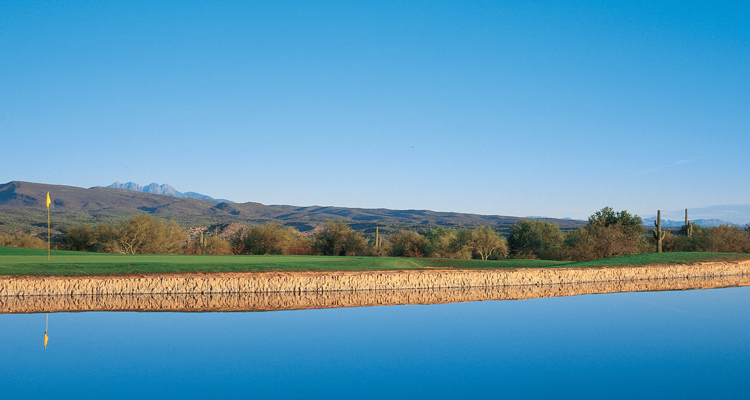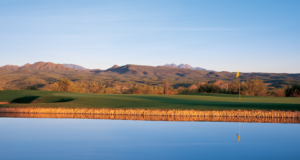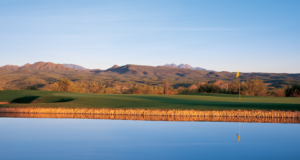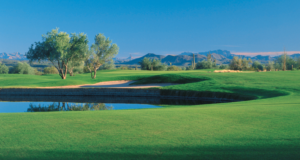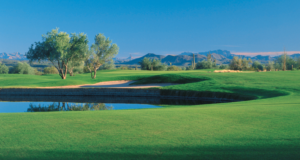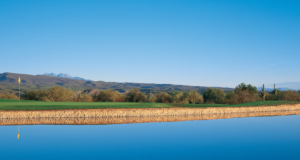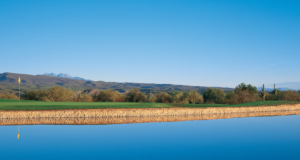 Tonto Verde Golf Course Review – Additional Info:
Credit cards accepted: VISA, MasterCard, Amex, Discover
Dress Code: Proper golf attire required.
19th Hole: Two dining rooms offer service and cuisine in a friendly and casually elegant environment. It offers magnificent views as you enjoy the great food. There is also a snack bar, and drink cart.
Recommended Handicap: Peaks has five sets of tees. This allows golfers of all skill levels to choose the distance that will result in an enjoyable and challenging round of golf without getting beat up in the process. High and low handicappers will enjoy the layout, conditions, peaceful desert setting, and amazing mountain scenery and will be challenged by the layout and the greens.
Drive: Tonto Verde Golf Course is about a 30-minute drive from Meridian CondoResorts.
Tee Times are Unavailable: Tonto Verde is now fully private.