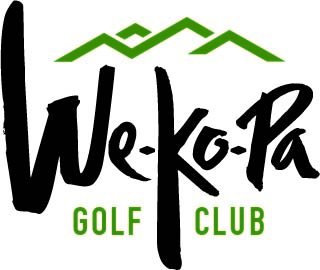 We-Ko-Pa Golf Club – Saguaro Course
18200 E. Toh Vee Cir. Ft. McDowell, AZ 85264
| Quick Info | Tee | Par | Length | Rating | Slope |
| --- | --- | --- | --- | --- | --- |
Holes: 18
Par: 71
Length: 6966 yards
Slope: 137
Rating: 72.0
Year built: 2006
Architect(s): Bill Coore, Ben Crenshaw
Greens: TiffDwarf Grass
Fairways: Bermuda Grass
Season: Year round
Saguaro
71
6966 yards
72.0
137
Purple
71
6603 yards
70.2
132
White
71
6252 yards
68.8
125
Composite (W)
71
5786 yards
72.0
128
Green
71
5061 yards
67.0
109
Carts
Clubs
Driving range
Range Balls
Pitching/chipping area
Putting green
Teaching Pro
Walking
We-Ko-Pa Golf Club Saguaro Course Review
The Saguaro Course at We-Ko-Pa Golf Club, located in Fort McDowell, Arizona, is a prominent golfing destination that offers players a remarkable blend of championship golf and captivating desert vistas. Renowned for its strategic design, pristine course conditions, and commitment to providing an exceptional golf experience, We-Ko-Pa Saguaro Course stands as a premier golf destination in the Phoenix metropolitan area.
Designed by golf course architect Bill Coore and opened in 2006, We-Ko-Pa Saguaro was meticulously crafted to harmonize with the surrounding Sonoran Desert environment while offering golfers an engaging and strategic round.
We-Ko-Pa Saguaro Course is characterized by its undulating fairways, strategically placed bunkers, and greens that require precision in approach shots and putting. The design seamlessly incorporates desert vegetation, natural terrain features, and panoramic mountain views that enhance the course's visual appeal and challenge.
One of the defining features of We-Ko-Pa Saguaro is its commitment to providing a genuine desert golf experience. The layout's design respects the natural contours of the land and emphasizes shot-making, requiring players to consider both accuracy and strategy.
The course's design encourages golfers to embrace the challenges posed by the desert landscape. The thoughtful placement of hazards and the variety of holes make the Saguaro Course an engaging and thought-provoking playing experience.
We-Ko-Pa Golf Club is renowned for its dedication to delivering an exceptional golfing experience. The course is meticulously maintained, ensuring consistent playing conditions for golfers. The club's amenities include a clubhouse with facilities for pre-round preparation, post-game relaxation, and dining. The pro shop offers golf equipment, apparel, and accessories to cater to the needs of golfers. Practice facilities, including a driving range and putting greens, allow players to warm up and refine their skills.
In addition to its golfing facilities, We-Ko-Pa Golf Club provides an authentic desert backdrop that immerses players in the unique beauty of the Sonoran Desert.
1 -10 Course Rating by Meridian's Golf Specialists: 9 ½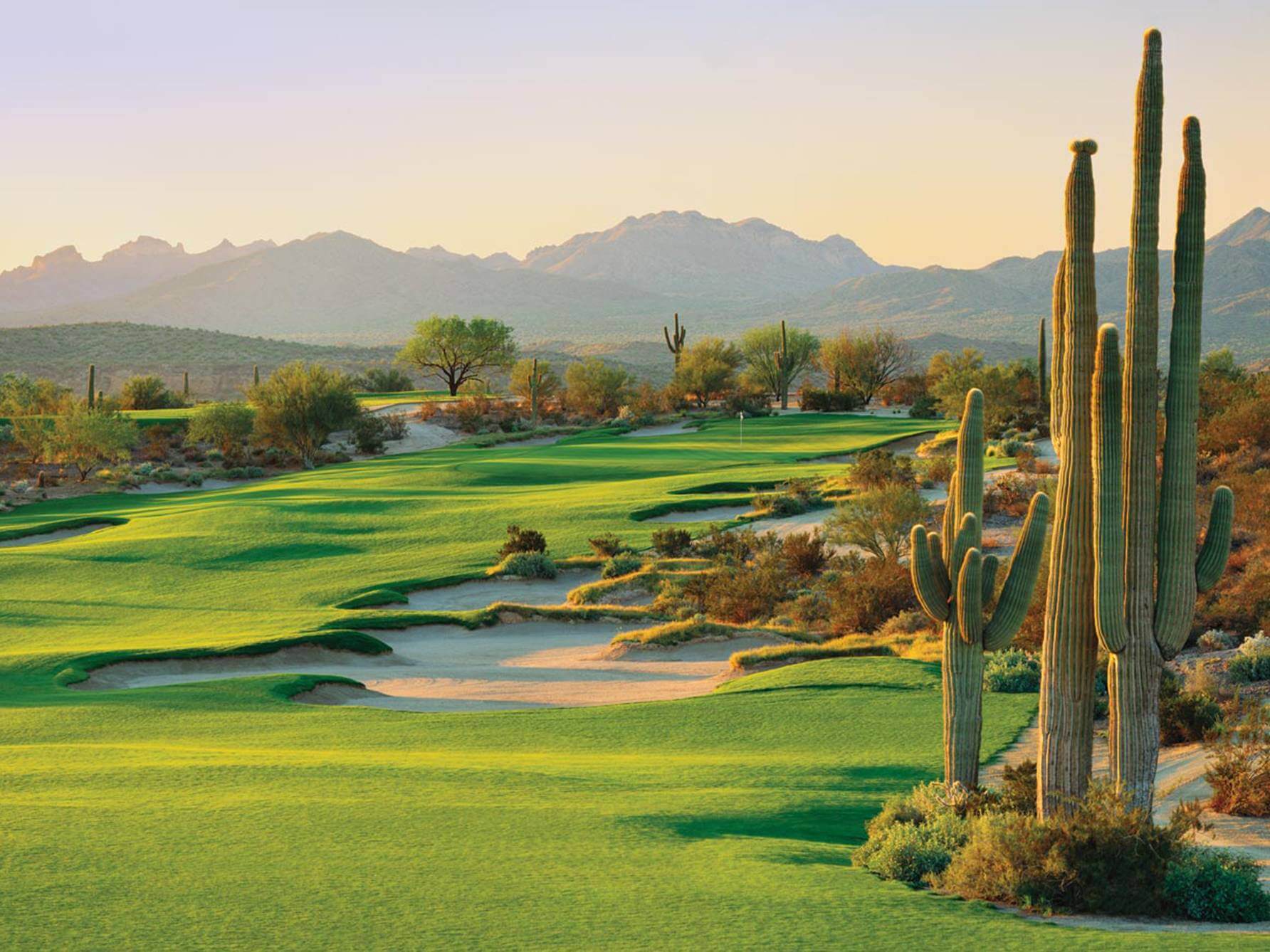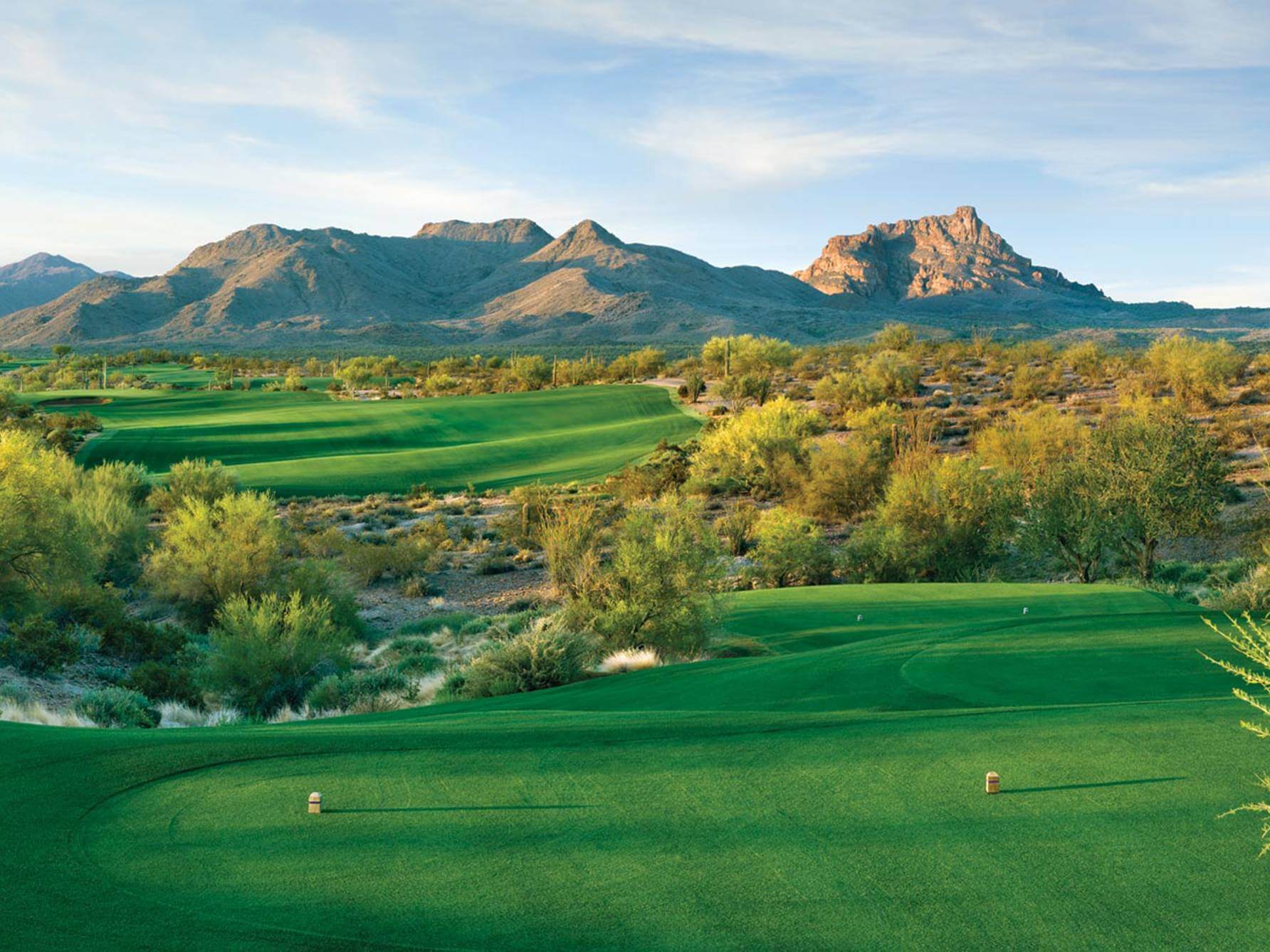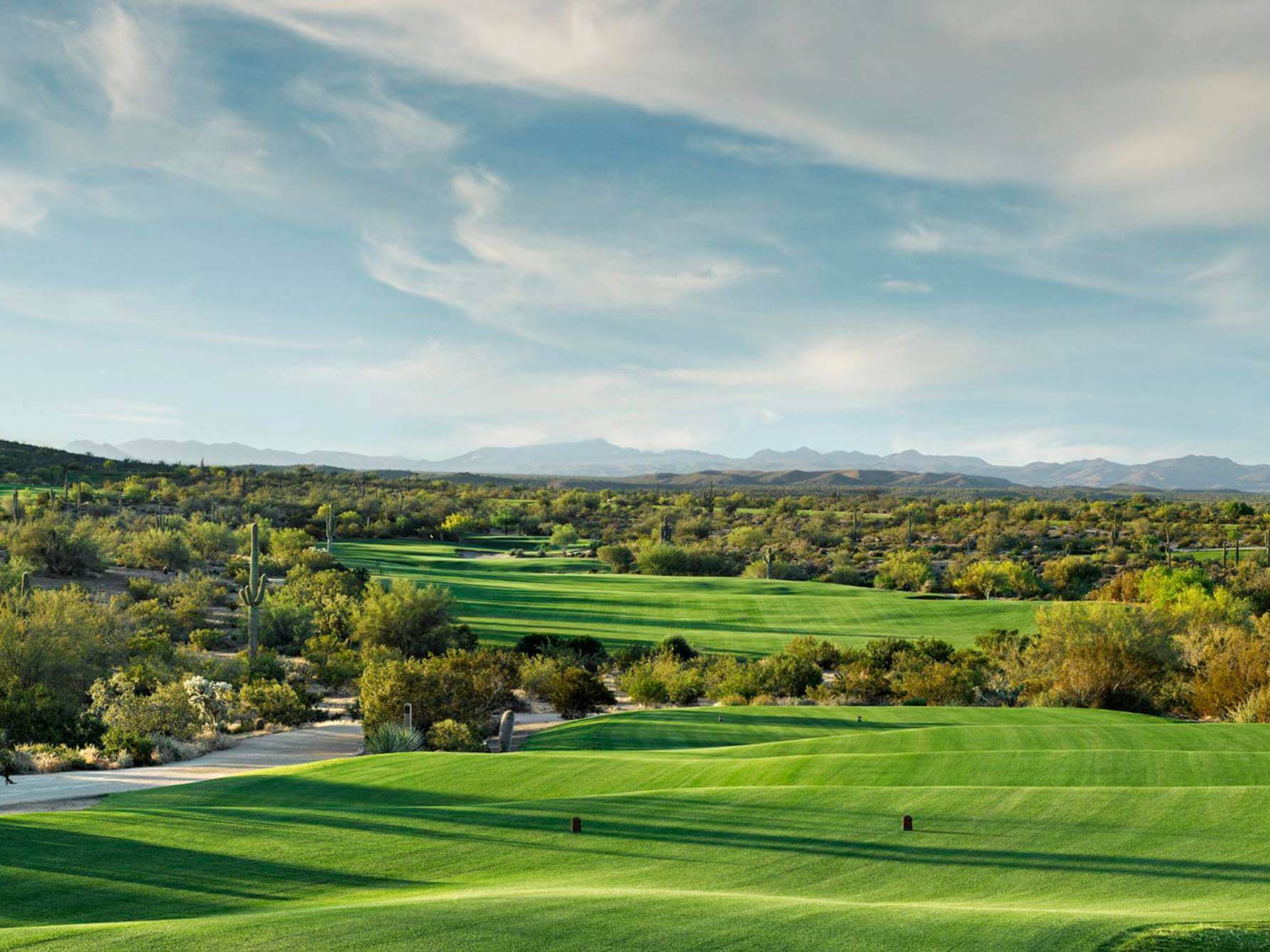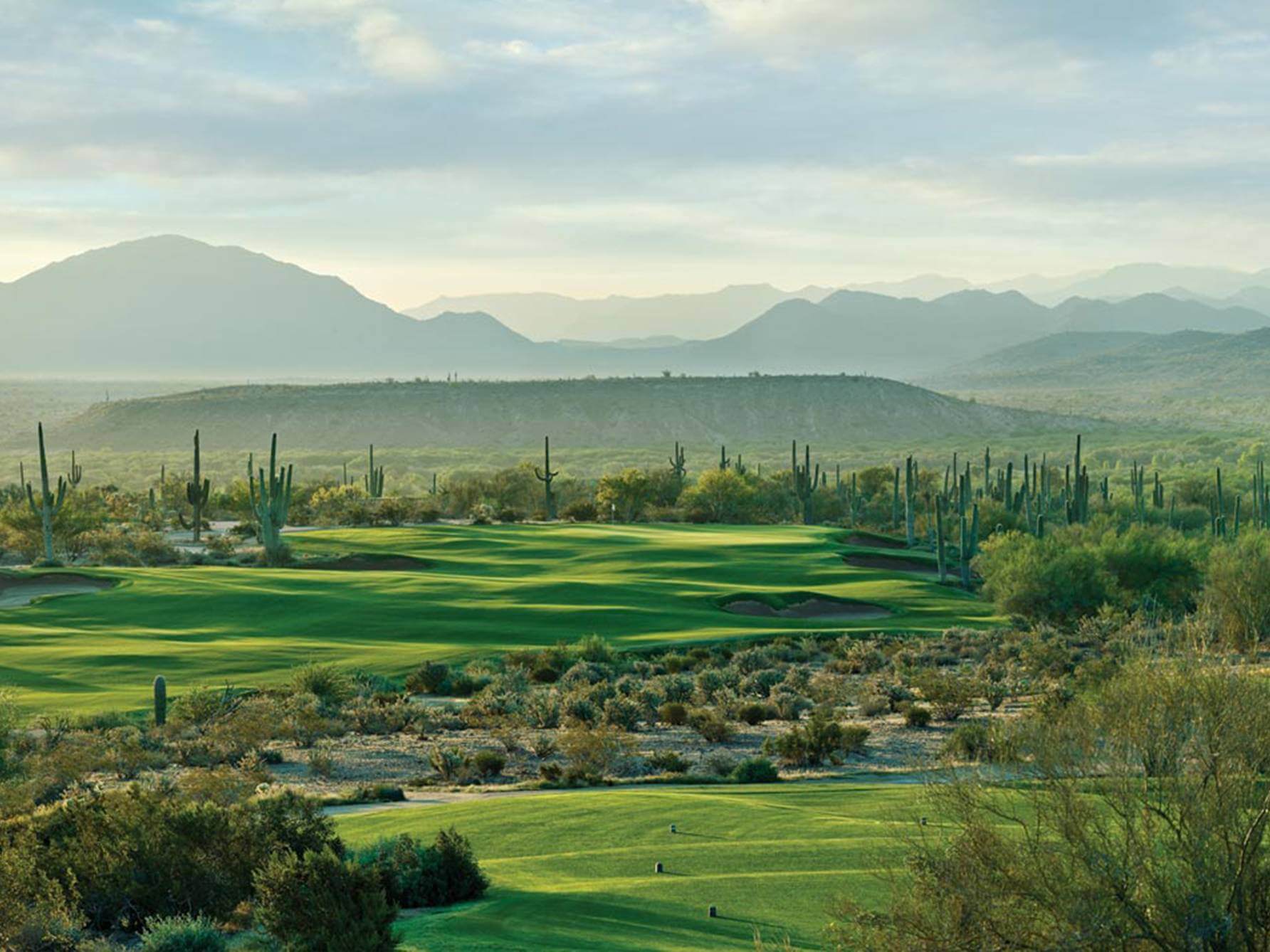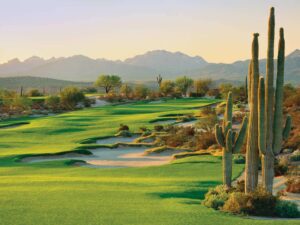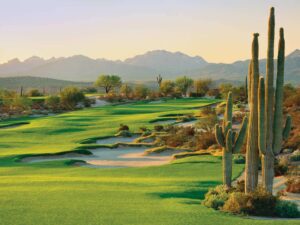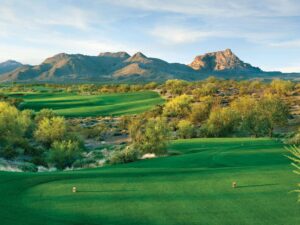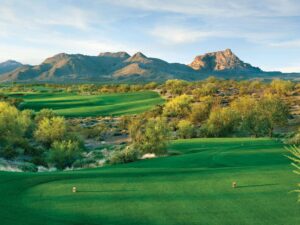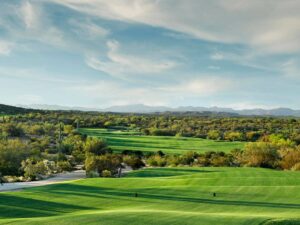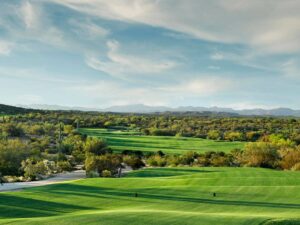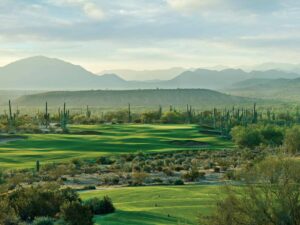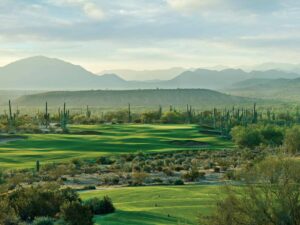 We-Ko-Pa Golf Club Saguaro Course Review – Additional Info:
Credit cards accepted: Yes
Dress Code: Proper golf attire, no denim.
Practice Facilities: Refine your game at one of the most magnificent practice facilities. Putt, chip, swing out of bunkers, and take a few rips at the beautiful driving range.
19th Hole: The We-Ko-Pa Grill.
Recommended Handicap: Every level golfer can enjoy their experience at We Ko Pa. From the back tees it is challenging, but the multiple tee boxes are well spaced to cater to all caliber golfers. Generous landing areas and very few carries allow players of all levels to really enjoy the golf experience at We-Ko-Pa.
Drive: We-Ko-Pa Golf Club Saguaro Course is about a 25-minute drive from Meridian CondoResorts.