Verrado-Founders Golf Course Review Buckeye AZ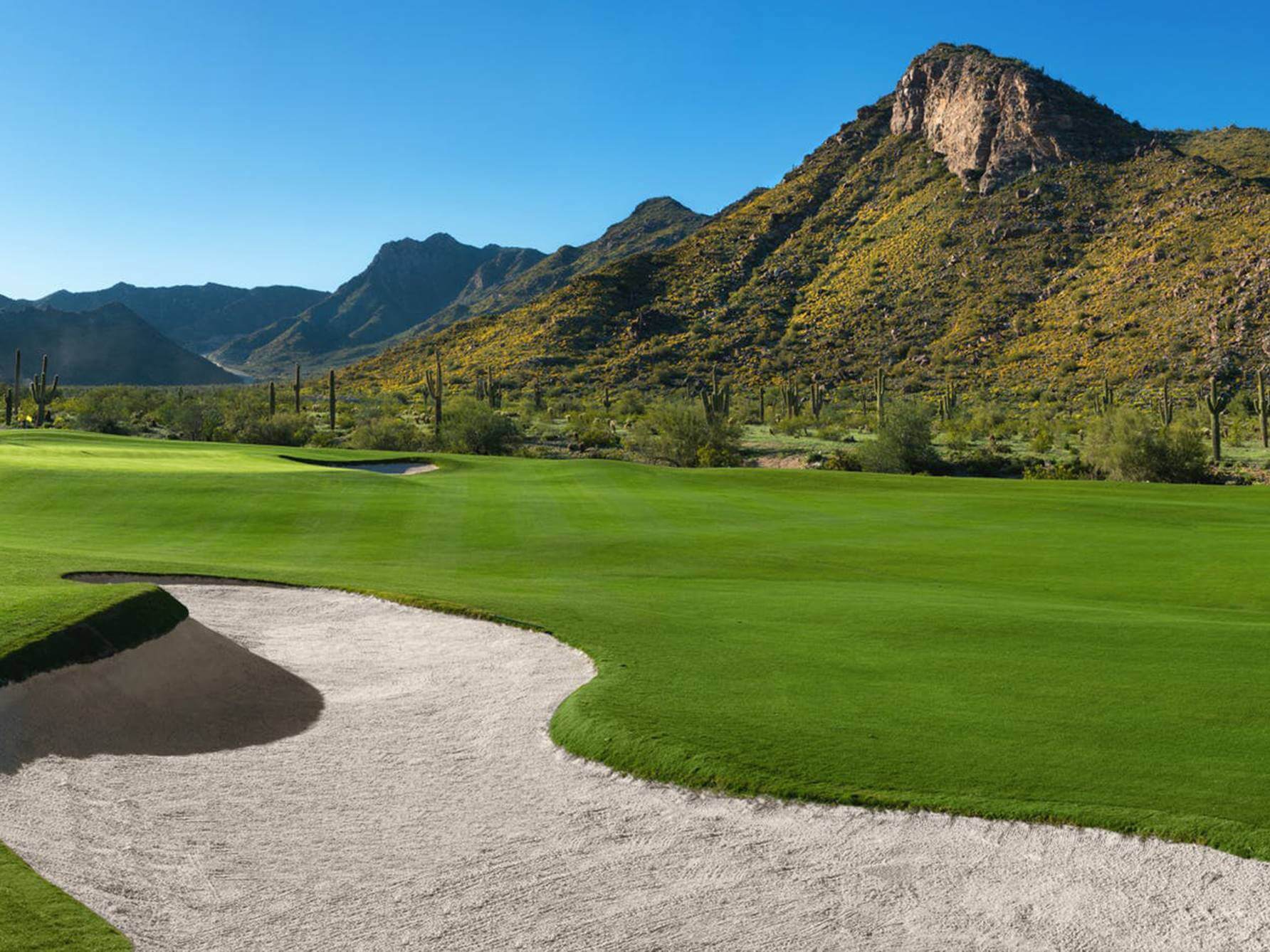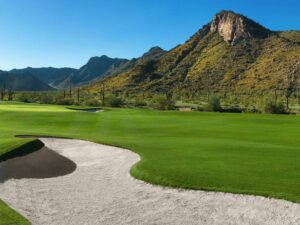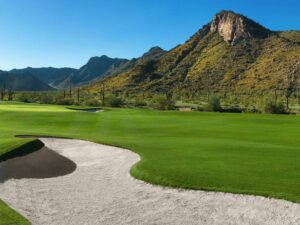 Course Review – Verrado-Founders Course
Ich dien! Ich dien!At Verrado they certainly come to serve in any language. They not only pamper the greens, fairways and cacti, but also the guests with their legendary service.
Service – the one adjective most often used to describe Verrado. The staff is attentive. Seemingly every desire a player could have – from having an attendant greet you at the bag drop to a player assistant delivering a new sleeve of balls to you on the 12th tee to the ranger raking the sand trap for you after a frustrating errant shot – is taken care of seamlessly, flawlessly and without any discernable effort on the part of the guest.
It is a spectacular new golf course laced through the foothills of the White Tank Mountains. Crafted by renowned designers John Fought and Tom Lehman, Verrado is a must play for those seeking the very best golf the Sonoran Desert has to offer. From jaw-dropping views and rugged natural beauty to exceptional conditioning and the finest guest service in the business, Verrado has it all. Verrado's mountainside setting features massive rock out croppings, large desert washes, intimate box canyons, and considerable elevation change (from 1,100 to 3,600 square feet). A very mature landscape palette was created by replanting more than 2,000 mature native trees on the course, along with numerous saguaro cacti and other natural desert vegetation.
Other Information – Verrado-Founders Course
Designer: John Fought & Tom Lehman
Year Opened: 2004
Awards & Accolades:Golf Magazine – Top 10 new courses you can play.
Sports Illustrated – #1 course you can play in Phoenix.
Practice Facilities: Driving range, putting green, and chipping green
Range Balls Included: Yes
19th Hole: The Verrado Grille restaurant offers a menu unparalleled to traditional golf course dining. The restaurant combines impeccable service, a lively atmosphere, and incredible views to provide an unforgettable experience. Additionally, the open patio, unique indoor and outdoor bar, and spacious seating allow for spectacular viewing of the Sonoran Desert sunsets.
Recommended handicap: From the tips, it stretches nearly 7,300 yards and gives the accomplished player a rigorous test of golf. But Fought and Lehman put four tee boxes on each hole, giving players of all abilities a fair chance at par. In fact the forward tees on each hole connects with the fairway, taking all forced carries out of the equation. Any level golfer will enjoy the playability while still be challenged by the great layout.
1 -10 Course Rating by Meridian's Golf Specialists: 9
Comments by Meridian Guests: "I enjoyed the layout. There were so many different types of holes that presented unique challenges. I could play it many times and not get bored." "Lots of risk to reward holes." "Service, Service, Service. We were never treated so well, except by the staff at Meridian, of course."
"They built the course into the landscape. I found myself completely at peace while soaking up sunshine and becoming completely engulfed in the round of golf." "Just an overall fun and rewarding experience."
"Worth the drive, enjoyed the practice facility, clubhouse, restaurant, service, and just loved the layout." "We played 36 holes – The first 18 ate us up because we played from the tips, then we got smart and had a great time when we moved up a tee box and really enjoyed the course."
The Drive: It is a little bit of a hike to the west side of town, but the golf course is only a few minutes off the highway. It is a quick 45 minute drive and worth the trip